An 'experience of place'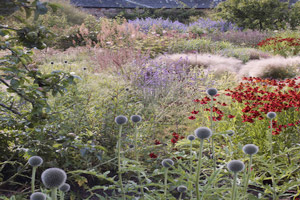 Sandy Felton talks to documentary photographer Allan Pollok-Morris and discovers what 'an experience of place' means to him.
Ansel Adams once commented that: "A great photograph is a full expression of what one feels about what is being photographed in the deepest sense, and is, thereby, a true expression of what one feels about life in its entirety." If you were to ask documentary photographer Allan Pollok-Morris what attracts him when photographing a particular landscape or garden he will tell you that he hopes to communicate an 'experience of place'. "I am looking for particular places where the presence of people is revealed indirectly in the makeup of the landscape," he explains." Often in a relatively narrow view for landscape photography."
Capturing a landscape or garden at a particular moment in time is to capture a memory, not just a factual image but the emotional connection between photographer and scene. That emotional connection is evident in Allan Pollok-Morris' work and it is a fitting tribute to his skill that he was recently one of the finalists in the Photographer of the Year (2010) awards at the Garden Media Guild.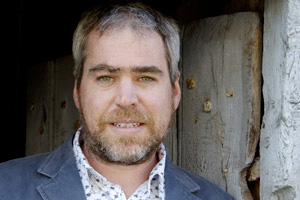 Allan (pictured left) describes himself as documentary photographer and it is important for him that his pictures tell a story in a 'real' way. He admits, however, that there is usually an emotional connection and as he puts it: "A sense of something intangible in landscape which probably puts it in the field of fine-art documentary". Such is the range of Allan's work that it would be too simplistic to label him in a narrow category. His photography spans not only the documentary and photo-journalistic but also undoubtedly fine art.
His work appears in some of the UK's top gardening titles including BBC Gardens Illustrated, Country Life, Homes and Gardens, House and Garden, The Royal Horticultural Society (RHS) journal The Garden and the Garden Design Journal. His two books, 'Close, a journey in Scotland' and the 2nd edition 'Close: Landscape Design and Land Art in Scotland' (produced by his publishing company Northfield Editions) have been instant successes and led to exhibitions both in the UK and the USA. (Log onto: http://recklessgardener.com/garden-gardening-books/latest-entry for our review of 'Close').
In the foreword to 'Close' Sir Roy Strong comments that: "Allan Pollok-Morris catches the quintessential qualities which set Scottish gardens and gardening apart." Indeed, one might suspect that having been brought up in the shadow of the wonderful Charles Rennie Macintosh Hill House and its garden, outside Glasgow, Allan would have an affinity with Scottish landscape and art form.
His youth was a freedom to roam the hills and glens and to experience the exotic flow of people who came along 'the highlandman's way' where in summer he would discover, 'the older guys from Glasgow who would come and live under the bridges, sometimes for months on end and regale us with great stories of city life.'
He was hooked on photography from an early age and by the time he left home knew a large part of that area of the western highlands in great detail. For him it became a personal place but the right to roam and his somewhat feral childhood spent in the hills and glens gave him itchy feet. Consequently, he has spent much of his working life away from Scotland but still nevertheless feels very connected with his homeland.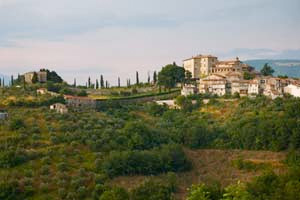 So what attracts him to photographing gardens and landscapes? "With gardens I am always hoping to find that rare work of true genius," he explains. "I'm completely open minded where that might be, it is such a joy to discover exceptional works. Off the top of my head one example from 'Close' is the planting work of Catherine Erskine and Elliott Forsyth at Cambo House. I feel it is very positive to give well-deserved credit to the most exceptional works by garden makers whether or not they can be considered as 'art' or 'contemporary.' Of course these works contain ideas which can be copied but what of the exceptional raw talent and originality which only a few designers have and can never be replicated?"
He started photographing allotments around central and south London in 2001 where he was able to explore the condensed view of the people in their outside spaces against wider city life. It was an utter joy to experience but rather sad for him that a publisher lost most of the originals of this work.
He became part of a well known printing collective in Brixton, a path which ultimately led him to the late Christopher Lloyd's garden at Great Dixter, where he admits that he learned a lot about variety in colour and form. Indeed, he has a relatively unpublished, but extensive set of photographs from Great Dixter so it is hardly surprising to learn that he is working with them on a small fine art book which will have an interesting combination of authors and illustrators.
An important influence on his life and career was his study at Saint Martins College, London, where he studied relatively late but where the intensity of the course brought about a new beginning for him in many ways. His quest in finding a special garden or landscape that strikes him as exceptional and being able to communicate that sense of "place" to the viewer is what drives him forward. He feels that the exceptional level of work involved in creating gardens is often under-valued in the wider world of arts and culture.
To illustrate his point he mentions Corrour, featured in 'Close' – a garden hidden 10 miles down a dirt track in the Highlands in a very wild place featuring a building by Moshe Safdie and landscaping by Jinny Blom. For him the accomplishment and efforts people go to, to create their piece of land, their space, is what drives him.
His aim is to make open, objective, thought provoking photographs on the subject of man's relationship with the natural world: "It is important not to layer the images with the photographer's sense of right or wrong and while it can be a fine line, I avoid subjects that force a scene of environmental destruction. There is so much imagery of man's nihilistic attitude to the environment already and it is closing what should be an open subject, leaving people with the sense that it is too late and nothing can be done." He never takes for granted how sharing people are with their personal spaces and has a deep respect for others best interests particularly where their position may mean that it is difficult for them to deal with publicity. Similarly, he appreciates the needs of artists and designers to ensure their integrity at the hands of the media : "I am very warmly received and sometimes find they have not given access to other photographers. I am very grateful for this exclusive access to truly inspirational places."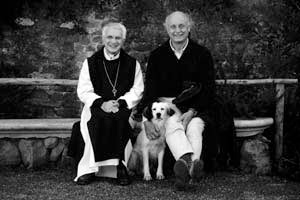 Again, he cites one such place, where it was a privilege to film. It is a monastery in Rome, where some incredible work had been done in the monastery kitchen garden with the help of Italian landscape architect Paolo Pejrone. He was the first journalist invited to document life there, the fascinating results of which appeared in the RHS and the Society of Garden Designers (SGD) journals.
In addition to Scotland he has particular connections with Provence, Tuscany and Umbria and for the last six years has been working on a project which will bring together the landscape, gardens and land art of the area in a new way. He has recently photographed Arabella Lennox Boyd's childhood home north of Rome and the working farm and home of the long standing CEO of Armani near Sienna.
One of his aims is to explore other medias on the edge of photography that help communicate an 'experience or sense of place'. For the Chicago Botanic Garden 'Close' exhibition he worked with a young UK film producer, Lydia Berrington, to record the words of the people who contributed to the Close project. The result was a one hour film which mixed spoken words with a wider set of photographs and music by the arts band 'Little Sparta'.
For Allan 2011 looks exciting with a 'Close' exhibition scheduled for the U.S. Botanic Garden in Washington to be followed at the New York Botanical Garden in 2012. A limited edition of the book 'Close' which includes a signed Giclee print has also gone on sale and is available through Northfield Editions – www.northfieldeditions.com
He is currently in the process of raising funds for an environmental arts installation of 33 pieces by the artist Alec Finlay (Northern arts Prize nominee, whose work is featured in 'Close') to be installed in Tetbury, Gloucestershire, on trees in public spaces around the town. As part of that fundraising Northfield Editions will be selling the one-off dry mounted Giclee prints that made up the 'Close' exhibitions at the Royal Botanic Garden, Edinburgh and with the Arts Council on Shetland in 2008/9.
The Northfield Editions Facebook page, already has over 6000 followers from all over the world connecting and interacting with the page which is presented in the same documentary style. Hot off the press is also the news that 'Close: Landscape Design and Land Art in Scotland' is being published as a hard back book in the German language later this year (2011) and the exhibition will be travelling there at some point.
Rachel Devine, writing in the Sunday Times commented that: "He might not be getting his hands dirty in his own back yard, but from behind the lens Pollok is devotedly green-fingered." That devotion has given us a myriad of wonderful and captivating photographs, from the drama of the wilds of Scotland to the peace of an English country garden, from sublime Italian vistas to the vibrancy and colour of wonderful creations such as Great Dixter.
'Close – Landscape Design and Land Art in Scotland' is available from www.northfieldeditions.com – priced at £34.99 or $49.99 US. For a 10% discount (as going to print) 'Close' can be purchased via Amazon.co.uk – click here for more detail.
We wish Allan the best of success with his new exhibitions of 'Close' and look forward to many more photographs which can truly give us an 'experience of place.'
Media for photography by Allan Pollok-Morris:
www.northfieldeditions.com
http://www.ap-m.co.uk/
http://www.facebook.com
All photographs produced as part of this feature are the copyright of Allan Pollok-Morris/Northfield Editions.
Pictured: Allan Pollok-Morris; An Italian Landscape; Fr Abbot with Italian Landscape architect Paolo Perjrone; Cambo.