Be 'climate positive' urges Dalefoot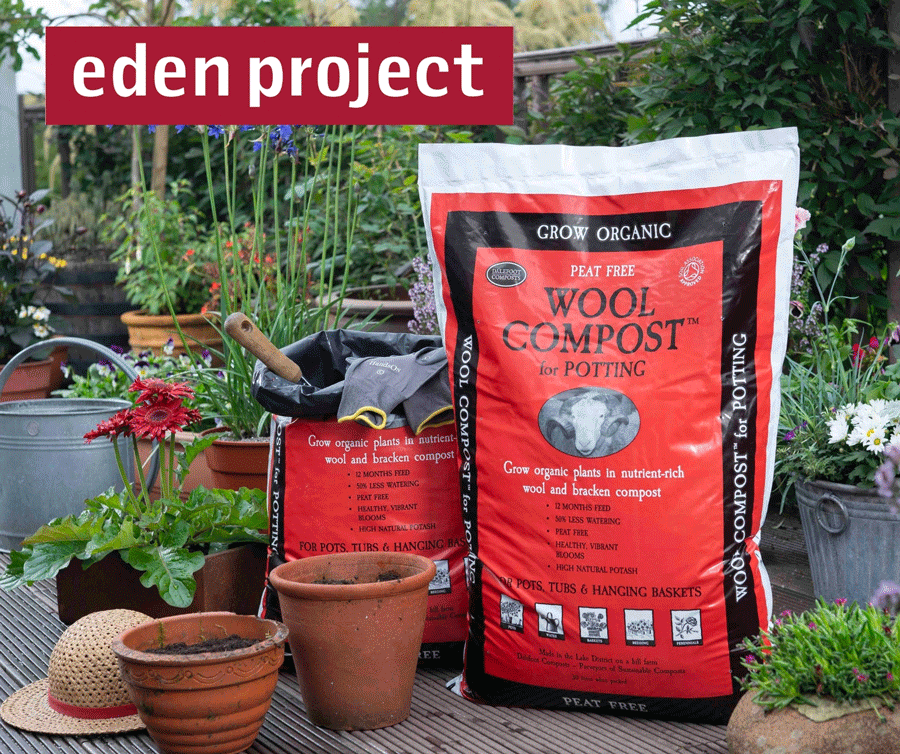 Cumbrian company, Dalefoot Composts, is joining forces with the Eden Project to encourage Britain's gardeners to embrace super-sustainable gardening and switch to using its 'climate positive' peat-free compost in their outdoor spaces.
Dalefoot have formed a new partnership with the Eden Project to inspire us to move away from using environmentally damaging peat in our gardens to using the most sustainable peat-free alternative made from British ingredients.
Six show gardens at the recent RHS Chelsea Flower Show were supported with Dalefoot's peat-free composts including the RHS COP26 Garden by Balston Agius.
With lockdown gardening and news of the Government's proposed ban on peat compost use by amateur gardeners by 2024, Dalefoot has seen a surge in interest. In the last 12 months, the company has doubled compost production and is on target to double it again, each year, over the next five years.
Dalefoot's unique range of composts boast materials grown on the farm using carbon-storing crops, making them climate positive. Their Wool Compost for Potting is now endorsed by the Eden Project and will include its logo on each bag. They are also planning other joint initiatives with the world-renowned environmental charity and social enterprise over the coming years.
With sustainability at its heart, Dalefoot harvests bracken from the Lakeland fells, and other sites of conservation across the country, blending this will wool from native hill sheep and then adding comfrey, grown on its farm, to make sustainable, climate positive and peat-free composts.
Approved by Soil Association
Dalefoot's entire range is approved for organic gardening by the Soil Association and its Wool Compost products were shortlisted for the first ever RHS Chelsea Sustainable Garden Product of the year in 2021.
Professor Jane Barker of Dalefoot Composts said: "Climate change is now a pressing issue for us all and it's reassuring to see so many people now gardening in a more sustainable way. Here at Dalefoot we are able to deliver climate-friendly composts that enable the UK's gardeners to reduce their own carbon footprint – to be climate change, sustainable gardeners. Teaming up with the Eden Project helps us really raise the profile of the environmental benefits of using Dalefoot's composts and hopefully ensure that more peat remains in the ground rather than in bags in the garden centre."
The team at Dalefoot are also active in peat bog restoration, some of which were once owned by peat companies, across the country for agencies such as Natural England and numerous wildlife trusts. Peat bogs store more carbon than forests and many in the UK are now in poor condition. Dalefoot is working with these agencies to help reduce carbon release and return the bogs to functioning healthy eco-systems.
Run by environmental scientist Jane Barker and farmer Simon Bland, Dalefoot started making composts from natural ingredients around their Cumbrian farm in 1997. Inspired by early 20th century gardening books that mentioned wool as a garden mulch and a desire to make good use of the invasive bracken growing on the fells, the couple invented their secret compost recipe. Today the compost is sold throughout the UK.