Chelsea garden highlights soil health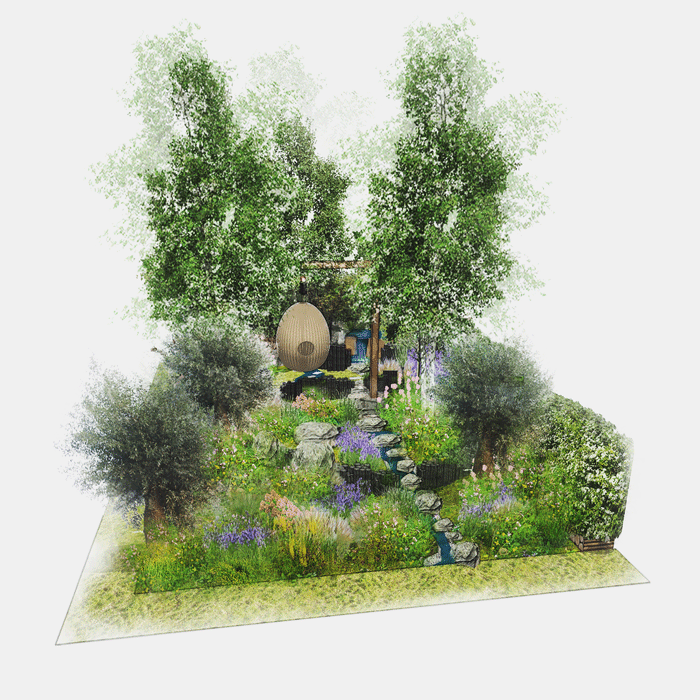 The Yeo Valley Organic Garden at the 2021 RHS Chelsea Flower Show will highlight the importance of soil health in reversing climate change and tackling global biodiversity.
Designed by Tom Massey and Sarah Mead, the garden is inspired by Yeo Valley's organically certified farm and 6.5-acre garden at Blagdon, Somerset. The garden will demonstrate how putting nature first has wide-ranging benefits for the soil and its dependent wildlife and plant biodiversity.
Tom, in partnership with Yeo Valley Organic's Sarah Mead, will bring a modified design from their original garden which was planned for the postponed May 2021 RHS Chelsea. The garden will feature a diverse range of habitats and a rich tapestry of flowering plants to encourage wildlife and support pollinators, mirroring the diversity of life found on Yeo Valley's organic farm and garden in Somerset.
The updated design includes biochar logs as garden area markers and rammed earth walls as boundaries – highlighting the importance of soil health in our changing world. A hand-crafted steam-bend wooden hide has been designed and created for the garden by Cornish sculptor Tom Raffield.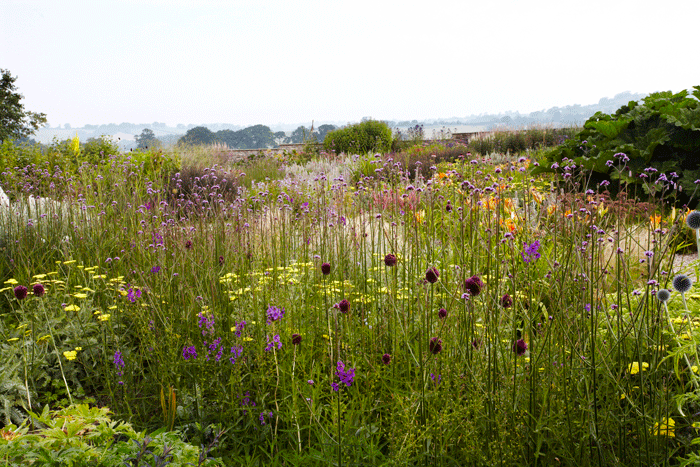 (above: part of the Yeo Valley Organic Garden, Somerset)
Sarah, who designed the Yeo Valley Organic Garden at the family-run farm, wants to give Chelsea visitors a slice of organic country life and send them away with plenty of fun and practical ideas: "We've been quietly growing and farming organically for many years now and we know it has huge benefits for the environment, particularly in safeguarding our soil and supporting pollinators and wildlife. I've been visiting the Chelsea Flower Show for most of my adult life and have longed to bring a slice of our Somerset valley to the show for years. We're certainly not in the business of telling people how to live, but we are excited about bringing our organic credentials and experience to the world's greatest flower show. Now is the perfect time to start shouting a bit louder about the benefits of growing and buying organic and putting nature first in everything we do."
Tom is delighted to be working in collaboration with Yeo Valley Organic and says: "It's a privilege to be working with the Yeo Valley Organic team who have accumulated many years of organic gardening experience. I have learnt a huge amount from them and the Soil Association in the process of designing a show garden founded on organic principles and I have seen first-hand at the Yeo Valley farm and garden how growing organically can positively impact the environment. With the exception of the large specimen trees and shrubs, the plants for the garden are being grown organically, a big challenge for a main avenue Chelsea show garden."
The hard landscaping materials for the show garden are coming from and returning to the farm and crucially, Yeo Valley Organic will incorporate the equivalent amount of carbon used to create the Chelsea garden back into the garden in Somerset.
(above: Tom and Sarah)
Tom points out that carbon is the building block of all life and as gardeners we need to be reminded of the role we play in locking carbon into the soil, where it can help sustain life for generations to come: "The soil plays a pivotal role in our fight to reverse climate change but due to the obvious attention on what's happening above ground at Chelsea, the world of microscopic activity under our feet is often overlooked. We hope to give visitors a beautiful garden to inspire them to move to more organic and sustainable gardening practices and encourage them to get their hands dirty, emphasising the importance of healthy soil to all our futures, especially as we tackle global pandemics, a changing climate and biodiversity decline," he said.
This will be Tom's second show garden at RHS Chelsea – he designed a garden for the Lemon Tree Trust in 2018 (Silver-Gilt). All the plants and trees for the garden are being supplied by Hortus Loxi, with support from Marina Christopher.
Garden diagram ©Tom Massey/Sarah Mead: other images ©Yeo Valley Organic.