Chelsea garden to celebrate modern nursing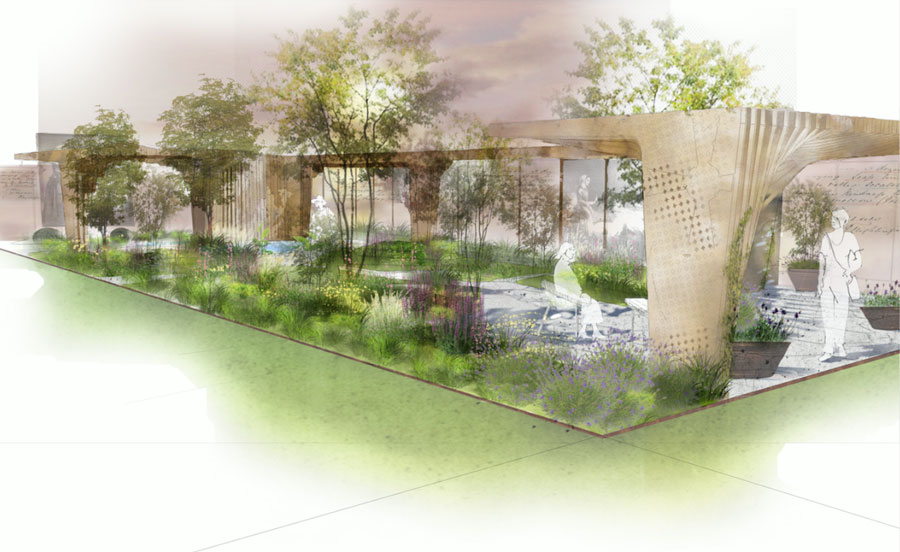 A garden to mark the bicentenary of the birth of Florence Nightingale and celebrate the importance of the nursing profession in the 21st century, will be created at the 2020 RHS Chelsea Flower Show for sponsors Burdett Trust for Nursing.
Designed by Robert Myers, 'The Florence Nightingale Garden – a Celebration of Modern Nursing', will depict a courtyard garden for a new hospital, enclosed on three sides by a sculptural timber pergola and surrounded by imagined perimeter rooms that evoke the 'pavilion' hospital layouts proposed by Florence. The main avenue show garden has been designed for viewing from inside the building, as well as for sitting in and strolling through with shaded places to rest among naturalistic planting and a reflecting pool to engage the senses.
The show garden sees Robert's welcome return to Chelsea after a seven-year absence: "The theme of the garden is 'nurture through nature', inspired by the idea that the shortest road to recovery leads through a garden. The garden will celebrate Florence Nightingale's contribution to modern-day nursing using architectural design and modern, sustainable materials to represent her enduring reforms in hospital construction and vibrant planting to highlight the importance of green spaces for health and recovery. It has been a wonderful challenge and reflects my own passion for creating contemporary landscapes in historically and culturally significant contexts," he said.
The design will evoke key elements of Florence Nightingale's life: pale concrete and timber will represent the materials that she endorsed for hospital construction while a reflecting pool will reference her insights into drainage and cleanliness.
Plants will include some found in her own pressed flower collection as well as plants with strong medicinal properties used in the 19th century. Images of Florence will be etched on glass windows and echoes of her handwriting will appear to be inscribed onto the concrete walls to embody her extensive writing in support of healthcare reform.
A striking installation at the front of the garden will display the recently redesigned Nightingale Nurse Badge, in recognition of modern-day nursing, denoting both her enduring legacy and her ability to inspire the next generation of leaders in nursing.
Garden sponsors: Burdett Trust for Nursing
Sponsors, Burdett Trust for Nursing, is a charity that supports nurse-led initiatives to enable nurses in their professional development and empowers them to improve patient care. Chief Executive, Shirley Baines said: "Today, as a result of Florence Nightingale's pioneering work, nursing is a highly skilled profession that makes a significant contribution to global healthcare."
The garden will be built by Bowles & Wyer marking their ninth Main Avenue show garden at RHS Chelsea. They will be using a 60ft timber pergola, stretching the length of the garden and enclosing it on three sides, to form the central feature of the design's space. This will be built using cross-laminated timber (CLT) an engineered wood that has become known as the 'concrete of the future'. The low-impact, non-toxic timber, which will be made from a pale Scandinavian Pine, will be constructed off-site and transported in modular parts to the showground.
This is the first time that Bowles & Wyer have worked with CLT and the first time it has featured on this scale at Chelsea. Dan Riddleston, Managing Director of Bowles & Wyer, is leading the project alongside Contracts Manager Dene Hakner. Dan points out that they are constantly looking at ways to reduce carbon footprint, particularly at Chelsea, where the gardens are often transitory: "We are incredibly excited to have been able to source such innovative materials and techniques and to be introducing them at Chelsea," he says.
The pergola can be constructed quickly, will require minimal transport and create very little waste. Timber also absorbs carbon thereby off-setting the carbon produced through its manufacture. The bio-timber is a 21st representation of key materials that Florence Nightingale advocated for hospital construction.
Approximately 3,700 plants will be planted in the garden, with trees, hedges and shrubs being grown at Deepdale Trees in Bedfordshire and the remaining plants grown by Hortus Loci in Hampshire.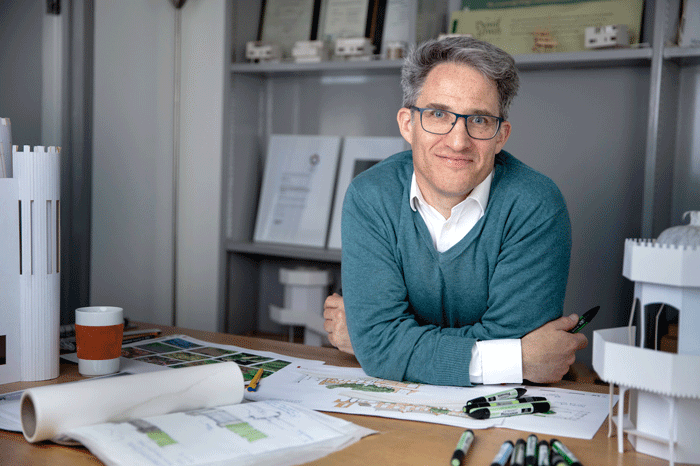 Designer, Robert Myers, (pictured above) is delighted to be returning to Main Avenue after a seven-year absence: "Having Bowles & Wyer on board takes a huge amount of pressure off, allowing me to really enjoy the process," he says. "Dan is renowned in the industry for producing work of the highest standard and is meticulous at coming up with solutions to any of the challenges that Chelsea might throw at him."
Robert has been awarded six Gold Medals at RHS Chelsea Flower Show and the People's Choice Award and particularly enjoys working in complex historic landscapes and significant public places.
The 2020 RHS Chelsea Flower Show will take place between the 19th and 23rd May 2020. For more details please visit: https://www.rhs.org.uk/shows-events/rhs-chelsea-flower-show
Picture credits: ©Robert Myers.