Chelsea garden to provide green oasis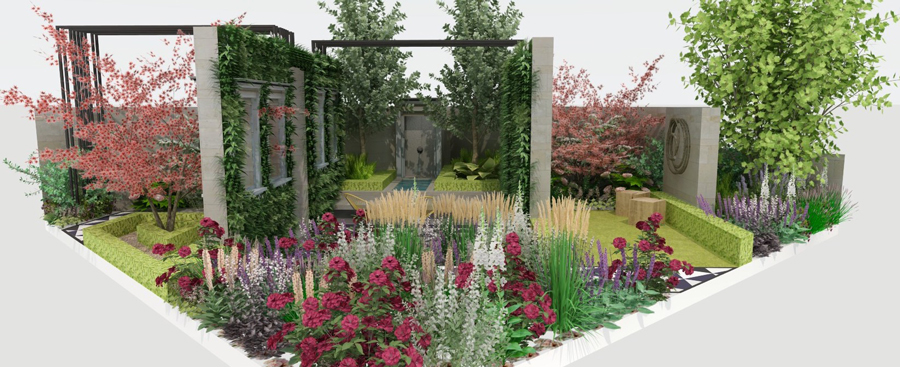 The New West End Company has partnered with the Sir Simon Milton Foundation, to design and build a "Space to Grow' garden at this year's RHS Chelsea Flower Show. The 'New West End Garden' will be designed by Kate Gould and is a modern interpretation of the gardens and architecture of a London square.
The garden is a communal space for use all year round to provide a green oasis in the heart of the West End of London and combines environmentally positive technology.
With positive clean air as well as energy harvesting technology for residents, it also provides a calm space for visitors to use.
Lightweight trees provide shelter and privacy from the surrounding buildings and colourful low-level planting around the perimeter invites you into the garden. Technology is factored into the design to work seamlessly in the space and not as a token gesture.
The Pavegen technology is a multifunctional custom flooring system – as people step on their tiles, their weight causes electromagnetic induction generators to vertically displace, which results in a rotary motion that generates off-grid electricity. Additionally, each grid is fitted with a wireless API that transmits real time movement data analytics, while directly producing power when and where it is needed. Pavegen is also able to connect a range of mobile devices as well as building management systems.
Kate is an award winning garden designer working in London and the Home Counties. She is no stranger to the RHS Chelsea Flower Show having been awarded four gold and a silver-gilt medal at previous shows as well as a coveted 'best in show' for her inspirational designs.
At the end of the show the New West End Company will assist with relocating the garden to a suitable site in London's West End.
Visit the RHS Chelsea flower show from the 22 – 26 May to see Kate's stunning garden or alternatively you can see more of Kate's work on www.kategouldgardens.com