Chelsea Show garden relocates to Hampshire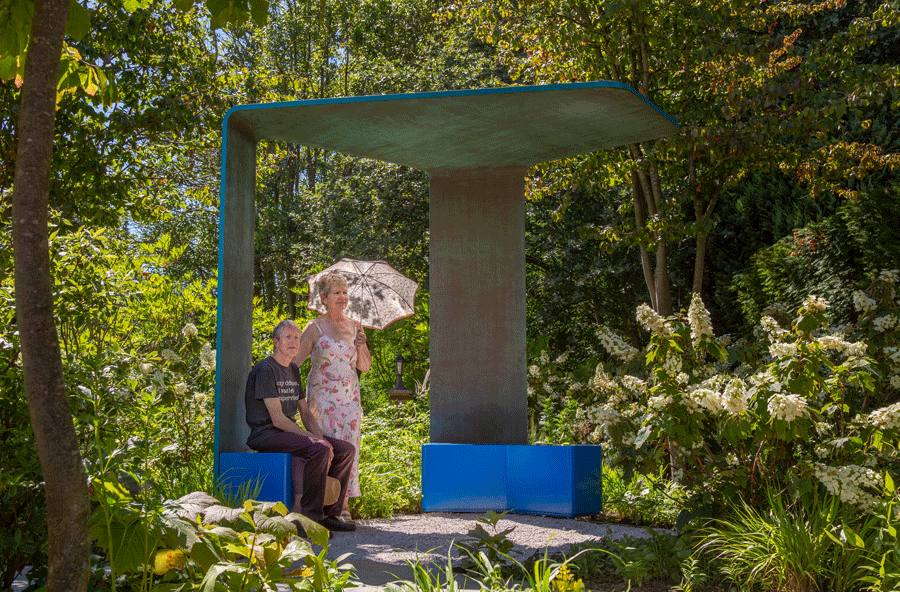 (Above: Peter and Mandy Jones in Rare Space Garden: Credit Cathryn Baldock)
A triple award-winning show garden has been relocated to Exbury Gardens, Hampshire, enabling free access for local Rare Dementia Support members. The National Brain Appeal's beautiful 'Rare Space', designed by Charlie Hawkes, has been sited opposite the Five Arrows Gallery at the famous New Forest visitor attraction.
The garden was opened by Helena Clarke, who lives with the condition posterior cortical atrophy (PCA). Also attending the launch was Peter Jones from Fareham who has also been diagnosed with PCA which is a condition affecting the area of the brain that deals with visual processing.(both pictured banner above).
Free access to the garden is available for local families who are members of Rare Dementia Support (RDA). A digital donation point at the garden allows money to be raised for The National Brain Appeal, which funds the service. Information boards and leaflets give details about rare dementias and advice on how to seek support. Staff at Exbury Gardens have also undertaken dementia awareness training.
The Project Giving Back-funded 'Rare Space Garden' won three awards at the RHS Chelsea Flower Show last month, including a Gold Medal. The garden is specially designed for those living with rear dementias, particularly visual and special forms of the disease.
The garden will eventually move to its final home at the world's first Rare Dementia Support Centre in London but, while The National Brain Appeal raises the estimated £7 million needed to create this Centre – expected to open in 2024/25 – the garden will stay in its temporary home in Hampshire for Exbury's visitors to enjoy and to raise awareness of these life-changing neurological conditions, which are often misdiagnosed.
RDA supports people living with seven forms of rare dementia; these can strike at a young age, may be directly inherited and often affects skills other than memory, such as vision, language, behaviour and movement.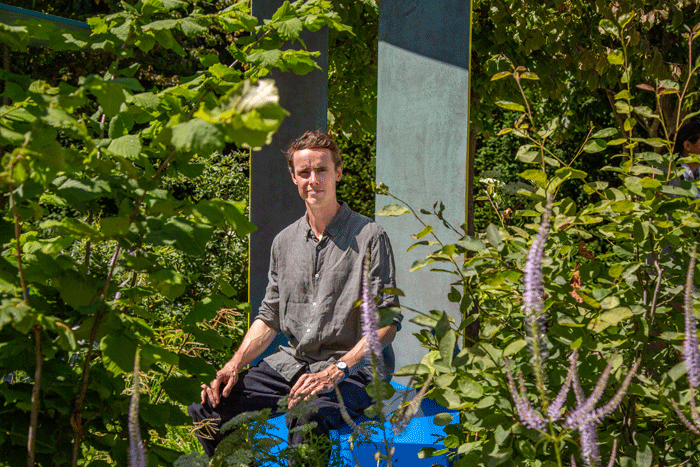 (above: Designer Charlie Hawkes; Credit Cathryn Baldock)
Theresa Dauncey, chief executive of The National Brain Appeal, said: "It is wonderful to see The National Brain Appeal's Rare Space Garden in its new home at Exbury Gardens and looking as splendid as it did at RHS Chelsea Flower Show. We are incredibly grateful to Marcus Agius and everyone at Exbury Gardens for hosting our garden, giving so many more people the opportunity to see it and to learn more about rare dementias, and, of course, to Project Giving Back for making all of this possible."
The Rare Space Garden has been created with the input and collaboration of those affected by visual-led dementias, designed as a space to foster autonomy and hop. It offers a balance between exploration and calm navigation. A level, wide path weaves simply through the garden, offering brightly coloured, easily found seating areas and sheltered spaces along the way, for independent wayfinding.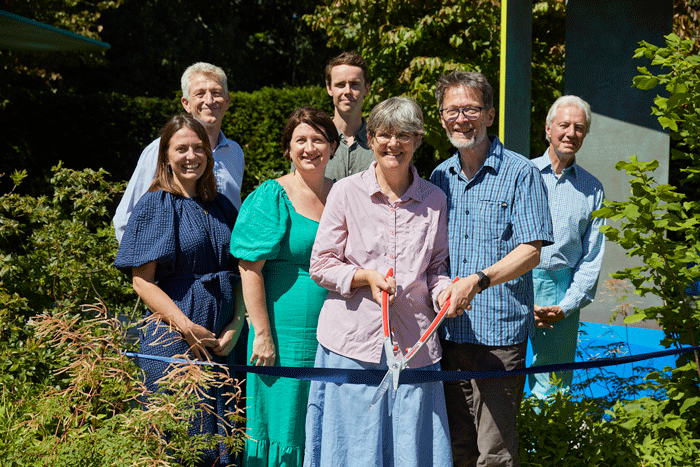 (above Photo Credit: ©Britt Willougby Dyer)
Exbury Gardens' chairman Marcus Agius said: "One of the purposes of the Rare Dementia Support Centre will be to educate people about these unusual conditions, not just sufferers and their families and carers, but also members of the medical profession. As such, the Rare Space Garden fits well with the educational objects of the Exbury Gardens charitable trust. We are simply delighted to be hosting it until the new centre is built."
Exbury Gardens is spread over 200 acres and is a calm and beautiful oasis with tranquil ponds surrounded by rare plants, trees and shrubs. It was created by Lionel de Rothschild in 1919, a passionate collector of plants and a keen supporter and sponsor of the early 20th century plant hunters.
For more information about the garden please visit: www.exbury.co.uk
Photo centre page: ©Britt Willoughby Dyer: Helena Clarke (front centre, with husband David) officially open the Rare Space Garden at Exbury Gardens.