Guide Dogs Chelsea Anniversary garden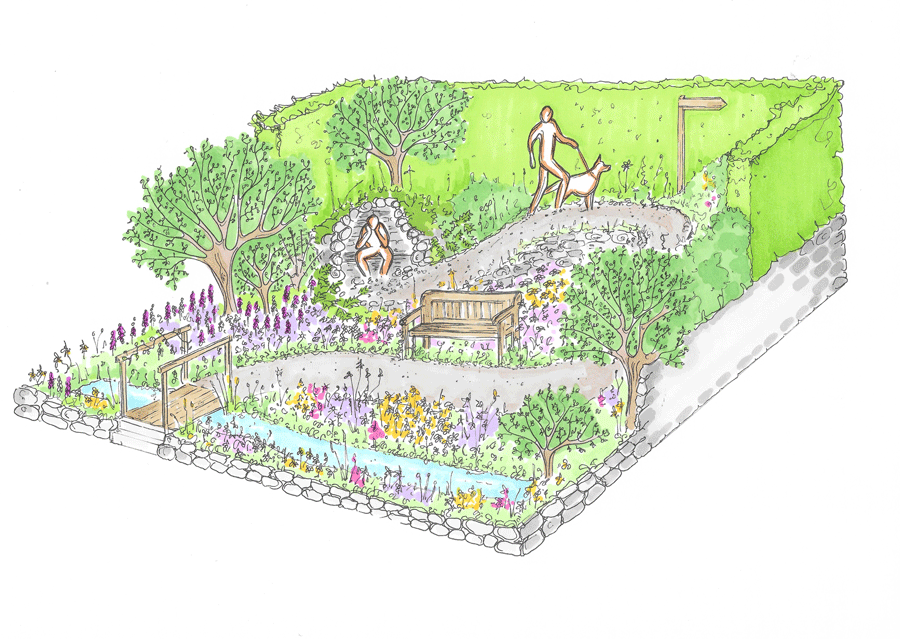 An Artisan garden at the 2021 RHS Chelsea Flower Show will celebrate the 90th anniversary of the creation of The Guide Dogs for the Blind Association and will illustrate the journey of somebody with slight loss.
Designed by Adam Woolcott & Jonathan Smith, the garden will illustrate a journey from isolation and despair into a world of enrichment, acceptance and joy. Set in the 1930s it reflects the beginnings of the charity with the first guide dog owners being veterans blinded in the First World War.
A rusted metal sculpture will sit alone in a stone hollow representing fear and isolation. The planting in that part of the garden will be dark with little flower colour. A path leads uphill out of this space and as the colour of the path becomes lighter so the figure is led out of isolation by their canine companion.
The garden has a small stream which also provides sound and there will also be a feature vintage 1930s bench in the centre of the garden where the guide dog owner can sit and relax in his surroundings. There are blocks of contrasting flower colour in some parts of the garden – this makes the flowers easier to distinguish for the partially sighted.
The Guide Dogs story was started 90 years ago by Muriel Crooke and Rosamund Bond who organised the training of the first four British guide dogs from a humble lock up garage in Wallasey, Merseyside.
One of the dogs was owned by Musgrave Frankland, secretary of the Liverpool Branch of the National Institute for the Blind, while the others were owned by Thomas Ap Rhys, Allen Caldwell and G W Lamb, three veterans blinded in the First World War. The four men were partnered with German shepherds and it was decided that six months should pass to see whether this pioneering project should continue.
The rest is history! Today, the charity is the world's largest breeder and trainer of working dogs and some 36,000 lives have been transformed through a guide dog partnership since 1931.
Garden diagram: ©Woolcott & Smith