Jo Thompson relishes challenge of RHS Chatsworth
Reckless Gardener's Sandy Felton talks to award-winning designer, Jo Thompson, about her Chatsworth garden for sponsor Brewin Dolphin and why she is looking forward to the challenge of designing a FreeForm garden for the inaugural Show.
I have admired Jo Thompson's work as a garden designer for several years and can remember vividly when I started to really appreciate her talent. It was at RHS Chelsea in 2012 when she used a 1950's caravan called Doris as the focal point for a relaxed and delightfully planted retreat garden. I was hooked.
Jo is one of the UK's leading garden designers. In 2011 she was named 'Best Rural Garden Designer' and a Society of Garden Designers 'Future Designer' in 2014. She is noted for gardens that sit perfectly in their surroundings rather than following fashions and she is now considered to be one of the UK's leading plantswomen.
If you ask Jo why she wanted to become a garden designer she will tell you that even as a child she always enjoyed looking at the organization of space: "I loved architecture and landscape, but I wasn't really focused on plants, despite the fact that my mother was a florist," she says. "When I lived in London, we had a tiny roof terrace, near Clifton Nursery. I called in a garden designer to help me design it and it was then that I realized that it could actually be a career. I trained at The English Gardening School and set up my own practice on the Kent/Sussex border shortly afterwards."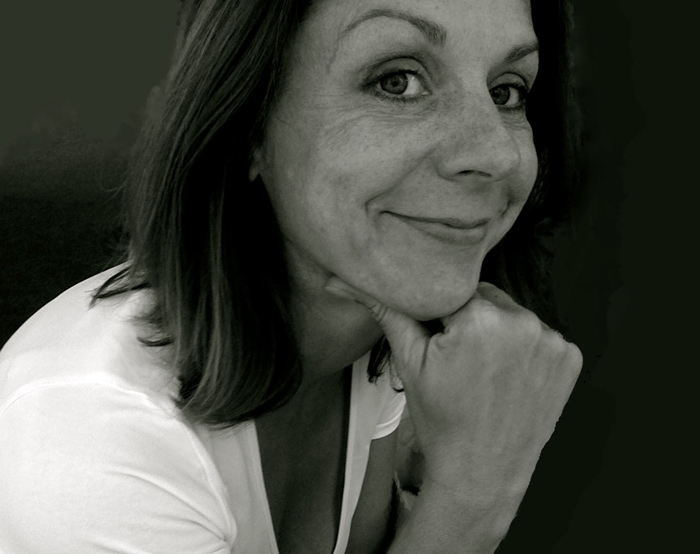 There are still relatively few top female garden designers in the UK and Jo frequently champions the role of women in horticulture. She is also passionate that more women designers enter show gardens and this is something that has been picked up by the Royal Horticultural Society (RHS), particularly at RHS Chelsea: "I think there are lots of brilliant female garden designers out there and I think it is a shame that we are not seeing more from them," she says. "They just don't seem to get the attention they deserve.  I think it is partly about confidence and partly about just putting yourself out there. I remember walking down Main Avenue at RHS Chelsea one year and realising that I was one of only two women there." One feels sure Jo will be delighted for Charlotte Harris who has just won a coveted Gold on Main Avenue at the 2017 RHS Chelsea and we all hope that there will be other female designers who will have the confidence to exhibit at Chelsea and other RHS Shows in the future.
She realizes that it is a hard decision to push forward with your career when you have children. As any working mother knows this fact is not confined to horticulture but can be problematic to any mother who seeks a work/life balance: "My children were left with their grandparents for stretches of time when I was working away from home.  It's tough, but I also wanted to be a good role model for my daughter. I remember being told that I was the only designer – both male and female – to have showed 8 consecutive gardens at RHS Chelsea.  I just felt that I had to work hard to get to where I wanted to be," she says.
Rooftop spaces to residential gardens
That hard work has certainly paid off and today Jo creates gardens ranging from tiny rooftop spaces to residential family gardens, public spaces and country estates. She has been awarded three Gold and five Silver-Gilt medals at RHS Chelsea and is a member of the RHS Gardens Committee and Garden Advisor for RHS Rosemoor. She is also a member of the Society of Garden Designers and as a tutor at The London College of Garden Design she is able to transfer her skills to other aspiring designers.
Jo had a special role at this year's RHS Malvern when she was asked to mentor two young Russian designers. She found this a great experience and it gave her the opportunity to work with two designers who were unfamiliar with plants from British nurseries: "I helped with detailing on space and materials too and gave them an understanding of the different ways you can plant." Jo points out that mentoring is very important and is something she does quite naturally in her own practice and at the London College of Garden Design: "I thoroughly enjoyed working at RHS Malvern and would love to work with young designers on other occasions," she says. "It helps remind you how far you have come and allows you to pass on your experience."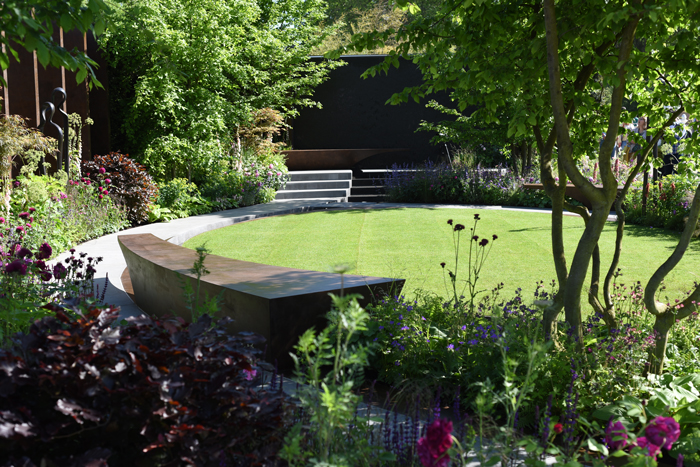 2016 RHS Chelsea Garden (Gold)
Asked if she has a favourite garden designer or someone who has influenced her in the past she will tell you that she loves Arne Maynard: "I think he is a versatile designer and his gardens respond to the place without pastiche," she says. "His planting is exquisite and his gardens look like places you really want to be in. They are very photogenic because they are very beautiful places."
Jo will tell you that people say she does not have a particular style and that is because she is inspired by the location: "I want to design gardens that look like they are meant to be there," she says. "Gardens can be contemporary, but I don't want to use plants and materials that are simply fashionable. I need to be sure that the gardens I design can stand the test of time. If there's a view then I want to celebrate it. I like design that enhances a setting." I doubt there are few of us who would disagree with that.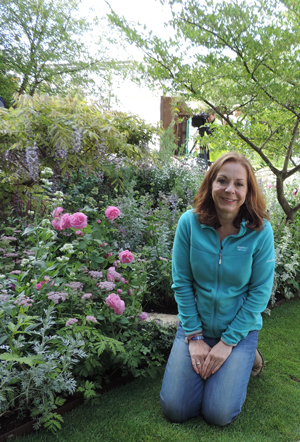 I do not know who first coined the phrase that Jo was the "Queen of Roses" but I have long thought of her as such. She has a wonderful capacity for choosing not only interesting and attractive roses but also unusual ones and her show gardens are testament to this expertise: "I love roses because they smell so beautiful and because they seem to get more attractive every year. I love their shape and the different hues. Each one feels exquisite. My favourite are Félicité-Perpétue a rambling rose that grows in clusters and smells fantastic and Adelaide d'Orleans, another rose that I have scrambling around my garden. They are both amazing and both seem to elicit gasps from everyone who sees them."
When she is not designing show gardens Jo is working for her private clients. Her garden design consultancy – Jo Thompson, Landscape & Garden Design – is based East Sussex and her work is mainly in the UK, however, she has also designed projects in Russia and France and has represented the UK at the Gardening World Cup in Japan. For Jo, her aim is to design gardens that her clients will love to be in: "Our clients are mostly people in the creative industries," she says. "But they can range from young families to retired couples. We predominantly work in the South East and in London and Sussex, but we have done a few international projects too."
She reliably informs me that she does get some spare time and loves visiting art galleries with her daughter and enjoying city breaks with both her children: "I'm partial to the odd box set too!"
RHS Chatsworth garden for Brewin Dolphin
So we move on to her latest show garden for the inaugural RHS Chatsworth Flower Show for sponsor Brewin Dolphin (7th to 11th June 2017). Both have spent many years exhibiting at RHS Chelsea and so it is a thrill for both of them to be at the first RHS Chatsworth: "It's an exciting project for me," she explains. "The 1,000-acre Chatsworth estate is extraordinary in scale after the rigid confines of RHS Chelsea where I spent many years designing gardens to sit within a 20 x 12 metre boundary.  The incredible setting of Chatsworth offers quite a different perspective. I hope my intervention to the site is one that will feel appropriate in the landscape surrounding the elegant and beautiful Chatsworth House," she points out.
"I've been given a wonderful position on the banks of the River Derwent in an area of the show known as the 'FreeForm' arena, which is intended to encourage 'a diverse freedom of express through sculptural design'. The garden is more of a horticultural installation than a traditional show garden. It's made up of a series of garden areas dotted throughout an imposing contemporary sculpture that will sweep through the space in a series of wide curves, before cantilevering dramatically out over the water and sweeping back to the riverbank."
The garden will be very different to gardens Jo has designed for RHS Chelsea and the gardens Brewin Dolphin have sponsored in the past: "The sheer size and scale of the setting has allowed me to push my boundaries this year and create something that I hope will inspire and excite everyone who visits the show. It will also provide a fabulous contemporary viewpoint from which you can enjoy some of Chatsworth's historic vistas.  Chatsworth has a rich history of combining the surprising and contemporary with the historic and traditional.  It's this spirit that I want to reflect in The Brewin Dolphin Garden this year," she says.
The FreeForm category at RHS Chatsworth will be un-judged and it is hoped that this will encourage freedom of expression to celebrate the connections between plants, sculpture, art and people. The Brewin Dolphin garden will be Jo's biggest show garden so far and includes a sculpture crafted from 700 steel bars that will cantilever dramatically out over the River Derwent before sweeping back to the garden and gliding through the space in a series of wide curves.
I am really looking forward to seeing Jo's Chatsworth garden and feel sure that it will be one of the talking points of this new and exciting RHS Show. Set against the magnificent backdrop of Chatsworth House in the wonderful Derbyshire countryside it has to be the perfect setting for an RHS Show. Further details, tickets etc visit: https://www.rhs.org.uk/shows-events/rhs-chatsworth-flower-show
Our appreciation and thanks to Jo who has taken time out of a very busy schedule to talk to us. You can find more information on Jo's work on her website at: http://www.jothompson-garden-design.co.uk/
Photo credits: Banner: ©Jo Thompson/Brewin Dolphin; B&W picture Joe (centre) ©Jo Thompson; Picture of Chelsea garden 2016 and picture of Jo top left: ©Reckless Gardener.