Mangrove Nine' inspire Chelsea garden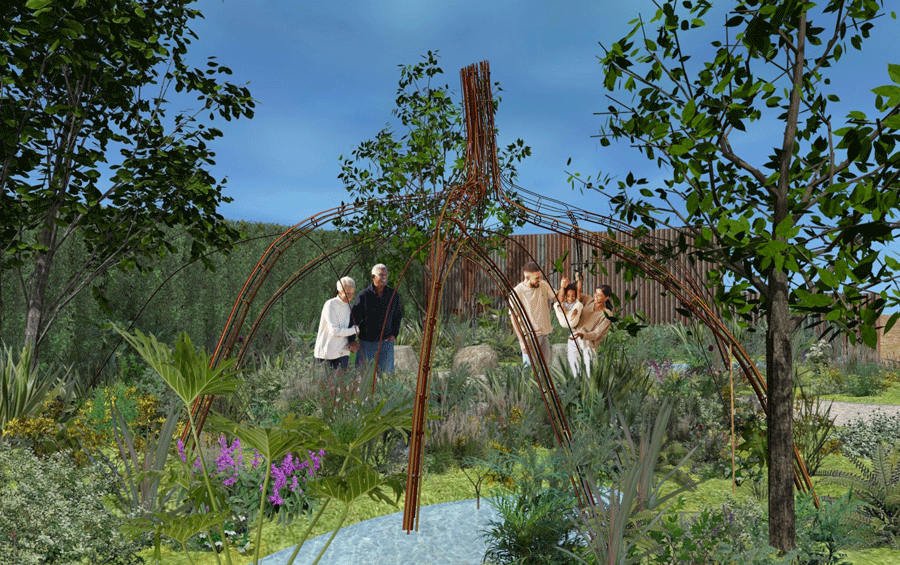 In the wake of the Grenfell Tower fire, Grow2Know, a non-profit CIC was born to showcase the power gardening has to heal and unify. The organisation is now making its first RHS Chelsea Flower Show debut in May 2022, with a garden design that provokes a much-needed debate about social injustice and the escalating climate crisis.
The design is inspired by the events of Notting Hill's Mangrove Nine in the 1970s and the deforestation of mangroves, a keystone species that harbour entire estuarine communities. 'Hands off Mangrove by Grow2Know' aims to drive awareness of the severe impacts that racial and environmental injustices are having on our planet.
The garden, designed by Tayshan Hayden-Smith and Danny Clarke, presents a symbol of coexistence, (bio)diversity and resilience that is reflective of the community of Notting Hill, where the Mangrove Nine stood up in the face of adversity for the Mangrove restaurant, inspiring positive change for future generations.
At the centre of the garden sits a four-metre tall, deforested Mangrove sculpture with nine deliberately bare roots – each one honouring a Mangrove Nine defendant and symbolising a stark reminder of the impact humans are having on the planet's most important ecosystems.
A crushed concrete path runs through the centre of the garden, immersed in abundant and beautiful plant species, representing the harsh challenges and threats of racism, poverty and violence in 1960/70s Notting Hill and today.
The garden will feature edible plants including beetroot, peppers, rocket and tomatoes – the garden provides a means of growing fresh produce and encouraging horticulture within the community, while creating access to fresh and locally grown food.
After show relocation
After making an appearance at RHS Chelsea the garden will be relocated to its true home in the community of North Kensington, just roads away from the original Mangrove restaurant and the birthplace of Grow2Know. The plants have been carefully selected to thrive in the garden's second life in the North Kensington community in inner London, a short journey from the Chelsea show ground.
Tayshan Hayden-Smith, Founder of Grow2Know, said: "Our presence at the RHS Chelsea Flower Show is a monumental opportunity to promote non-profitable, grassroots community gardening, as well as Grow2Know as a place-making organisation that is dedicated to improving the way communities influence the outcome of common, shared spaces.
"Touching on topics that hit home hard, Hands Off Mangrove by Grow2Know will celebrate the culturally rich and diverse community of North Kensington, as well as demonstrating that gardening has the capacity to heal and unify irrespective of culture, race, ethnicity, religion or age. As a young man born and raised in North Kensington, I'm keen to explore and embrace my roots both culturally and historically – inspiring stories and celebrating pivotal milestones in my community."
Powerful messages
Danny Clarke, co-director of Grow2Know, said: "Hands Off Mangrove by Grow2Know garden represents two relevant and powerful messages – one of social injustice and the other of climate injustice – of which both shine a light on the harsh realities of our past, present and future, to evoke urgent action to create a better world for future generations."
Danny goes on to point out that through the garden at the RHS Chelsea Flower Show, they aspire to break down barriers and encourage diversity across the gardening world by planting a seed of change in the minds of visitors.
The garden is supported by Project Giving Back, a new and unique grant-making organisation that funds gardens for good causes at RHS Chelsea Flower Show.
Based in North Kensington, Grow2Know's heart lies in reclaiming space and reconnecting people with nature and each other. Members of the community are unified through guerrilla gardening as a way of healing in response to the Grenfell Tower fire in 2017.
Hands off Mangrove by Grow2Know will be presented at the RHS Chelsea Flower Show from 24th – 28th May 2022, further details and tickets available from rhs.org.uk.