Mark Lane on why gardening is good for you
Sandy Felton talks to Mark Lane, about his perspective on landscape design and gardening and why the UK's first garden designer in a wheelchair knows that gardening is good for both body and soul.
There are times when I grumble at not being able to do something in the garden that for years I have taken for granted. Although I have suffered from arthritis for most of my life, there comes a time when you have to accept different ways of doing things in the garden and get on with it.
Then I saw Mark Lane on television and I stopped grumbling. If this guy could carry on gardening, not to mention running a successful award-winning design practice and presenting for the BBC, it was clear that here was an example to us all that gardening is possible if you adapt, accept any limitations and enjoy all that gardening has to offer – it is possible.
When I met him at Chelsea I was struck by his positive outlook and passion for gardening and his desire to get the message out there that gardening is good for both body and soul.
Mark was born with spina bifida, and explains that despite having as he describes 'a strange gait', he was nevertheless active and in fact only discovered much later in life that his nagging back pains were due to spina bifida. Then he was involved in a serious car accident and due to complications ended up as a wheelchair user full time.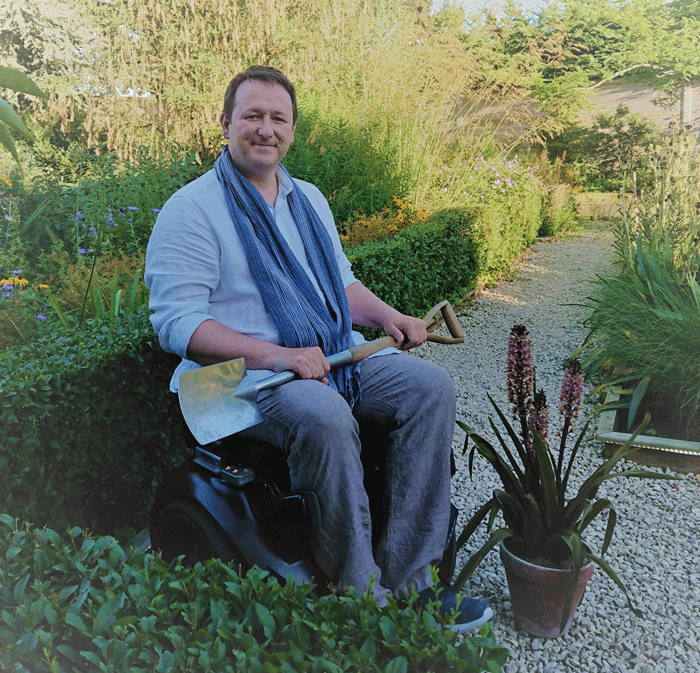 Mark had a very successful career in publishing in London but the call of the country life and the desire for a larger garden, led Mark and his partner Jasen to buy a property in Kent. He was able to commute up to London to continue with his publishing career – a career that saw him become Publishing Director for the Royal Institute of British Architects (RIBA) and the Managing Editor of publisher Thames & Hudson.
Then in 2001 the car accident happened and the long period of rehabilitation. The daily commute to London became both tiring and complicated: "After very careful consideration, and despite full inclusivity at the publishing house, I decided to leave publishing behind me. This was a very difficult decision, especially as my later father was a technical author for the M.O.D., so books and writing were always part of my life," he says.
Mark found his health deteriorating both physically and mentally and his rehabilitation was therefore much slower than anticipated: "Every day I would look outside our barn, see the trees, the wind through the leaves and the flowers, but did not want to venture outside, let alone my bed. By this point my co-morbid depression was very low," he remembers. "One day, however, I said to my partner Jasen 'can we go outside'. To this day I cannot remember why I wanted to do this. Sitting outside with the sun on my cheeks and a slight breeze through my hair, we both noticed my shoulders dropping, my breathing slowing down and me actively taking part in a conversation."
He recalls that he was looking at a fern at the time and Jasen had said to him 'you love plants and gardening so why don't you do something that relates to them'. They had moved properties in Kent twice to enable them to have a larger garden and Mark had  always read enthusiastically about plants, garden design, garden styles and the history of gardens. There can be little doubt that his career in publishing and his avid reading of gardening related subjects, sowed that little seed in his mind – it just wanted nurturing.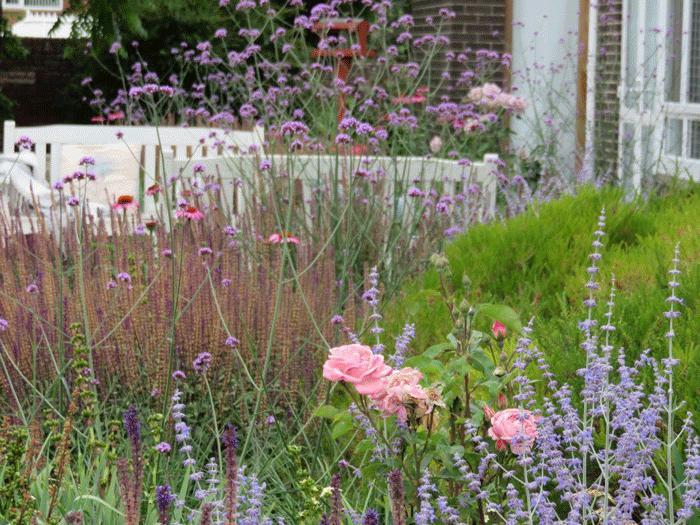 A change of direction is never easy and when you are considering such a dramatic change of careers the obstacles might seem insurmountable for someone in Mark's situation. He points out that he was brought up to believe that no matter what level of ability he had he should always try and achieve whatever was required: "So, when I decided to pursue a career in garden design I thought it made sense and did not see any obstacles; however, I was wrong. I travelled around the main colleges (remember this was about 16 years ago) and found that most of them were not compatible for someone in a wheelchair. I was even told by one lecturer that I would not be able to validate my diploma because I would not be able to do a site survey and take measurements!"
The lecturer went on to point out that, if required, Mark would not be able to dig a hole: "As you can imagine, my answer was to the point – 'I know how to do a site survey, there are technical apparatus to aid carrying out a survey and if it simply means running around a garden with a tape measure, then I can get a colleague or friend to do it for me, under my instruction.'" As for digging a hole, Mark explained to him that he knew how to do that and again could instruct someone to do it, unless it was a small hole in which case he could do it himself with long-handled tools.
Undaunted, Mark started to search for online courses, did his research, spoke to a few lecturers and found the right course for him.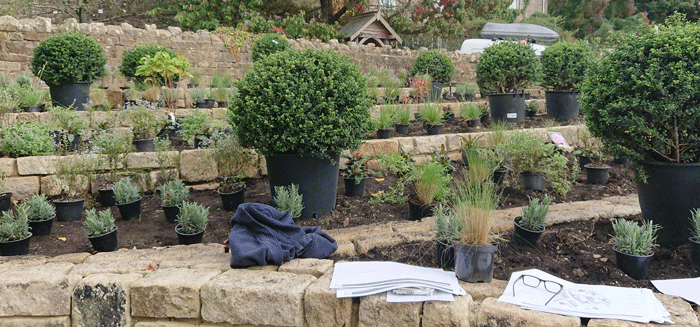 I asked Mark what advice he would give someone in a similar position to himself so they could keep gardening: "I am passionate about plants, gardening and garden design. Advising someone to start or continue with gardening is only possible if that individual wants to," he said. "I therefore suggest that initially you buy a houseplant, such as a spider plant or cactus, then water, feed and give it light. Nurture the plant and see how you get on. If you are successful then perhaps buy a few more, or better still try growing something in a pot outdoors. Bulbs are easy and rewarding for example. Before you know it, you will be visiting garden centres, looking online and getting the bug for gardening," he adds.
Mark points out that for him any garden is a sensory garden, however, as part of his practice he does undertake sensory garden commissions that are fully inclusive: "Whether designing for people with disabilities or not, I like to approach a concept as a fully inclusive space. If someone is in a similar position to me my advice is to keep the garden simple. This does not mean paving it over and growing plants in pots – in fact, you will be watering so much you will find gardening a chore," he points out. "It does not mean ending up with something that looks institutional either," he says.
"Think about how you want to get around your space, whether it is a garden, a balcony or a patio. To get around you need a firm, stable, level pathway, ideally with raised edges. The raised edges stop wheelchairs from ending up in a border or crashing into pots and are also good for people who have visual impairment or are totally blind."
The next point is to think about how you do tasks indoors. Do you lift things on a table to work for example: "If you do then think about having a raised planting table (not a raised bed) so that you can sit with your knees under the planting table and grow salad crops or flowers."
Asked if he would like to design a show garden at Chelsea he confirms that he would love to: "I have designed several show gardens for local flower and gardening shows and I have been in discussions with a couple of organisations, but for me it's finding the right organisation to work with," he explains. It would certainly be a first and I suspect, given Mark's determination, we won't have to wait too long for the first Chelsea show garden designed by the UK's first garden designer in a wheelchair!
He admits that deciding what aspects of gardening he likes best is a tricky one: "I love plants and putting together planting schemes, but I also really love a challenging space. I really enjoy creating a space that reflects the house, the clients, the surrounding environment and the environment at large. I seem to be able to visualise a designed space straight away when I see a new garden or landscape," he says. He also loves getting his hands dirty, planting bulbs and herbaceous plants and I think we can all relate to that experience.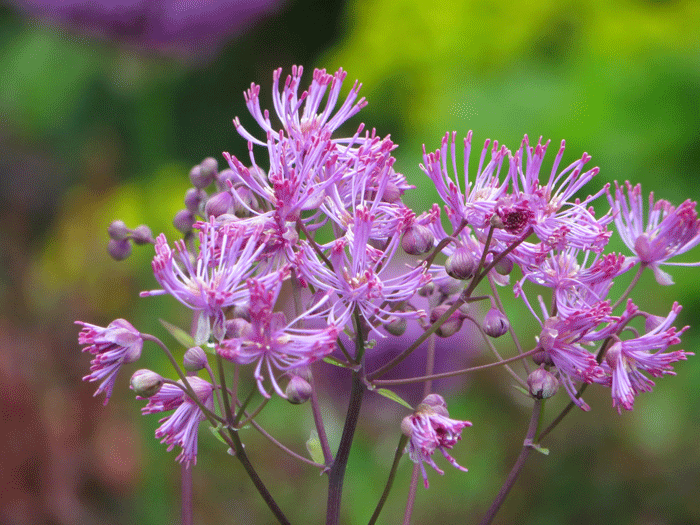 He has favourite plants at different times of the year, as we all do, but confesses to loving ornamental grasses and species-type plants. At the moment he is going mad for Helenium, Persicaria and Sanguisorba but admits that this might change next year. Yes, we have all been there as gardeners!
With regard to his own relationship with his garden he knows that when he goes outside his shoulders drop, his breathing slows down and the stresses of the day are forgotten: "I love every season for different reasons," he says. "I love spring for renewal and freshness, summer for its abundance (and hopefully warmth), autumn for its colours, the smell of chimneys, bonfires, toffee apples, candy floss and fireworks and winter for its quietness and bare branches revealing the beauty of trees."
In their garden they have a lovely silver birch which overlooks the front part of the garden – the house is in the centre of the plot – and as the sun goes down the ornamental grasses and silhouettes of herbaceous perennials, such as Eryngium agavifolium, Eupatorium purpureum and a trio of Pyrus calleryana 'Chanticleer' come to life. For him, this is the perfect way to end the day with a cuppa: "I really enjoy weaving through the pathways, being surrounded by plants. In my seated position I get to look through plants all the time, so plant layering is essential."
When they took over their present garden, Mark admits it was stuck in the 1960s with large conifer beds and lawns, but the lawn has been removed from most of the garden now with just a small section left. They have also created a small wild meadow. One of the determining factors of buying their house was the fact that it looked over open fields so the space and the sky at night and the fields beyond make the garden a very personal sanctuary.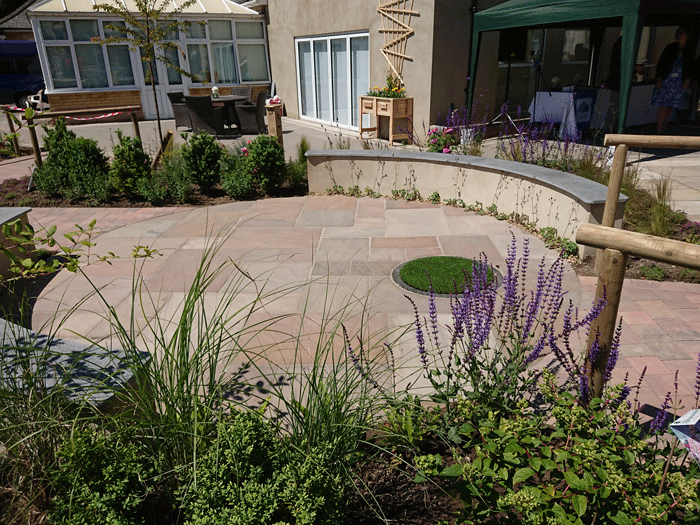 It is obvious that Mark enjoys presenting and sharing his knowledge of plants and garden history with viewers. He also likes meeting new people and visiting gardens that are new to him: "Having been in publishing, editing and putting together books, I find the whole TV production side fascinating. I also think it's great seeing a wheelchair gardening presenter." A first for the BBC and I think we would all agree and perhaps say 'about time too'.
Asked which garden designers have inspired him he says, in no order, that Piet Oudolf, Noel Kingsbury, James van Sweden, Dan Pearson and Arne Maynard are certainly on the list. He likes to write and watch movies and travelling on holidays and also enjoys the beach but admits, maybe somewhat surprisingly, that this is only in autumn and winter!
Mark is passionate about getting the positive health messages of gardening across to us all, and loves his charity work. He is an Ambassador for Thrive https://www.thrive.org.uk, for Greenfingers https://www.greenfingerscharity.org.uk/ and Groundwork https://www.groundwork.org.uk as well as being a Patron of Core Landscapes https://www.corearts.co.uk/core-landscapes and feels very honoured to be part of these incredible charities. He is also a supporter of Leonard Cheshire, and has recently teamed up with them to promote the benefits of gardening for health and wellbeing as part of its partnership with the National Garden Scheme. www.leonardcheshire.org
Mark is also editor of the website Accessible Gardens – http://www.accessiblegardens.org.uk – a brilliant website sharing information about the accessibility of gardens and historic places that is invaluable to those with mobility issues.
Asked if he could do one thing to help promote the health benefits of gardening he says: "Teach young people about gardening, seasonal planting and seasonal vegetables and fruits – plant to plate. Convince government and local councils about the importance of green spaces on our health and wellbeing, and introduce more living walls and roofs into our urban environments," he says. Well that's several Mark but we are all with you there.
Thanks Mark for taking the time out of a very busy schedule to talk to Reckless Gardener. You can find out more about Mark's work on his website at: https://www.marklanedesigns.com and on Twitter @MarkLaneTV and @MarkLaneDesigns (super photography and gardening info. on the latter.)
Picture credits: All photographs are strictly ©Mark Lane Designs.