Plant Heritage announce new collections

Horticultural charity Plant Heritage has accredited five new National Plant Collections, including Mercy Morris' spider plant (Chlorophytum comosum cvs.) collection in Kent, which is the first of its kind in the UK and boasts an impressive 18 different varieties of spider plant.
The charity has also awarded National Plant Collection status to a traditional medlar (Mespilus germanica) orchard in Norfolk (the first of its kind in the county), a Buxus collection in Hampshire and two new tree collections (Metasequoia and Liriodendron) at the RHS Garden Wisley in Surrey.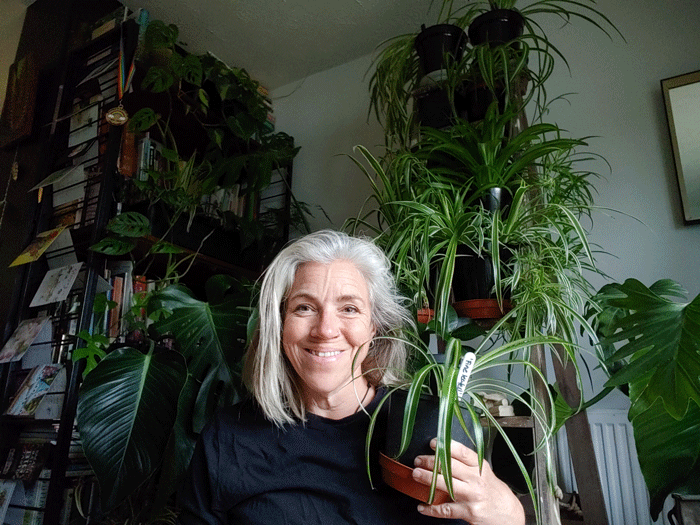 Mercy Morris (pictured above) has been growing spider plants for as long as she can remember and it was a chance encounter with an unlabelled cultivar at her local nursery that resulted in her setting out to acquire as many different varieties as she could. Today, she has 18 taxa at her home in Kent and she hopes to dispel the misconception that there is only one 'type' of spider plant and is aiming to further expand her collection to Chlorophytum as a genus.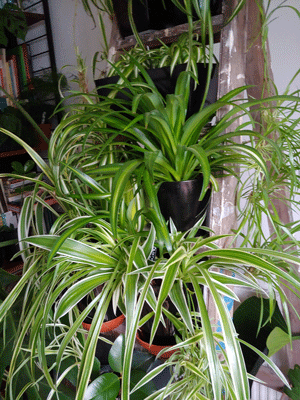 Vicki Cooke, Conservation Manager at Plant Heritage explains that Mercy's spider plant collection is found in a small, private home (and a small greenhouse) and is proof that you can successfully care for a National Plant Collection, whatever space you have: "Our National Plant Collections contain a staggering 95,000+ plants, held in over 650 collections in all corners of the country," she says. "Spider plants are one of the easiest houseplants to grow, so make a fantastic first houseplant for anyone looking to make their home a bit 'greener'," she adds.
Medlars (Mespilus germanica) is an ancient fruit that is starting to make a comeback through its uses in jelly, fruit cheese and chutney. The orchard at Eastgate Larder, in Norfolk, has been awarded National Plant Collection status – the first in Norfolk and only the second in the UK.
This has been achieved against very challenging odds – the extreme weather of 2018 (Beast from the East in the first half of the year then a heatwave in the second half) – despite which the then very young medlar trees survived and are now thriving, producing an abundance of fruit. All the fruit grown at this traditional Norfolk orchard is used for preserves and now gin too!
Vicki points out that the charity particularly liked the vision of those who are working on the medlar orchard at Eastgate, which is to revive this forgotten type of fruit.
Andrew Napier's new Buxus (box) collection in Hampshire, is located just outside Southampton. Here 100 species and cultivars of Buxus from Europe, NW Africa and Asia – to be found mostly in pots in a small back garden – is thriving, despite this popular genus' recent pest and disease troubles which have included box moth and box blight. Andrew is a good example of the importance of having a Collection Holder who is active in researching and conserving these plants.
At RHS Garden Wisley, in the neighbouring county of Surrey, Plant Heritage has awarded National Plant Collection status to their Metasequoia (also known as 'dawn redwood') and Liriodendron ('tulip tree') collections.
Plant Heritage was founded in 1978 and is the world's leading cultivated plant conservation charity for plants that have been collected, bred and grown in UK gardens. The charity aims to conserve and safeguard the UK's horticultural heritage and diversity of garden plants by keeping living examples of rare plants in its National Plant Collections scheme. More information on the work of the charity can be found at: https://www.plantheritage.org.uk/
Picture: top middle: Mercy with one of her spider plants and left some of her collection: ©credit Mercy Morris