RHS Chelsea return for Facebook
Facebook has announced they will once again sponsor a garden at the RHS Chelsea Flower Show. They will be returning to Chelsea 2020 with a Main Avenue garden, designed by landscape architect Joe Perkins MSGD, whose design won three medals during his debut at the show in 2019.
'The Facebook Garden: Growing the Future' will champion timber both as a versatile and beautiful material and as a vital part of the response to climate change. The garden will illustrate the benefits of increasing the UK's tree cover, thereby enhancing biodiversity as well as leaving a flourishing legacy for future generations.
The design is inspired by the British countryside and features a rolling meadow, a planted timber crib wall and a rising woodland edge of trees and shrubs. It will also showcase a variety of plant species and fungi that make up the complex ecosystem of a forest, highlighting the importance of protecting and transforming the UK's woodlands into valuable working resources.
Facebook will be partnering with the National Forest, a charity part-funded by DEFRA, which has transformed 200 square miles of the Midlands by planting nearly nine million trees and reaching 21% of forest cover. The garden will celebrate the people, organisations and communities already coming together on platforms like Facebook, to enjoy, create and maintain woodland and green spaces.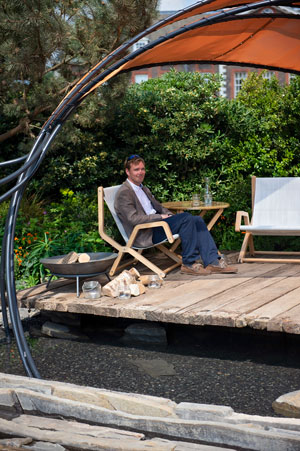 Joe (pictured left on his 2019 garden) was a big hit with visitors at the 2019 RHS Chelsea Flower Show, which saw him awarded an RHS Gold Medal, Best Space to Grow Garden and Best Construction award. Commenting on his return to Chelsea Joe said: "Our woodlands are so important for protecting our planet, they're complex ecosystems that are vital to our everyday lives. However, work needs to be accelerated on how we can utilise these to help society and the environment flourish together in the future.
"I'm excited to be working with Facebook and the National Forest to bring this important issue into the forefront. Getting people engaged is the first step. I hope that by visiting the garden and hearing inspiring stories from community groups, more people will take action to create and look after our woodlands for the future."
Steve Hatch, Vice President Northern Europe, Facebook, comments that Facebook is home to a flourishing network of green-fingered Brits who share their passion in gardening-related groups: "With award-winning landscape architect Joe Perkins in charge for a second year, we are looking forward not only to seeing another stunning garden, but one that inspires people to think about how to protect, celebrate and get outside to enjoy Britain's beautiful woodland."
Chief Executive of the National Forest, John Everitt, comments on the power of trees to transform people's lives and the landscape: "Over the last 28 years we've demonstrated how this works for the environment, communities and the economy," he said. "Groups of volunteers are actively caring for woodlands in the National Forest and will be on hand helping to create The Facebook Garden: Growing the Future. We are thrilled to be raising the profile of this approach with Facebook and Joe Perkins."
Picture credit: 3 D sketches of the garden design, credit: Render by l-Echo Visualisation.
Picture of Joe Perkins, sitting on 2019 Facebook Garden, ©Emma Campbell Photography/Reckless Gardener.