RHS Chelsea woodland oasis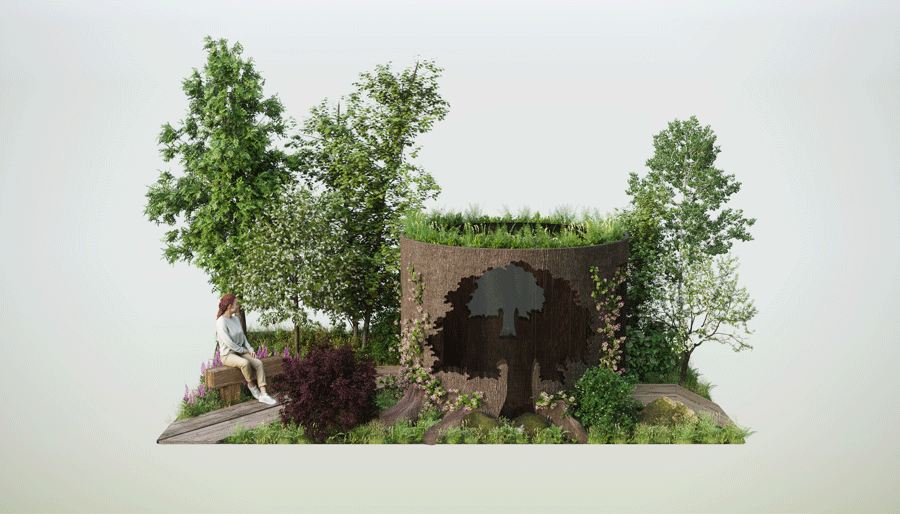 'Connected by EXANTE' designed by renowned Finnish landscape designer Taina Suonio, will feature in the Sanctuary category at the 2022 RHS Chelsea Flower Show.
This is the third time that Taina is showcasing at RHS Chelsea – her 2019 award-winning design 'The Roots in Finland Kyro Garden' is now housed at the Finnish Embassy in London, and her garden at last year's RHS Chelsea, 'Finnish Soul Garden' has almost entirely been relocated to a private garden in London.
Taina's style is a celebration of the natural, ecological biodiversity-supporting beauty of the native wild, with a touch of the more dashing elements of flowering glory in carefully selected areas of the design.
The Chelsea garden is a cool, calm woodland teleworking oasis, with space among the tranquillity for people to connect inside the garden's main feature, a natural larger-than-life oak tree stump. The unusual centrepiece has a skylight roof encircled by a vegetated edge.
The oak sanctuary has duckboards leading in and out surrounded by layered European woodland. An oak silhouette window on the front of the garden provides natural light, as well as a view in and out, showcasing the water feature on the back wall.
After the Show the garden will be relocated in its entirety to one of the University College London Hospitals (UCLH) supporting patients with their recovery.
EXANTE is sponsoring the garden in celebration of its 10th birthday in 2021 and marks the first time the company has sponsored a Chelsea garden.
Plants featured in the garden will include wild strawberry, Dogwood (Cornus sanguinea), Solomon's Seal, Lily of the Valley and Crab apple.
Credits: Banner image of design ©Taina Suonio