RHS Chelsea's Wild Comeback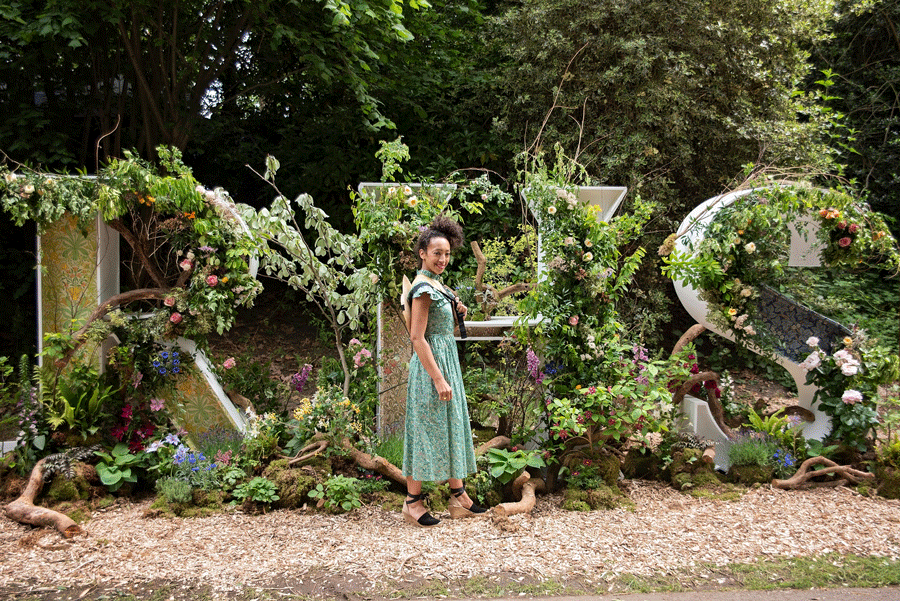 With the advances of climate change becoming increasingly evident it was no surprise that the Royal Horticultural Society (RHS) wanted the 2022 RHS Chelsea Flower Show, sponsored by The Newt in Somerset, to be a haven for native plants that benefit wildlife with a more naturalistic look in our gardens, writes Sandy Felton.
Native planting certainly took centre stage on several gardens with designers choosing wild landscapes and woodland settings, demonstrating that by using biodiverse-rich plants we are not only connecting with nature but also helping our planet and wildlife. The Show is back to its normal position in the gardening calendar following interruptions due to the pandemic.
In many respects, it was also a more relaxed Chelsea with lots of emphasis on wellbeing and the positive power of nature. Some pretty special trees also take centre stage on several gardens perfectly chiming with the Queen's Green Canopy initiative to commemorate the Jubilee.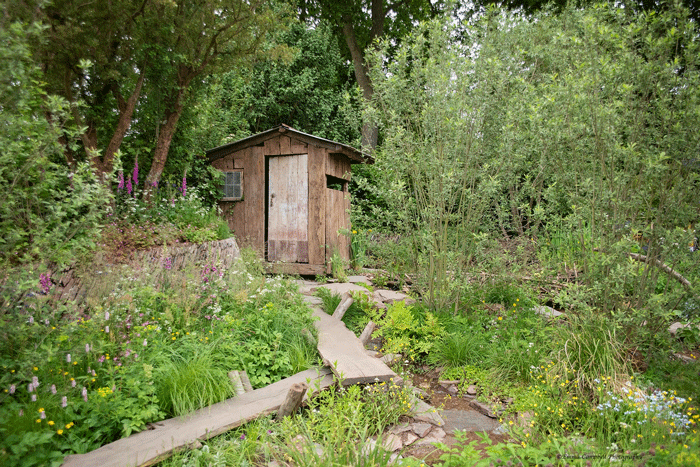 First-time RHS Chelsea designers Lulu Urquhart and Adam Hunt brought us 'A Rewilding Britain Landscape' (above) garden winning not only a Gold but also Best Show Garden. The garden takes the form of a re-wilding landscape after the reintroduction of beaver and its naturalistic setting was a triumph. Hawthorn and field maples demonstrate the dramatic transformation of land through beaver re-introductions with the design perfectly demonstrating how landscape can evolve when nature's own eco-engineers, such as beavers, are able to flourish.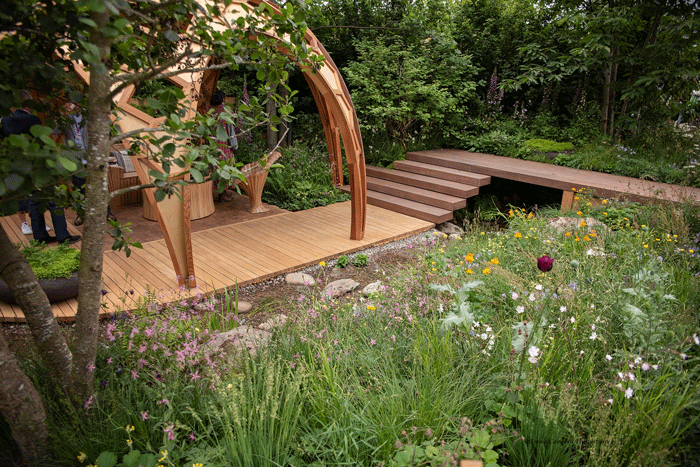 Also taking inspiration from the British countryside, the 'Meta Garden' (Gold) designed by Joe Perkins, (above) highlighted the connection between plants and fungi in our woodland ecosystems. This garden will be re-homed in the heart of the National Forest in the Midlands as part of the Queen's Green Canopy initiative.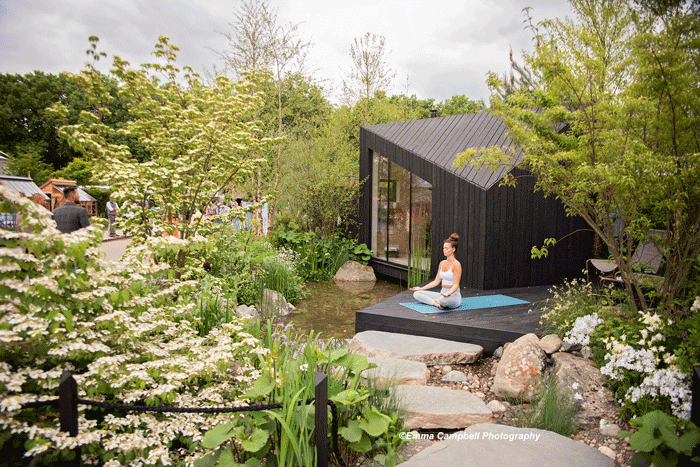 'A Garden Sanctuary by Hamptons' in the Sanctuary category (Gold) designed by Tony Woods, is another example of a garden rich in pollinating planting with water for wildlife and densely-planted trees to encourage birds (pictured above). The charred timber exterior of the cabin draws from Japanese design influence and the Japanese philosophy of Wabi Sabi – accepting transient nature of life and the beauty of the imperfect.
The 'New Blue Peter Garden – Discover Soil', designed by Juliet Sargeant (Silver-Gilt) encourages us to investigate the soil beneath our feet. The garden was proving very popular on press day and alongside soil-themed art, including 'citizen art' projects created by the children and people of Salford, you could listen to the sounds of a compost heap!
Of course, there are also what we might consider the more traditional larger show gardens such as the 'RNLI Garden' designed by Chris Beardshaw (Gold), the 'Perennial Garden With Love' designed by Richard Miers (Silver) and the 'Morris & Co' garden designed by Ruth Wilmott (Gold). These were among my personal favourites and are an absolute delight with perfect planting combinations and style.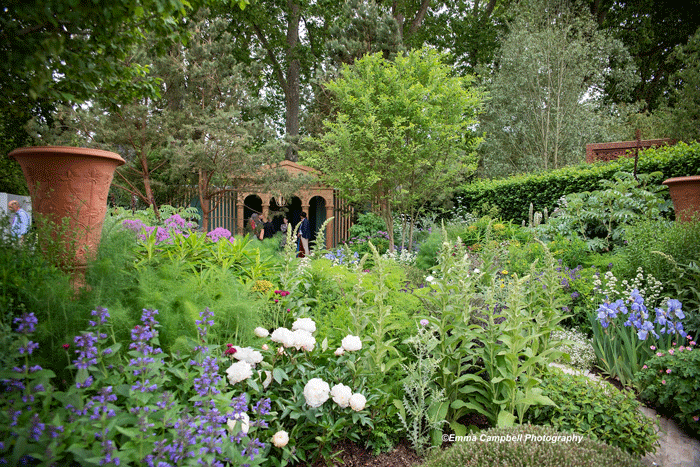 The 'RNLI Garden' is quintessential Beardshaw with rich planting celebrating texture, form and foliage (above). You can always expect large statement trees from Chris and this garden is no exception. Chinese elm and Scots pine hint at the traditional lifeboat building materials used when the RNLI was formed in 1824. The beautiful wooden pavilion is another nod to those early lifeboats. Whites, blues and pinks bring a sense of a confident and calm garden. Loved it. The large planting pots on this garden and the lantern feature in the pavilion are perfect complements for this design.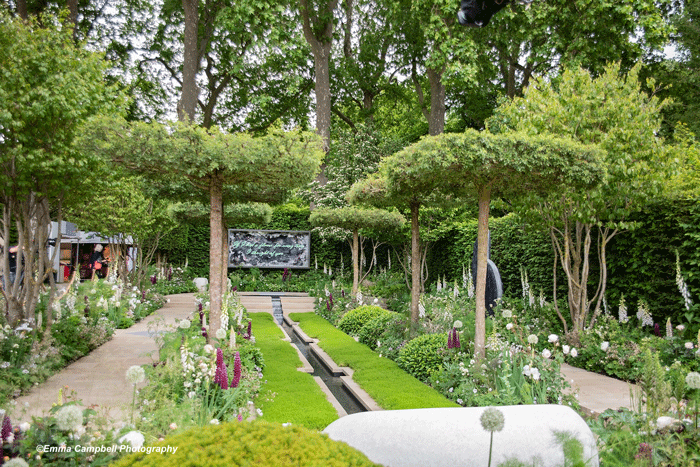 'The Perennial Garden With Love' was proving popular on press day and I have to say was a personal favourite. It's a classical and contemporary design with hornbeam hedging, a green palette softened with gentle tones, and I found it totally relaxing. Perennial is the charity that works directly with people in horticulture and their families with the garden design echoing the designer's belief that gardens are a gift of love, between those who create and nurture them and those who visit and enjoy them. I'm sure this garden will certainly be in the running for People's Choice.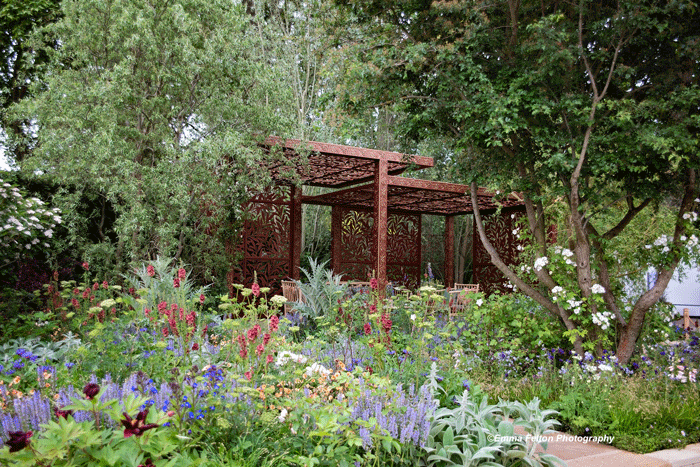 The 'Morris & Co Garden' re-imagines two of Morris's iconic patterns – Willow Boughs and Trellis. A selection of plants from Morris's designs are incorporated in the garden where we find earthy reds, apricots and blues, reflective of his love of colour and cottage garden favourites. The intricate hand-crafted metal pavilion and water channels reference the metal inlays on the wooden printing blocks used to make his celebrated Willow Boughs design. After the show this garden will provide a legacy to seed several new community gardens in Islington in collaboration with the Arc Centre Gardening Collective.
The 2002 Show is certainly a diverse one – we have naturalistic gardens, more formal designs and gardens where hard landscaping is more in evidence. Some might argue that hard landscaping is intrusive and takes away from the planting but I have to say that this year, where hard landscaping is used, it is used to complement planting rather than overshadow it. – Andy Sturgeon's 'Mind Garden' being an example.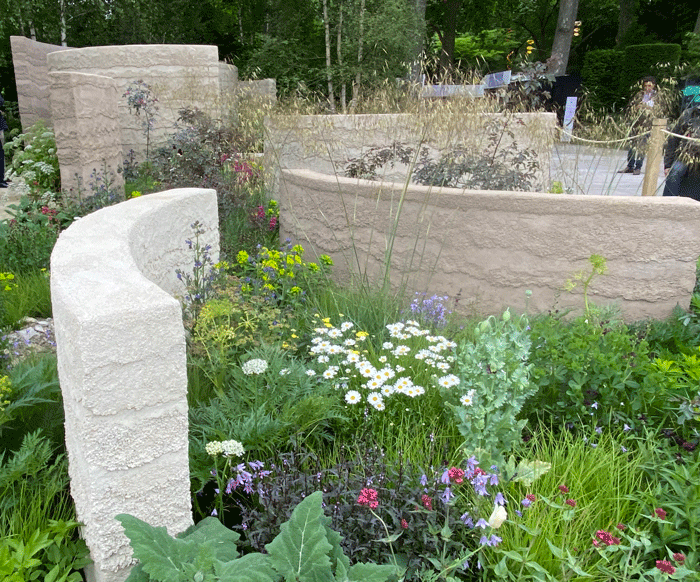 'The Mind Garden' (Gold) designed by Andy Sturgeon, has a series of sculptured walls that swirl through the garden, inspiring us to connect with each other for our mental health. There are rough-textured walls enclosing calm seating areas framing views with drifts of planting. The design is perfectly executed and from walls closed together forming narrow passages we enter a wider open space set in woodland and meadows. Sturgeon is a master craftsman at pulling off this type of landscaping and here he certainly excels.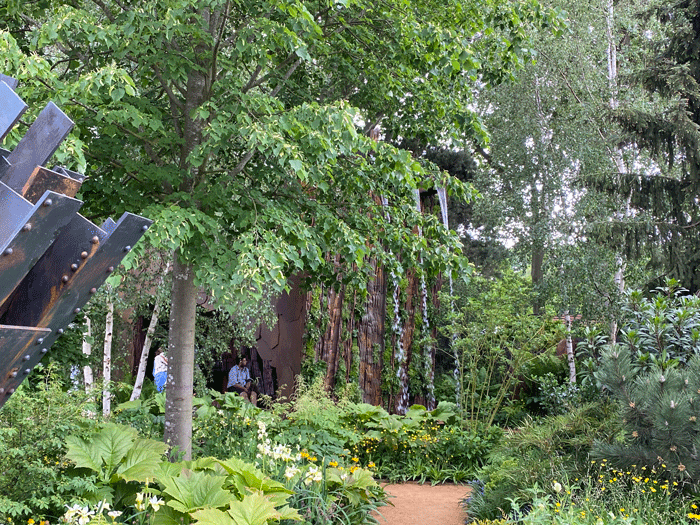 The 'Medite Smartply Building the Future' Garden (Gold) designed by Sarah Eberle, (above) is quite frankly breath-taking. This garden was awarded Best Construction in the Show Garden category and one can see why. Inspired by natural vertical rock strata, a waterfall cascades to a pool where we find damp loving plants. The garden has a combination of native, exotic and rare forest planting including species that are intrinsic to countering climate change.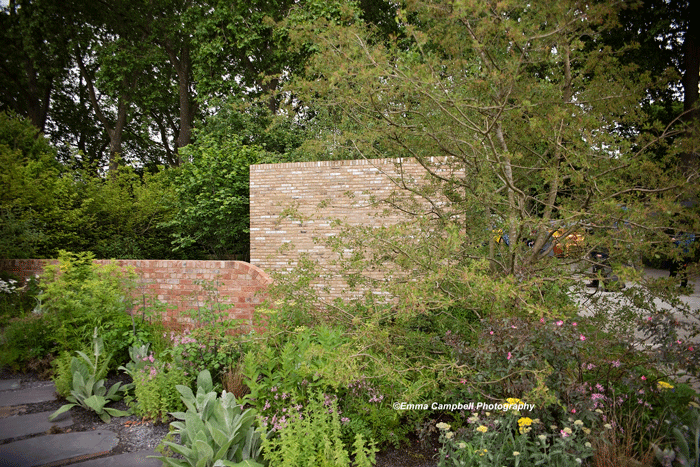 Designer Paul Harvey-Brookes is no stranger to RHS Chelsea and this year he has designed the 'Brewin Dolphin Garden' (Silver). The design illustrates how a brownfield site can be rehabilitated using existing and repurposed materials (pictured above). The garden promotes trees and shrubs and plants that improve air quality. Planting is based on a mix of native pioneer species alongside endemic plants which rehabilitate soils and clean the air through higher rate CO2 absorption. Quite a lot to see on this garden especially if you pay attention to the reclaimed elements used as well as the planting.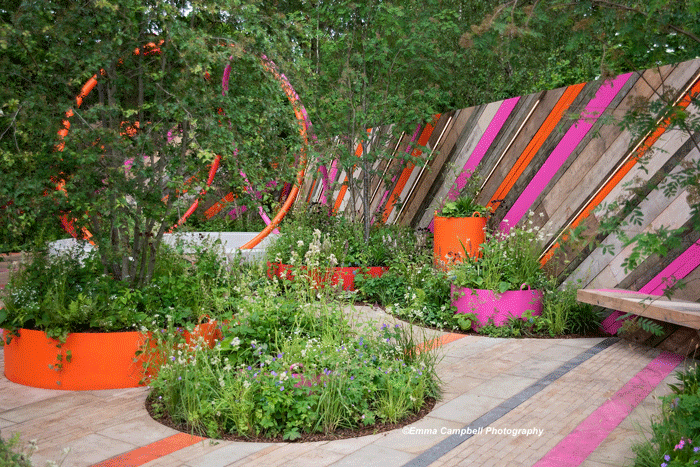 In what in many respects is an essentially very "green" Chelsea I thought the 'St Mungo's Putting Down Roots Garden' (Silver) was a colourful contrast. Designed by Darryl Moore and Adolfo Harrison of Cityscapes, the garden for Homeless charity St Mungo's, the garden brought vibrant coloured planters contrasting with the green textured foliage.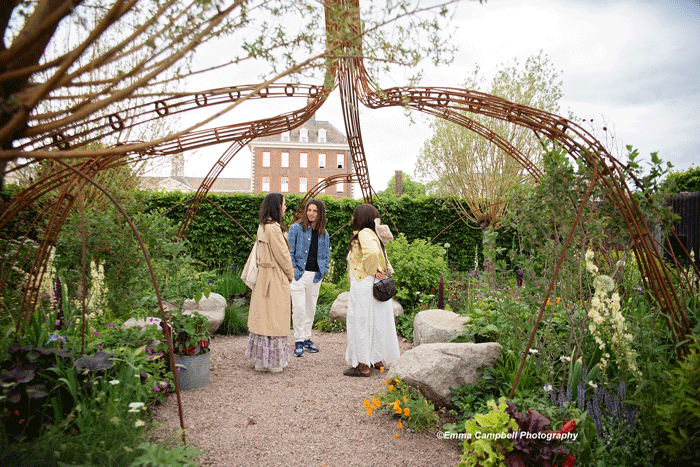 The 'Hands off Mangrove by Grow2Know' garden (Silver Gilt) honours community activists known as the Mangrove Nine and unites two social and environmental issues – global deforestation and racial injustice. This is another relaxed and pollinator friendly design which will be relocated after the show.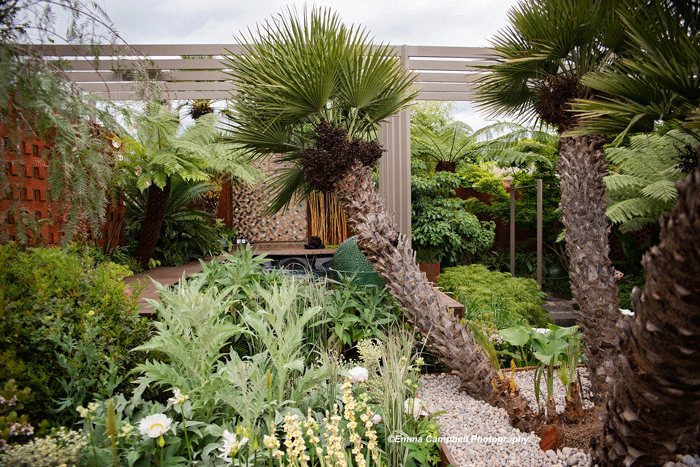 Winner of the Best Sanctuary Garden category was Kate Gould's 'Out of the Shadows' (Gold). This garden also won Best Construction in that category (pictured above). Its tropical planting is a delight and Kate has managed to incorporate many elements of our modern lifestyle with beautiful design to be enjoyed throughout the year. A garden with the wow factor, the lush tropical planting demonstrates how green planting can be sustained throughout the year. Certainly, another favourite.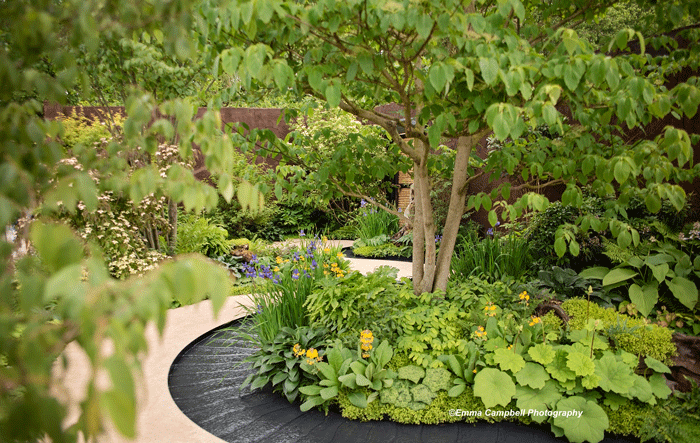 The 'Boodles Travel Garden' in the Sanctuary category (above) designed by Thomas Hoblyn (Gold) consists of a woodland stumpery style underplanting with a trail of blue and burnt orange. It celebrates the endeavour with planting drawn from all corners of the world, creating a global garden, offering rest and sanctuary.
The RHS Chelsea Flower Show runs until the 28th May 2022, for information please visit: https://www.rhs.org.uk/shows-events/rhs-chelsea-flower-show
Picture credits: All images strictly © Reckless Gardener, credit Emma Campbell Photography.
SHOW AND SANCTUARY GARDEN MEDALS
Show: Best in Category: A Rewilding Britain Landscape (Gold)
GOLD: The Mind Garden; The Morris & Co Garden; The RNLI Garden; The Meta Garden: Growing the Future.
SILVER-GILT: The New Blue Peter Garden: Discover Soil; Alder Hey Urban Foraging Station; Hands off Mangrove by Grow2Know
SILVER: Brewin Dolphin Garden, The Perennial Garden 'With Love'; The St Mungo's Putting Down Roots Garden; The RAF Benevolent Fund Garden.
Sanctuary: Best in Category: "Out of the Shadows" (Gold)
GOLD: THE Place2Be Securing Tomorrow Garden; A Garden Sanctuary by Hamptons; Boodles Travel Garden
SILVER-GILT: Connected by EXANTE; The Body Shop Garden; The Space Within; The Plantsman's Ice Garden
SILVER: THE SSAFA Garden; The Stitchers' Garden; A Swiss Sanctuary.