RNLI Garden for RHS Chelsea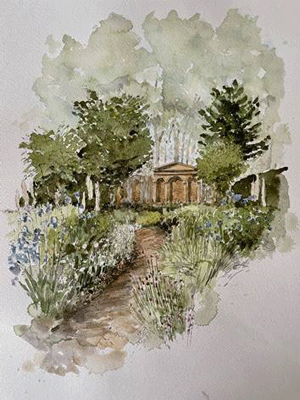 Best in Show garden designer and plantsman, Chris Beardshaw, will make a welcome return to the 2022 RHS Chelsea Flower Show with a garden for the Royal National Lifeboat Institution (RNLI).
Chris, who has been a lifelong supporter of the charity, is designing 'The RNLI Garden' as a celebration of both the history and modernity of this multi-faceted institution, which has been saving lives at sea for almost 200 years.
The garden is part of the new Project Giving Back Initiative (PGB), a unique grant-making scheme that provides funding for gardens for good causes at the RHS Chelsea Flower Show. Launched in May 2021 in response to the Covid-19 pandemic and its effect on UK charitable fundraising, it will fund gardens inspired by a range of good causes at the Show in 2022, 2023 and 2024.
The RNLI was founded by Sir William Hillary in 1824 and Chris has created a Show Garden design, which avoids the literal, and cleverly marries style hints from the charity's Georgian origins, with more contemporary design cues reflecting the forward-looking organisation that is the RNLI today.
At the rear of the garden will be a classically inspired oak pavilion spliced by a contemporary green oak arcade. British Purbeck stone will be used for the paving and pitchers to create a textural path that flows through deep and luscious borders. Planting will provide a celebration of texture, form and foliage and hundreds of flowering herbaceous perennials will create a pastel palette of whites, blues and pinks.
Statement trees include three which are resistant to Dutch elm disease – Ulmus pavifolia and two six-metre-high Pinus sylvestris. These will give height and hint at the traditional lifeboat building materials used when the charity was formed.
Other feature trees include a series of eccentrically clipped, Pinus mugo which appear almost as a dramatic rock scape in the garden. While a multi-stemmed Carpinus betula, is transformed from the ordinary to extraordinary, having grown around and enveloped a large rock within the centre of its stems, to form an incredible natural artwork.
Sculptural pieces in the garden are being made by Whichford Pottery in Warwickshire – the handcrafted pieces are being designed as a legacy for the RNLI, as an element within a detailed repurposing plan for the garden which will benefit the RNLI in a number of ways (further details will be announced later in Spring).
The result is a calm and confident garden inspiring inquisitiveness, looking back to look forward and echoing the charity's sense of permanence, while offering a space in which to reflect on the many elements of the RNLI's work.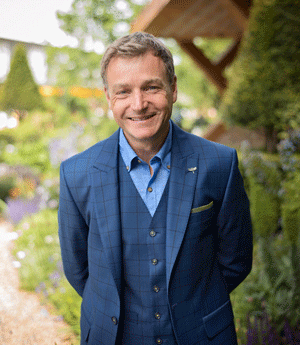 Commenting Chris (pictured right) said: "We are extremely proud to have been invited to be part of the launch of Project Giving Back at RHS Chelsea Flower Show 2022. In addition, being asked to create a garden for the RNLI, is a huge honour. As someone who has dived and sailed for much of my life, the RNLI is a charity very dear to me and this is a fantastic opportunity to provide a platform from which to highlight the importance and depth of their work."
This will be the first time that the RNLI has had a dedicated Show Garden at RHS Chelsea Flower Show. In 1999 the charity celebrated its 175th anniversary with a stand in the Floral Marquee and in 2003 the RNLI was the chosen charity to benefit from the show. The money raised on that occasion funding an Atlantic 85 B-Class lifeboat, later named Chelsea Flower Show, which is still operating today as one of the charity's training boats.
Jayne George, RNLI fundraising, marketing and media director, said: "This is such a wonderful opportunity for the RNLI and we are incredibly grateful to Project Giving Back for the opportunity and funding and the RHS for giving us the platform at the show. There is something very positive about planning and creating a garden, and we are excited to be able to share that with our volunteers, supporters and garden lovers everywhere.
"We are delighted Chris Beardshaw is creating this show garden for us and we know that his sympathetic design will honour our charity's long history of saving lives, inspire our next generation of lifesavers and supporters and hopefully encourage gardeners to host a fundraiser for the RNLI as part of our forthcoming RNLI Gardens campaign."
We wish Chris and the team every good wish in their preparations for the Show and will keep readers updated on progress as the Show dates draws nearer.
Photo credits: Garden image and video ©Chris Beardshaw/RNLI; picture of Chris right of page ©Reckless Gardener.