Stitchers' Garden at RHS Chelsea
The charity Fine Cell Work, has commissioned 'The Stitchers' Garden' at this year's RHS Chelsea Flower Show (24th -28th May 2022) to reflect on the Charity's mission of encouraging prisoners to lead independent and crime-free lives on release.
Designed by Frederic Whyte, the garden highlights the slow, focused and creative quality of craftwork that is extremely beneficial to prisoners motivation, well-being and hopefulness. The therapeutical advantages of needlework, especially when executed within a prison cell, lifts prisoners out of, and beyond, confinement.
The garden also celebrates Fine Cell Work's 25th anniversary and will be built by Louis Champain from Champain Landscapes and Brampton Willows.
Leading design houses Nina Campbell and William Yeoward are sponsoring the garden, with both design houses collaborating with Cath Kidston, a trustee of the Charity and her brand Joy of Print, to create a series of beautiful products that are inspired by the garden supporting the theme of 'Regrowth'.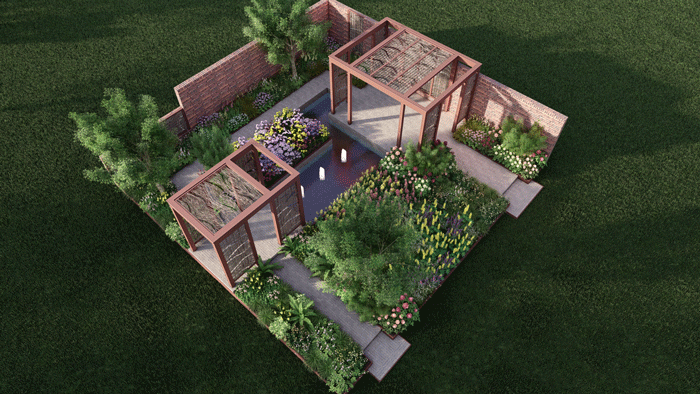 The garden features a pavilion, a simple structure in steel containing a woven willow seat with a smaller pavilion replicating the real-life dimensions of a prison cell and a prison bed. A pool with three fountain jets evokes the dynamism and clarity of the creative process that prisoners go through, while the bright flowers represent the creativity and colour that needlework brings into prisoners' lives.
Frederic Whyte, garden designer and landscaper says: "Gardens and embroidery have lots in common, both crafts work with colour, texture and form. The Stitchers' Garden at the RHS Chelsea Show 2022 tells the inspiring, life-changing story of Fine Cell Work through planting and design. Our garden reminds us that gardens can be works of art and craftsmanship whilst also vessels to raise awareness and heighten interaction with environmental concerns."
Victoria Gillies, Executive Director of Fine Cell Work points out that 'The Stitchers' Garden' is not only a celebration of 25 years working in prison but symbolises the theme of this year, regrowth: "Whilst we were able to keep working during the pandemic, we had to adapt how we worked. With our stitcher numbers down 60% and production 50%, regrowth symbolizes rebuilding our work in prison this year.
"The garden is restful and peaceful; you can't stitch when you are agitated and the garden represents the calm of creative space, a space that allows productivity and purpose. The intricate planting, inspired by the beautiful canvases stitched in prison cells, adds colour and texture to the stitchers' world where very little of either exists. Stitching for Fine Cell Work enables the stitcher to escape the confines of their existence and look beyond life in prison." she said.
Victoria added that it is an honour for them to be at Chelsea Flower Show, and that they we wouldn't be here without the generous, visionary sponsors, Nina Campbell and William Yeoward: "Most importantly, the garden has a legacy, it will be re-sited to a prison for prisoners to reflect and enjoy," Victoria added.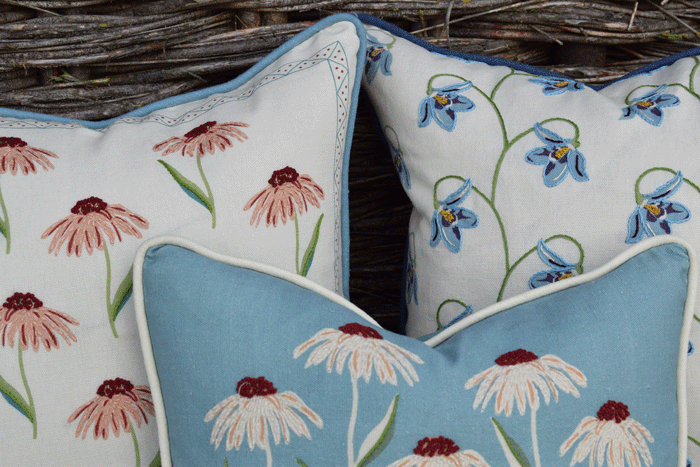 Trustee of Fine Cell Work Cath Kidston, and her design house Joy of Print, have created a hero print for the garden symbolising the garden's theme of regrowth. Using this print Cath Kidston's Joy of Print and the sponsors Nina Campbell and William Yeoward have created their own product ranges to launch alongside the garden, with part of the proceeds being donated to Fine Cell Work.
Cath Kidston, a trustee of Fine Cell Work and the founder of Joy of Print says: "As a trustee of Fine Cell Work I was originally drawn to them by their cushions and needlework; I was struck by the extraordinarily high calibre of products created.
"My studio was delighted to be asked to develop a story around the Fine Cell Work RHS Chelsea Flower Show Garden with the theme of Regrowth, and to have Nina Campbell and William Yeoward coming on board interpreting the designs in their own handwriting. It has been a true collaboration between old friends all focused on supporting this wonderful charity."
Fine Cell Work was founded by Lady Anne Tree and began working in prisons in the UK 25 years ago. It is a charity and social enterprise which creates, bespoke needlework products. The charity operates in 32 British prisons engaging up to 600, predominantly male, prisoners a year and is the largest workforce of hand stitchers in Europe. Fine Cell Work aims to help boost self-worth, instill self-discipline, foster hope and encourage prisoners to lead independent, crime-free lives.
Image credits: design image banner ©Frederick Whyte.