Tokachi Millennium Forest
There are times, when by chance, you are given an unexpected uplift that helps balance the negativity and anxiety that at present, as I write this, surrounds many of us. When 'Tokachi Millennium Forest – Pioneering a new way of gardening with nature' landed on my doormat, I was, quite frankly, despairing of the world, the climate and obviously the pandemic. It couldn't have arrived at a better time.
'Tokachi Millennium Forest' by Dan Pearson with Midori Shintani, is not just an excellent read, it's an uplifting and inspirational book that restores one's faith that there are still lots of people out there who not only care passionately for our environment, climate and nature but actively demonstrate that care by their actions.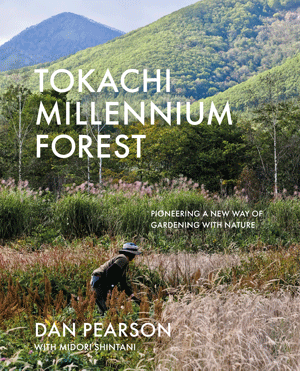 Thirty years ago, a Japanese media entrepreneur, Mitsushige Hayashi, bought 400 hectares of land in the Tokachi region of Hokkaido, the northernmost island of Japan. His aim was to offset the carbon footprint of his national newspaper business. Ten years after buying the land, following a period of forest management and long-term planning, he asked internationally respected British landscape designer, Dan Pearson, to help design an ecological public park on the site, with the aim of enticing town and city dwellers to reconnect with nature and preserve and improve a piece of land that had been lost to intensive forestry and agriculture.
In this book, Dan describes his involvement with the project, the differing maintenance regimes that have been used to increase floral diversity and encourage wildlife within the forest and the overall educational aims of the project. It is written in Dan's very eloquent style with a narration that is both fascinating, educational and heartening.
The reader is immediately transformed into this special landscape, the day to day management of the forest and its gardens as well as an understanding of the particularities of the Japanese approach to landscapes and gardens in the fascinating chapters contributed by Head Gardener, Midori Shintani.
Midori gives us a very special insight into nature worship in Japan and the history of the Tokachi forest. Her input enables the reader to understand that Japanese nature worship is to live with sincere devotion to nature and how that spirit, inherited from their ancestors, is surely alive in the forest. The mission of her garden team is to follow tradition and yet to develop the Forest into something modern.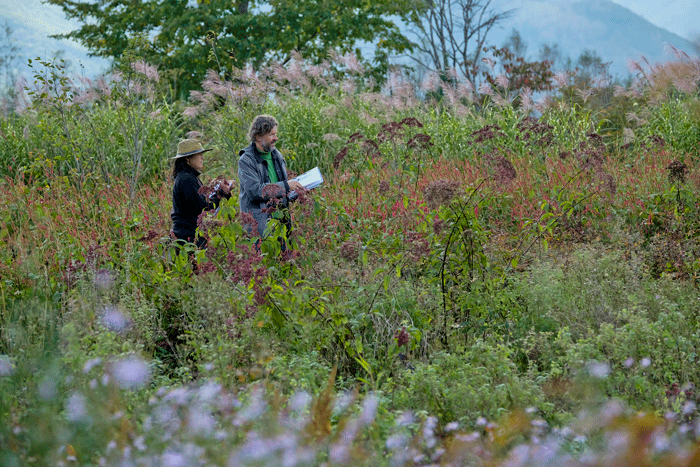 (pictured above: Midori with Dan make observations during an autumn visit)
At the heart of the book is a close consideration of the Meadow Garden, the central focus of Dan's work on the project, including a detailed explanation of the nineteen perennial plant mixes he designed specifically for it. This is particularly valuable for anyone wanting to make a garden that is in balance with nature and gives us a detailed insight into the working process of one of the world's best landscape designers. Dan includes an Endnote regarding his own garden at Hillside and how his time spent on the Tokachi project has influenced his own planting.
There are chapters on the landscape, design, the forest and the various gardens that are part of the project, including the Earth Garden, the Meadow Garden and Productive Gardens. The photographs, by Kiichi Noro and Syogo Oizumi, are excellent, perfectly balancing Dan's evocative text, bringing the Forest and gardens to life, the flora and the vistas, the biodiversity and the sheer joy of the project.
In the Foreword, Fergus Garret points out that Dan Pearson is an " …instinctive ecologist – someone who understands habitats and plant communities – an artist united with the wilder world." Certainly, anyone who knows Dan's work will totally agree with that sentiment, and the sensitive and beautifully articulated way he describes this project and his involvement in it, is not only uplifting but certainly brings hope in these troubled times.
In the Preface Dan points out that the Millennium Forest is a team effort. The Hayashi family are the enablers and the team that look after the forest do so with commitment. He says: "The moment you place your foot on the soil of the woodland path is a potent one and I believe wholeheartedly that this remarkable place has a reach that will travel far beyond these pages." I think this book will certainly achieve that. There is plenty within its pages we can all learn from and practice in our own relationships with our environment and gardens.
Dan Pearson (pictured right) is noted for his international work for public and private clients and has received numerous accolades including Honorary Fellow of the Royal Institute of British Architects. He has designed five award-winning RHS Chelsea Flower Show Gardens and writes a weekly gardening journal DIGDELVE.
Midori Shintani trained to become a gardener in Sweden before moving back to Japan to work in a garden design company.
Since 2008 she has been head gardener of Tokachi Millennium Forest, merging 'new Japanese horticulture' into wild nature.
In the cold, dark days of winter, this book will be by my side so that when all may seem a challenge, I can relive Dan and Midori's involvement in this unique project, twenty years in the making, in the realisation that respect and reverence for nature and the importance of landscape is not lost.
'Tokachi Millennium Forest' by Dan Pearson with Midori Shintani is published by Filbert Press in hardback at £40.00.
A review copy of this book was kindly supplied by the publishers.
Picture credit: Picture of Dan Pearson, above right ©credit Huw Morgan