Young landscape architect makes mark in industry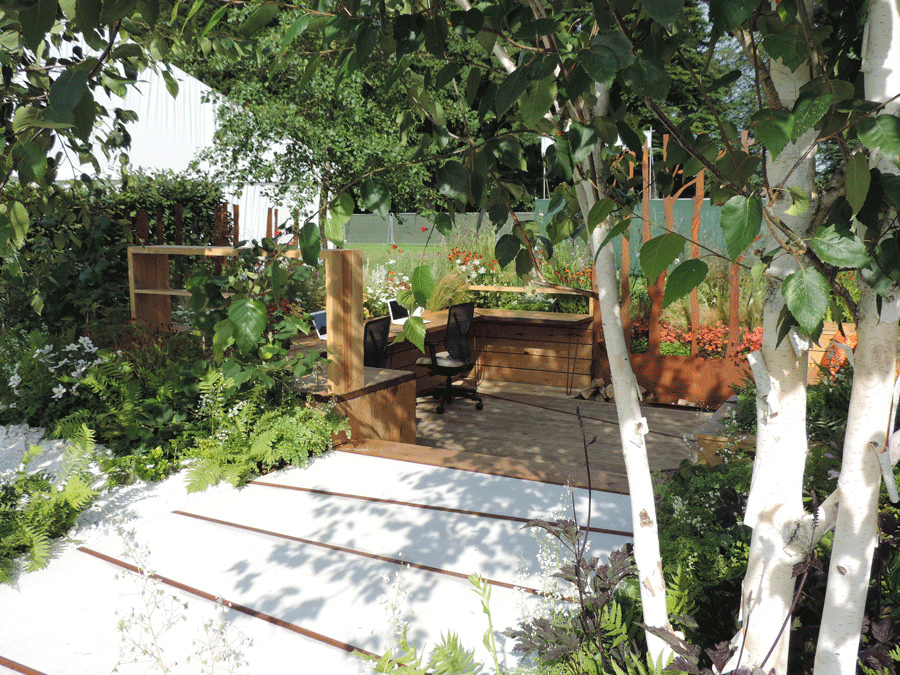 Sandy Felton interviews Anca Panait of Bowles & Wyer, one of our exciting young landscape designers who are starting to make their mark in the industry.
In 2017 Anca Panait was one of the finalists in the Royal Horticultural Society (RHS) Young Designer of the Year competition. She was also one of Pro Landscaper Magazine's 30 under 30 – an industry award presented to the most impressive young people in the landscape and garden design sector. She is the perfect role model for the young landscape designers of today who are the important future of the industry.
Anca is one of the team at award-winning landscape company Bowles & Wyer, working on a variety of projects ranging from residential gardens to public realm assignments and she is typical of the exciting cohort of young designers who are currently working in the profession.
Anca (pictured below) was born in Romania where she began her career gaining a degree in Landscape Design and Planning before going on to complete a Masters in Landscape Architecture at Edinburgh University. She admits that she fell into landscape design more by luck but confesses that perhaps it was destiny: "While studying to become an architect, I realised that I enjoy designing outdoor spaces more than designing a building. I have also been influenced by my childhood and the fact that during my early years I was raised by my grandparents at the countryside surrounded by allotments, animals and orchards," she says.
(Anca on her RHS Tatton Park Silver-Gilt garden)
She choose Edinburgh to complete her masters because she was looking to grow as a professional and knew the only way to do that was by leaving her comfort zone and challenging herself: "I chose Edinburgh University because of the artistic influence and because they focus on different design methods such as videos and 3D models which I think are very important when presenting an idea to a client. My undergraduate degree was very much focused on the history of landscape and urban planning, on design principles and legislation. I wanted to develop my graphic skills and artistic knowledge. Although, I now do illustrations for other people, I struggled with my renderings during the first years of university."
Anca gained a Silver-Gilt for her garden 'Prospect & Refuge' (pictured banner above and image below) in the Young Designer of the Year Competition at RHS Tatton Park and admits that it was both one of the best and stressful experiences of her life: "I definitely recommend it to all young designers who want to start a career in this field," she said. "It teaches you how to project manage a job, to be creative with a reduced budget and gives you the chance to meet new people in the industry." For the show garden, Anca created an outdoor office with a sunken working space with plants at eye level instead of having to bend to see them up close, promoting the idea of nature re-connection which is something she is very passionate about.
Other show gardens have included a Lifestyle garden at RHS Hampton Court (Silver) and at the Chaumont-sur-Loire International Garden Festival in France where she represented the UK. The garden at Hampton Court was completely different from anything she had designed before – the theme was an entertaining garden and she chose to focus on a gin garden with its own bar and edible green wall: "I had to do quite a lot of research on Mediterranean-style gardens and botanicals," she says. "With show gardens it is very important to know how to adapt, especially on site because not everything will go to plan and you'll need to compromise and find solutions in the moment because of the short time for the build. For example, during the Hampton build, I had only 3-days to plant because the delivery truck had an accident that week so that meant the plants arrived towards the end of the week. Luckily, I had volunteers that work in the industry and have done show gardens before so we just managed to finish it on time."
For Anca getting a plot at the Chaumont-sur-Loire Festival was a dream come true and was her first ever show garden, and she admits, probably her favourite. The concept was inspired by Mary Shelley's book "Frankenstein" and it was a theatrical interpretation on how nature takes over once technology fails: "Unlike RHS shows, the festival lasts for 6 months so you have a chance for the garden to develop. The planting starts in March and it is opened to the public from April until November, with the judging going at the beginning of July giving time for plants to mature. It also focuses more on experimentation and ideas instead of reproduction of a garden or a style. Apart from being a memorable experience to live on the grounds of a chateau, it was a self-built garden (along with a team of 4 friends) that meant the logistics proved challenging but rewarding."
Wide range of projects
Joining Bowles & Wyer in 2018, Anca has had the opportunity to run her own jobs and focus a lot more on high-quality garden and landscape design. As the company builds and designs a wide-range of projects it has enabled her to work on a variety of schemes from small urban gardens in London to countryside gardens and even public realm projects: "I love my job because it never gets tedious," she says. Anca also points out that landscape architecture is a great career choice for everyone no matter the gender: "One should choose this career because it gives them the chance to connect with nature and create spaces for communities/places. Landscape architecture is versatile and I think a key profession, especially now where there is much more focus on environmental awareness and nature protection."
(above) One of the projects Anca is working on: Garden for
Harefield Hospital by Bowles & Wyer
The most enjoyable aspects of her job is concept design as she can be creative and put a touch of her own personal style on the design but Anca also enjoys the build process and the detailing stage because she thinks this is critical in creating a high quality space.
In her spare-time she enjoys everything related to pottery and ceramics and admits that her dream is to have her own workshop one day. She also enjoys reading when she has the time although most of her books are about planting and design!
Bowles & Wyer have always been keen to encourage new talent and John Wyer, Chief Executive, Bowles & Wyer, sees young talent as being really important: "It is a truism to say they are the future of the industry, but for us it is much more than that. Firstly, we learn a lot from them (and hopefully they from us): a fresh pair of eyes, new techniques and different ways of doing things. But also many of these people are great talents in their own right; we benefit from that and they are able to benefit from the platform that our established name brings. It's good for both parties."
I feel sure we will be seeing a lot more of Anca's work in the future and we wish her well and thank her for giving us her time for this interview.
Picture captions: All images are strictly ©Reckless Gardener
Garden illustration for Harefield Hospital ©Anca Panait, Bowles & Wyer.