Celebrating RHS Chelsea 2023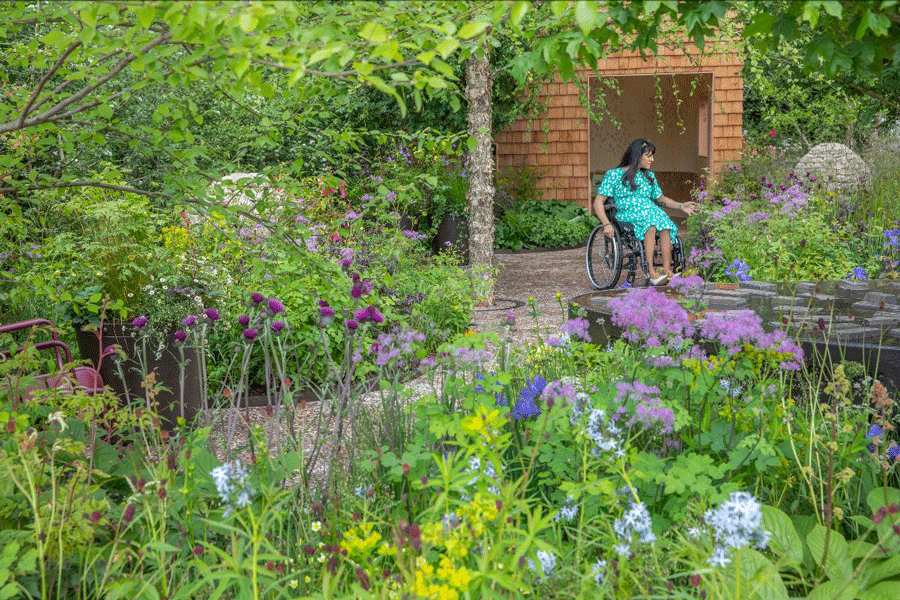 With RHS Chelsea Flower Show over for another year, we look back on the medal winners and some of the amazing gardens in the Show Garden category that once again celebrated all that is good about gardening, sustainability, our mental wellbeing and floral magnificence.
Best in Show was awarded to the beautiful Horatio's Garden (Gold) designed by Charlotte Harris and Hugo Bugg of Harris Bugg Studio. (Image banner top of page). The garden is designed as a wheelchair accessible space for spinal injury patients with layered planting to accommodate different ways of seeing. The garden is being repurposed in a new home as the eighth Horatio's Garden at the Northern General Hospital in Sheffield.
'The Centrepoint Garden' designed by Cleve West (Gold) (above) was certainly a moving representation of youth homelessness set in a demolished and ruinous house taken over by nature.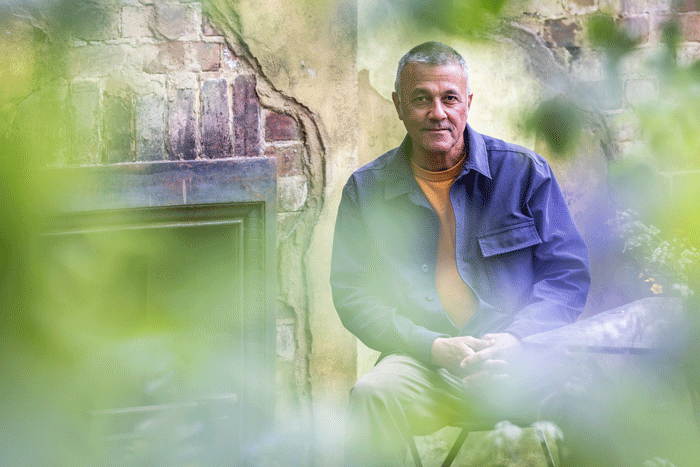 (Above: designer Cleve West credit Rebekah Kennington)
Ornamental trees, shrubs, perennials and wildflowers (so-called weeds!) at first glance appears dysfunctional and fragmented but is in fact a thriving, natural and evolving habitat, which emphasises the important role of the garden in making a house a home. The garden was also awarded Best Construction in the Show Garden category. Another masterpiece from Cleve.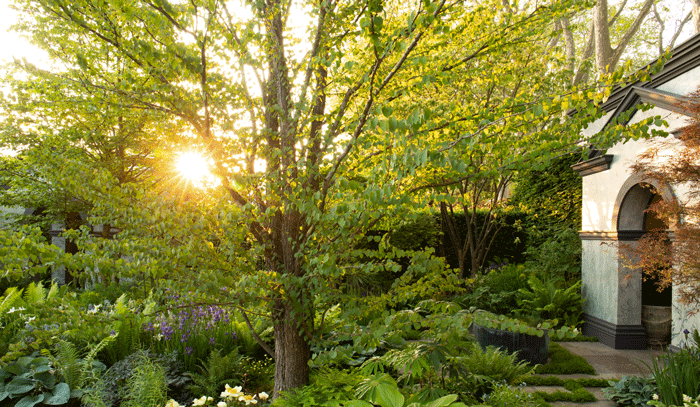 (above: Myeloma UK 2023 Garden credit John Campbell)
Chris Beardshaw returned to Chelsea with a design for 'The Myeloma UK – A Life Worth Living Garden' (Gold) and as one would expect with this master craftsman, the garden was nothing short of superb. The public voted the garden Best People's Choice in the Show Garden category and it's not surprising that Chris' beautiful planting and serenity proved a favourite with everyone who saw it.
It is 25 years since Chris won his first Gold Medal and over the decades he has produced many superb show gardens at Chelsea. The garden's object of creating a tranquil, reassuring, listening space resulted in a distinctive design celebrating the valuable emotional and psychological health benefits presented by engaging with plants, calmness and beauty.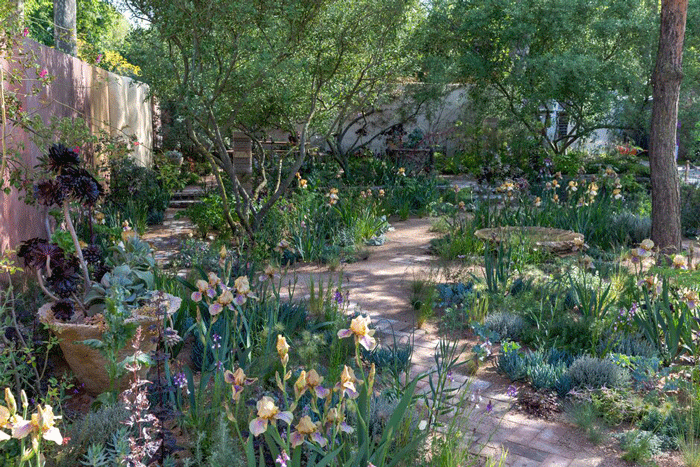 (above: ©RHS/credit Sarah Cuttle)
'The Nurture Landscapes Garden' (Gold) designed by Sarah Price is inspired by the artist and plantsman Cedric Morris and his naturalistic garden at Benton End, Hadleigh, Suffolk. Textures reminiscent of the house, together with a planting palette of irises and other plants found in Morris' work came together in a soothing and calming palette.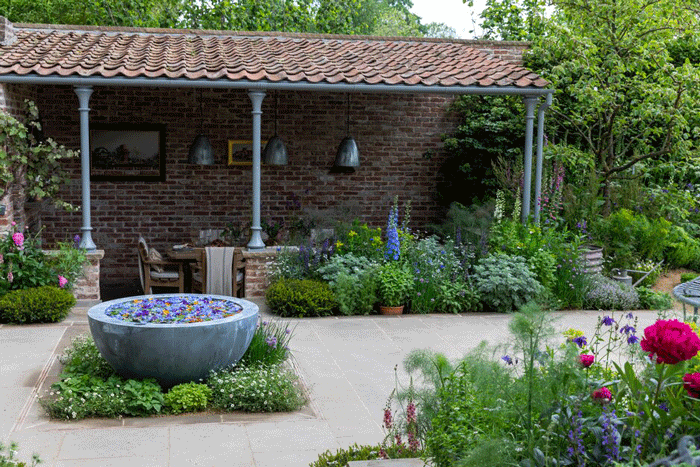 (above: Savills Garden ©RHS/credit Sarah Cuttle)
'The Savills Garden' (Silver-Gilt) designed by Mark Gregory showcased 'pot-to-plate' with a combined ornamental and edible planting design and alfresco dining. The garden featured a kitchen.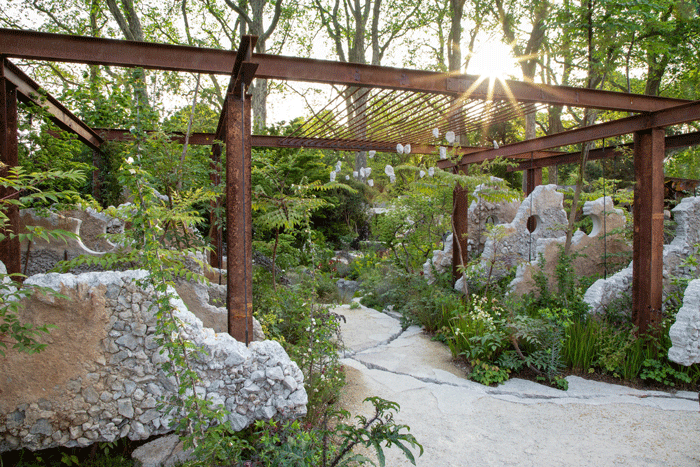 (above: Samaritans Listening Garden © Stephen Studd)
'The Samaritans Listening Garden' (Silver-Gilt) designed by Darren Hawkes will see planting and other elements of the garden relocated to Samaritans branches across the UK, including Cornwall. Darren is delighted that the elements of the garden will have a long-life outside of Chelsea.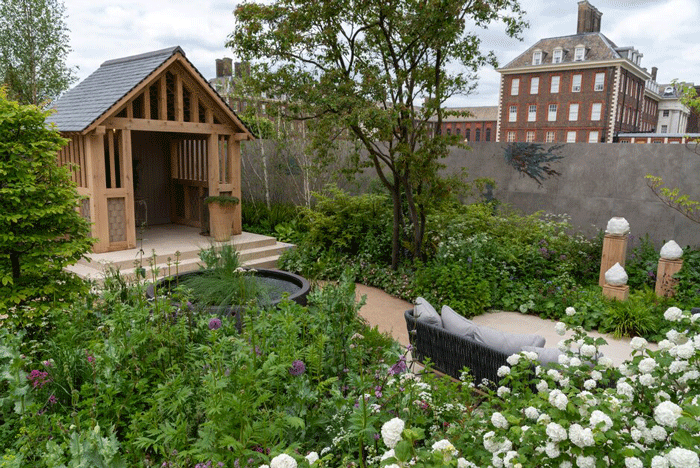 (above: Brewin Dolphin Garden ©RHS credit Sarah Cuttle)
Designer Paul Hervey-Brookes returned to Chelsea with a garden for 'RBC Brewin Dolphin' (Silver-Gilt). The garden was designed with a young couple in mind who want to relax and enjoy. Superb planting as always from Paul.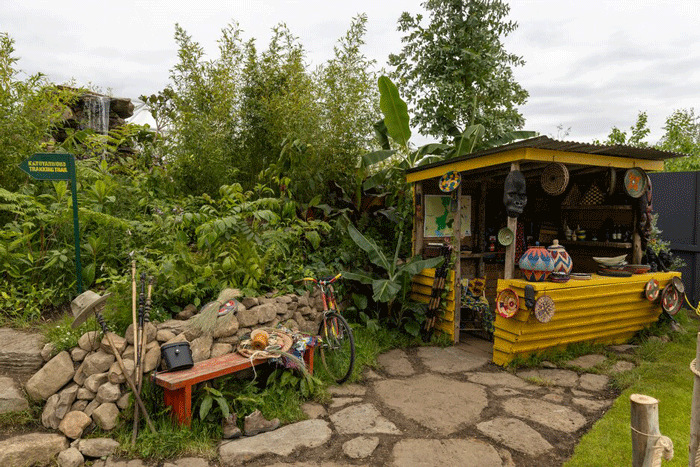 (above: Fauna & Flora International Garden ©RHS/Neil Hepworth)
The 'Fauna & Flora International Garden' designed by Jilayne Richards (Silver) offers visitors a window into a spectacular Afromantane landscape of Central Africa's imposing Virunga Massif.
'A Letter from a Million Years Past' (Gold) designed by Jihae Hwang, (above) represented the medicinal herbal colony located in the eastern part of Jirisan, Korea. The garden highlighted how the recovery of the natural environment is key to the co-existence between humans and nature.
'Transcendence' designed by Gavin McWilliam and Andrew Wilson (Silver-Gilt) relates to end of life experience with the intention of creating a spiritual and uplifting space to help the bereaved feel a sense of calm and reflection.
'Centre for Mental Health's The Balance Garden' (Silver) (above) designed by Jon Davies and Steve Williams, a forward thinking community space celebrating the relationship between authentic nature connection and our urban communities' mental health.
'Royal Entomological Society Garden' (Silver-Gilt) designed by Tom Massey depicts an outdoor lab, built into a hillside, offering an 'insect eye view' and a space in which to study.(pictured above)
Image credits: Banner ©Harris/Bugg studio, credit: Marianne Majerus: other credits under relevant picture.