Chelsea Best in Show puts mobility at heart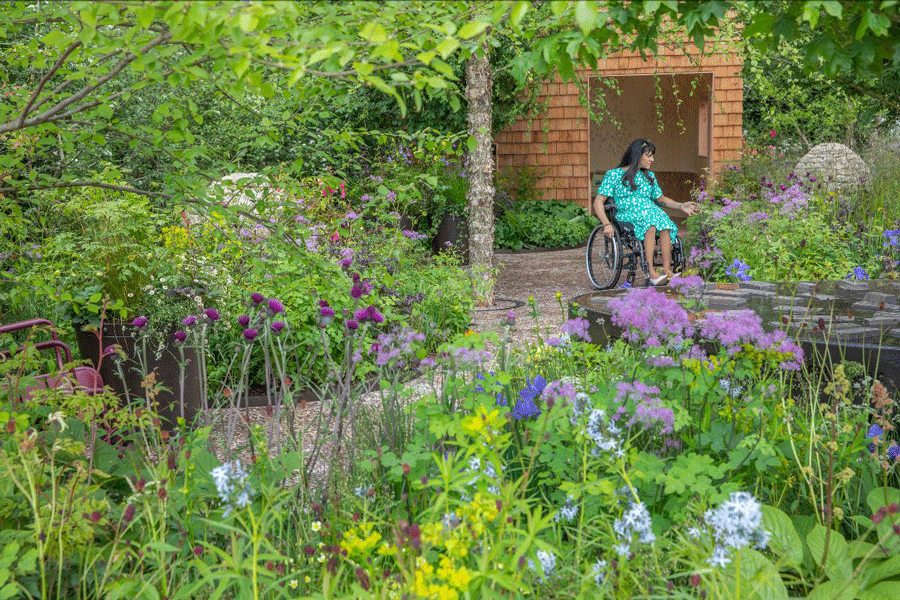 The coveted Best in Show award and a Gold Medal was awarded to Horatio's Garden at this year's (2023) RHS Chelsea Flower Show. Designed by young talented duo Charlotte Harris and Hugo Bugg of Harris Bugg Studio, the adaptive garden put the needs of those with mobility requirements at its heart in a first for Main Avenue.
The garden, which highlighted the tremendous work of the Horatio's Charity, will live on after the show as the eighth Horatio's Garden at the Northern General Hospital in Sheffield when it will be reconstructed into a design eight times the size of the Chelsea garden and transform a car park into a beautiful and restorative garden haven for the second largest spinal injuries unit in the UK.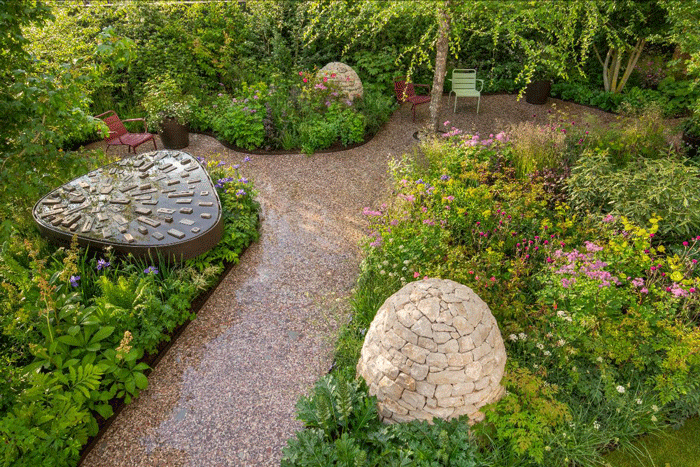 (Horatio's Garden,Chelsea 2023 credit Marianne Majerus)
Charlotte and Hugo worked with patients and NHS staff to help them understand and prioritise what should be included in the garden, with every element of the design being informed by the experiences of spinal injury patients. Layered planting to accommodate different ways of seeing, an all-season garden room designed by Mcmullan Studio, provides respite and privacy away from the busy, clinical ward. The smooth, eco-terrazzo paths, developed for the project, are patient-friendly and environmentally friendly.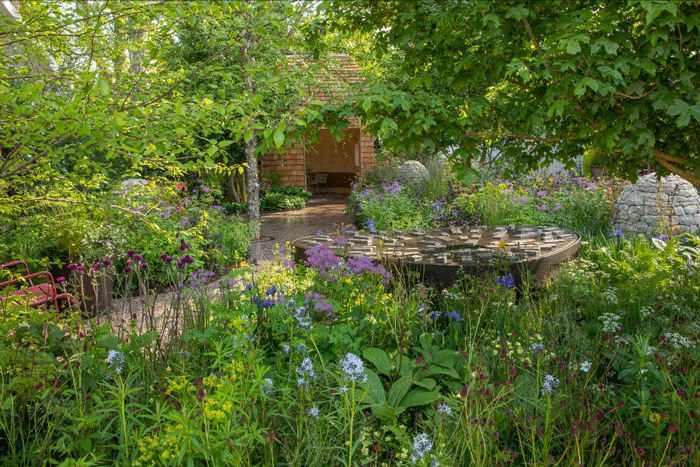 (Horatio's Garden,Chelsea 2023 credit Marianne Majerus)
The designers paid tribute to the number of people who came together to make something very special. From patients and NHS Staff to the craftspeople who worked on the garden, horticulturalists and planting team.
Speaking after their award, Charlotte and Hugo expressed their delight to win both a Gold Medal and Best in Show saying they were 'Over the Moon'. Delighted to win a Gold Medal for the garden they said: "We are so delighted to win a gold medal for this garden.  From the very start, the charity's mission really spoke to us. Connecting people with nature is at the heart of everything we do at Harris Bugg Studio and this garden reflects all the stories and needs of the people we spent months listening to before even picking up a pencil to design."
Olivia Chapple, Founder and Chair of Trustees, Horatio's Garden said: "As a charity that creates and nurtures gardens, it has been a long-held dream to showcase Horatio's Garden at the world's greatest flower show. We are simply thrilled that the show garden has also won a gold medal. We are so grateful to Charlotte and Hugo from Harris Bugg Studio, for pushing the boundaries to create such a thoughtful, pioneering and exquisite garden.  And also, to Project Giving Back, without whom none of this would have been possible."
(pictured above:left-right: Ryan Alexander, Hugo Bugg, Andrew Mcmullan, Charlotte Harris, Jamie Hare, Dr Olivia Chapple, Victoria Halton and David Chapple – credit Oliver Dixon Photography)
Charlotte and Hugo formed Harris Bugg Studio in 2017 and now run a practice recognised for working carefully to embrace and respect the singular spirit of place, connecting people and nature. With studios in London and Exeter they work on projects across the UK and Europe. The Royal Horticultural Society has referred to them as "pioneering design talents of their generation" and there can be no doubt that they are at the forefront of garden design and certainly an inspiration to anyone aspiring to work in horticulture and design.
Harris Bugg Studio designed the new layout for the walled garden at RHS Bridgewater together with Sylvia Travers, team leader of the inner walled garden. They now have an impressive portfolio of completed and ongoing projects and one hopes that we will see them at RHS Chelsea many times in the future.
You can read more about the Studio's portfolio of work at https://www.harrisbugg.com/
Planting list for RHS Chelsea 2023Horatios Garden
Picture credit: Banner: Marianne Majerus