Chelsea garden takes us 'Out of the Shadows'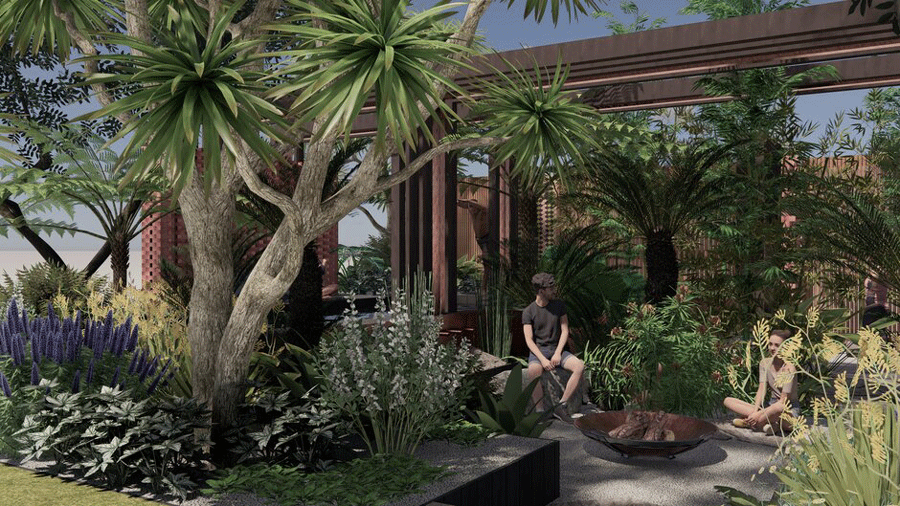 Award-winning designer Kate Gould returns to the 2022 RHS Chelsea Flower Show with a lesson in post-pandemic garden design. Her Sanctuary Garden, 'Out of the Shadows' will demonstrate why our post-pandemic gardens are being asked to work harder for us than ever.
The pandemic changed the concept of the garden, with even the smallest now being tasked to serve multiple functions and incorporate modern lifestyle needs, and this small, contemporary garden certainly packs a punch in terms of the lifestyle it delivers.
The garden features a state-of-the-art Jacuzzi swim spa for exercising, spaces for seating and relaxation, climbing bars and a yoga/meditation space, all elegantly situated among dramatic and exotic, tropical-style planting.
Kate Gould points out that as we (hopefully) come out of the pandemic people have certainly become more mindful about creating safe spaces they can hunker down in: "They are thinking outside the box in terms of what they want their gardens to deliver when it comes to outdoor living, and they are often not sure how to achieve this within a traditional garden model," says Kate.
'With 'Out of the Shadows' I want to show people that if they want a swim spa for example, or a space to do yoga, they don't need to choose between having that and a beautiful garden. It doesn't need to be an either/ or choice. Have a swim spa, but make it chic. It is as much about coming out of the shadow of the pandemic – and all the ways that has elevated the importance of our gardens – as it is about coming out of quite narrow, traditional views of what a garden needs to be. It can work on so many different levels and clever design choices can marry up lifestyle need," she adds.
Evergreens will form the backbone of the garden overlaid with a tropical theme. The evergreen focus references how we want to use and enjoy our gardens 365 days of the year, a throwback to lockdown which saw gardens act as safe havens even in the cooler months.
Kate started her design business in 1998 and specialises in creating 'gardens for living'. She has been awarded five Chelsea Gold Medals and so is no stranger to the prestigious show. She admits her manifesto is that every garden is unique and can be a private oasis away from the noise of everyday life, as well as a haven for wildlife and a social space filled with laughter of friends and family.
We will feature updates on Kate's design nearer the Show but in the meantime I think it's a good idea to start thinking more deeply about how we want to use our garden space going forward after the challenges of the last two years.
RHS Chelsea Flower Show runs from 24th to 28th May – for more information visit: www.rhs.org.uk
Photo credits: Image of Garden design ©Kate Gould