Chelsea show garden aims for lighter footprint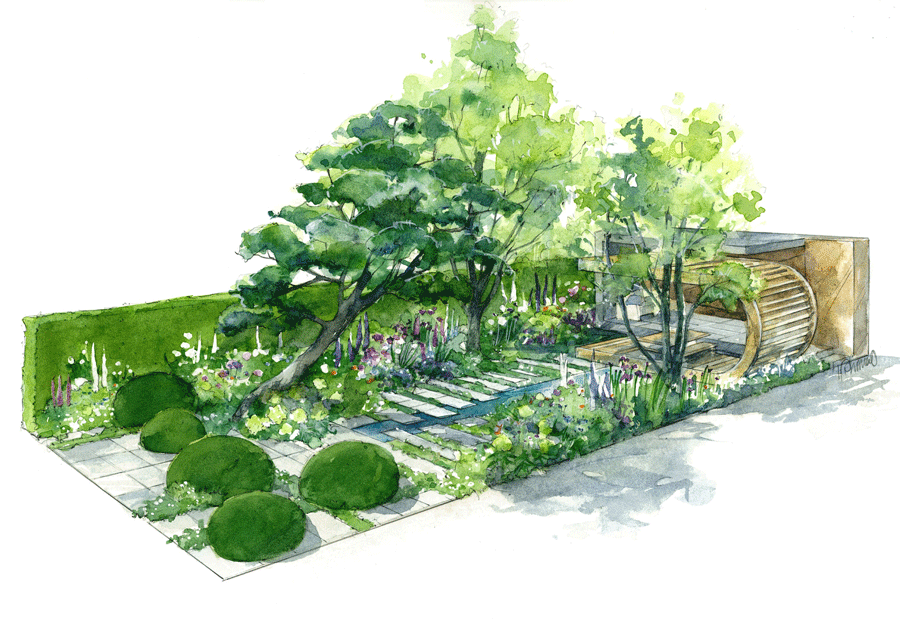 As garden designers, contractors and horticulturists move on site to prepare for this year's (2019) RHS Chelsea Flower Show, award-winning designer Chris Beardshaw will be joining them to construct the Morgan Stanley Garden.
This year, he will be trialling a range of innovative, new materials and equipment within the build process, to explore how beautiful gardens can be created with a lighter environmental footprint.
Chris, who last year was awarded 'Best in Show' returns for a fifth consecutive year with sponsor Morgan Stanley. For this year's design he will be considering how gardeners can move away from the linear practices of 'extract, consume, discard' towards a more sustainable, circular approach, where materials and products are kept in circulation as long as possible and waste is kept to a minimum.
The team have explored how resources can be managed more sensitively throughout the creation of the show garden beginning with the initial site groundworks – carried out with the help of a newly launched compact electric excavator. This new excavator offers significant reductions in noise and carbon emissions. During the build, Chris and his team will be using battery operated power tools where possible to help reduced noise and carbon emissions further.
The latest developments in ultra-low carbon, alternative cement will be used in the foundations – a pioneering new product saving up to 88% CO2 in building projects yet it is applied in the same way as conventional cement with comparable concrete strengths.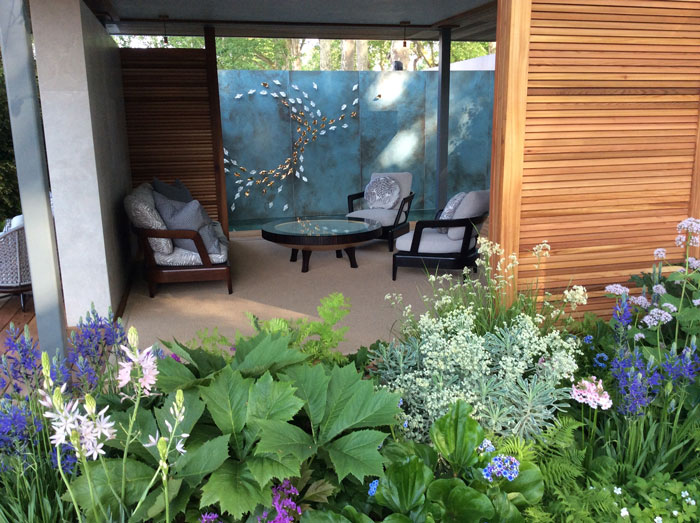 (above) A corner of the Morgan Stanley Show Garden 2018 – Best in Show)
The elegant porcelain paving which will run the length of the garden has been selected for the high proportion of waste product in its manufacture, making it a more sustainable option compared to quarried stone. Two intertwined pod structures in the garden have been designed from the ground up to provide dramatic visual impact while being as environmentally sensitive as possible, including having the weight engineered out of their structure, making them easier to transport and build on site.
The rear rectangular pod is clad in an innovative material that uses real stone in an ultra-thin 2mm thick finish reducing its demands on the natural resource and meaning the material is extremely lightweight so reducing transportation and the structural demands of the building.
The second curved Pod is crafted from Glulam, glued laminated timber, a sustainable alternative to steel or concrete due to the fine sheets of timbers bonded together which provide good strength to weight ratio compared to steel or concrete while consuming less energy and being derived from a sustainably managed forest.
In response to the garden's environmentally considerate approach, an upcoming London based surface design artist has created a decorative rear wall surface which acts as focal point from the front of garden. The decorative wall is made from a resilient, innovative micro-mineral finish of just 1.5mm thick, reducing weight and requiring less structural construction, reducing its environmental impact. It is being produced in a format that is transferable after the show.
A London-based lighting company are producing low voltage, low energy light features for the garden. The show piece being a bespoke feature made from 100% recycled brass.
Decking and cladding in the pods will be made from bamboo, a fast growing sustainable resource which over its lifetime is carbon neutral.
Even the high-vis jackets Chris and the team will be wearing during the build have been considered! The team will be showcasing a new, yet to be launched, high-vis vest made entirely from recycled plastic bottles, that can also be recycled after use.
Kelways Nursery will be growing the plants for Chris this year using the latest recyclable taupe pots. These pots are now becoming more visible in the horticultural sector and are being seen as a more viable and resilient pot, suitable for commercial growers.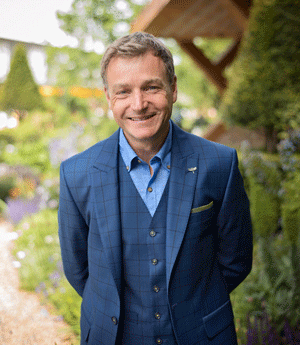 Commenting on the Garden and its construction Chris (pictured left) said: "While many think that gardening is inherently 'green' there are many areas of garden design, construction and maintenance that benefit from a review of the processes and requirements involved, the aim being to seek out those shortcuts to a more light footed environmental approach. While it's impossible to say a show garden is a completely sustainable, we've certainly tried to reduce our environmental footprint.
"For me the key is to use the show as an opportunity to reassure gardeners that moving towards a more circular gardening practice does not result in a compromise to the aesthetic or emotional rewards but it does reduce demands on precious resources while also offering habitat and refuge for nature's guests.
"We are obviously working on a large scale in the creation of a show garden but the principles we have applied within its design and construction are transferable to everyone in their own gardens. We really want to use this garden to illustrate ideas and choices and to stimulate conversation around how, from suppliers and manufacturers to gardening consumers, we can all decide to consider and respect the environment."
The garden will have a beneficial life after the Show when the thousands of plants and high-quality materials will be repurposed within three London based community projects.
Photo credits: Garden plan ©Chris Beardshaw; photograph of Chris Beardshaw and 2018 Show Garden ©Reckless Gardener.