Chelsea's Autumnal Vibes
When the Royal Horticultural Society (RHS) made the decision to reschedule the RHS Chelsea Flower Show to September this year (21st to 16th September 2021), because of the pandemic, they took a big leap into the unknown writes Sandy Felton.
Not only was this a brave move but in many respects it showed that by acting decisively and moving the world's most iconic show to an autumn season, for the first time in its history, the RHS Chelsea Flower Show could rock the autumn colours and host a different planting emphasis than the usual spring and early summer displays we are used to in May.
The fact that the Show is such a success and has surmounted admirably the many challenges that the RHS, growers, designers and nurseries have faced, is testament to the tenacity and fortitude of our horticultural industry.
Winner of the coveted Best in Show was the 'Guangzhou Garden' (Gold) designed by Peter Chmiel with Chin-Jung Chen. (pictured banner above) Peter is practice director of Bath based Grant Associates and Chin-Jung is a senior associate.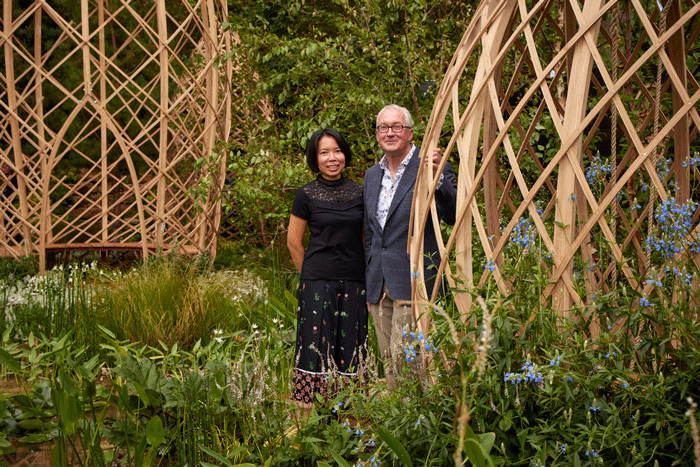 Above: Peter Chmiel and Chin-Jung Jen – photo credit & banner credit Alister Thorpe
Both designers (pictured above) brought a Chinese-inspired garden paying homage to Guangzhou's philosophy which gives equal consideration to the needs of people and wildlife through sustainable city planning. Peter commented: "We are absolutely delighted to win Gold at the Chelsea Flower Show with The Guangzhou Garden. Our creative vision has been more than two years in the making and being awarded Gold is a testament to the whole team that was responsible for making the garden a reality."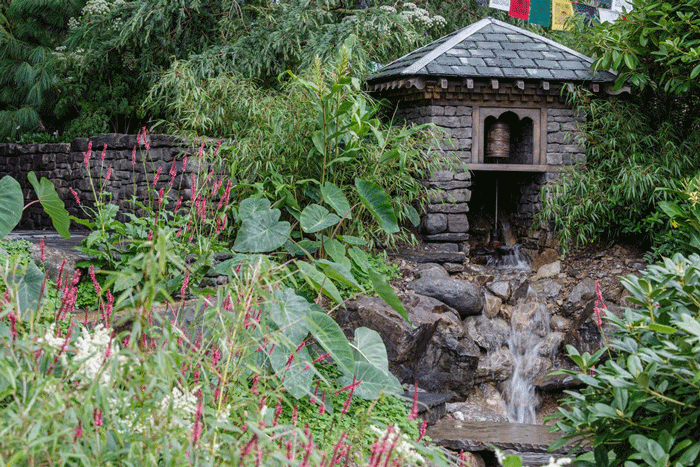 (Trailfinders 50th Anniversary Garden – credit RHS/Neil Hepworth
Best Construction Award went to 'The Trailfinders' 50th Anniversary Garden' (Gold) (pictured above) designed by Jonathan Snow. This stunning Himalayan garden, with its stone paths and lush vegetation with plants found in the temperate zone such as hydrangea, Pinus wallichiana and pesicarias, marks Jonathan's third Chelsea show garden and congratulations go to Stewart Landscape Construction for bringing his stunning design to life.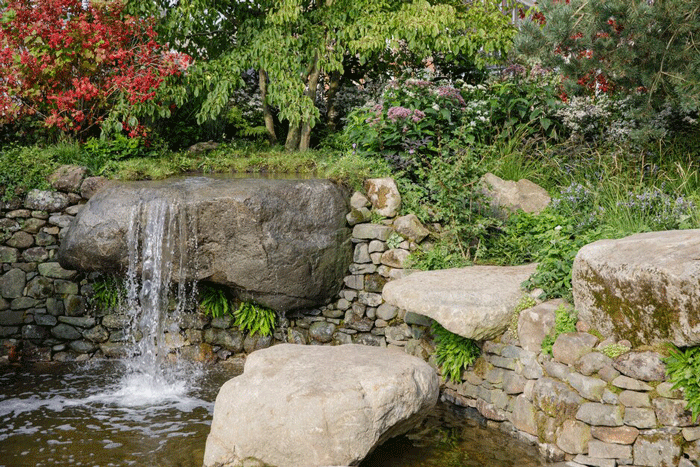 Above:  Psalm 23 Garden ©RHS/credit Sarah Cuttle
Best Sanctuary Garden was awarded to the 'Bible Society: The Psalm 23 Garden' (Gold) designed by Sarah Eberle. This is a new category at Chelsea and attracted a wonderfully diverse group of gardens. Sarah's garden represents a spiritual oasis within an urban setting with time-worn granite stone and water. Its muted colours and naturalistic look inspired by Dartmoor really appealed to show visitors. This garden was also awarded Best Construction in the category and was built by Mark Gregory, Landform Consultants Ltd. After the show the garden is going to be re-sited at the Winchester Hospice where I feel sure it will bring peace and calm for years to come.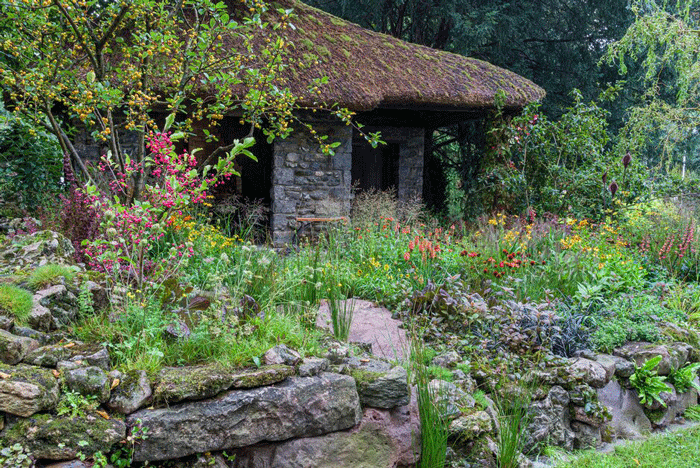 Above:The Blue Diamond Forge Garden, ©RHS/credit Tim Sandall
Best Artisan Garden was awarded to 'The Blue Diamond Forge Garden', (Silver) designed by the Blue Diamond Group Team. The People's Choice in the Best Sanctuary/Artisan category was awarded to 'The Parsley Box Garden', designed by Alan Williams (below).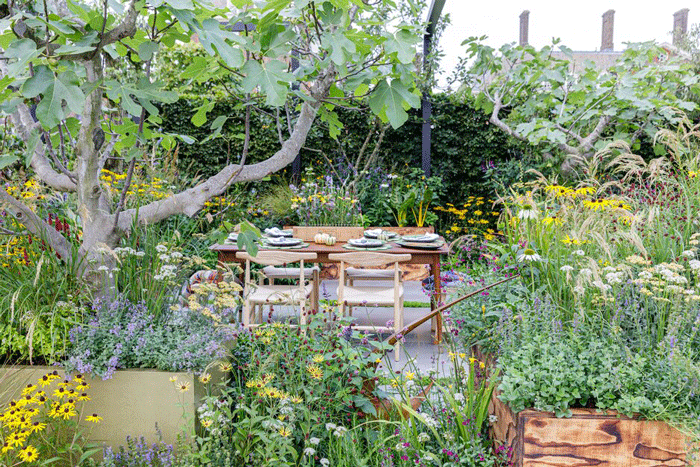 Above: Parsley Box Garden ©RHS/credit Sarah Cuttle
Among the Gold Medal Winners in the Show Gardens was the 'M&G Garden' designed by Charlotte Harris and Hugo Bugg of Harris Bugg Studio. The M&G Garden Pocket Park garden illustrates the importance of beautiful and restorative green spaces in the places we need them the most – towns and cities. Materials used on the garden were mostly reclaimed and re-used were possible including the sculpture of over 100 linear metres of repurposed metal pipes created in collaboration with Mcmullan Studio.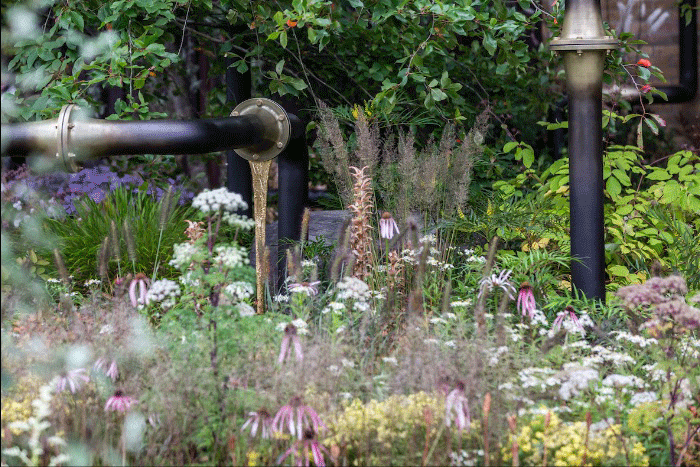 Above: M&G Garden, ©Harris/Bugg studio
Commenting on their success, Charlotte and Hugo commented that the garden was first joint Gold Medal at Chelsea having both won individual Gold Medals previously and that they were delighted to be celebrating this together with the many brilliant people that have made this prestigious award possible.
After the Show the garden will be re-sited in Southwark to become a public green space for people and wildlife.Charlotte said: "The relocation of The M&G Garden to a real place, where a real community can enjoy it, was absolutely central to our vision for the garden right from day one.We are delighted that Southwark is going to be the new home for the garden."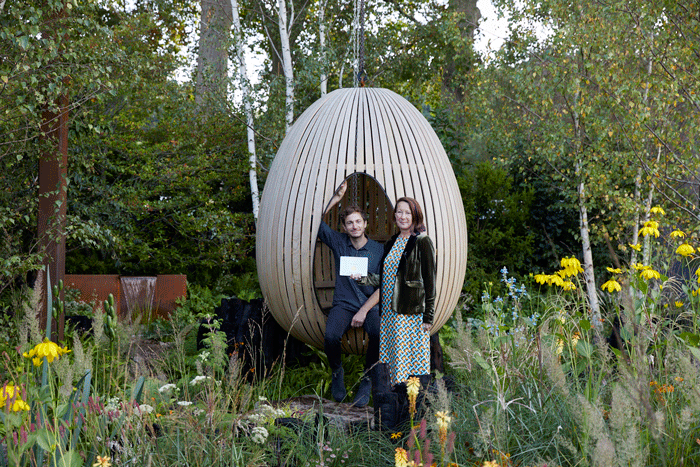 Above: The Yeo Valley Organic Garden
'The Yeo Valley Organic Garden' (Gold) designed by Tom Massey, supported by Sarah Mead, created a real sense of the Mendip Hills using plants at home in the UK. It incorporates an open perennial meadow full of flowering plants – a skilled tapestry of late summer perennials such as rudbeckia, kniphofia and heleniums.
Talking about their Gold medal win, Tom said: "I'm absolutely delighted to win Gold at the first and only September Chelsea. We created this garden to showcase organic and it's a win for the whole team." Sarah explained that they came to showcase what can be achieved using fully sustainable organic principles: "To have won a Gold Medal with a garden that feels so appropriate to Yeo Valley at this time of year is an absolute thrill." The team were also celebrating after winning The People's Choice award for the best Show Garden, clearly demonstrating the garden's popularity with the public.
Above: The Florence Nightingale Garden photo credit Richard Bloom
'The Florence Nightingale Garden: A Celebration of Modern Nursing' (Silver) deigned by Robert Myers celebrates the legacy of Florence Nightingale and depicts an imagined hospital courtyard enclosed on three sides by a timber pergola. The garden was Built by Bowles & Wyer. It's always good to know a show garden will live on and this one will move to a permanent home at London's St Thomas' Hospital in 2022. It will be positioned in an area of the hospital currently being used as a Covid-19 testing and vaccination centre so the transformation of the site into a restorative garden is particularly poignant.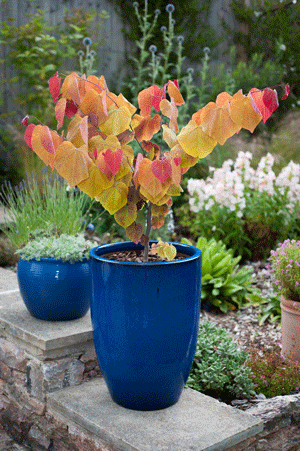 The RHS Chelsea 'Plant of the Year' Award 2021 was awarded to Suttons for their Cercis canadensis 'Eternal Flame' ®. Through an exciting collaboration with Hillier and partner exhibitor Stonebarn Landscapes, this vibrant plant with its ever changing autumn shades from bud break to leaf fall, wowed the judges.
I have a sneaky feeling this will be going to the top of a lot of horticultural shopping lists. With compact arching branches and iconic heart-shaped leaves, this is an ideal specimen plant for a container or positioned in the garden as a small tree.
Other new categories at the Show this year were the Container Gardens and the Balcony Gardens. I have a feeling these will be very popular with show visitors as they present realistic options for the small spaces that many of us have. A wide variety of designs and plenty of ideas. Hopefully, these two categories will be kept for future shows. Below is the container garden Hot Tin Roof designed by Ellie Edkins.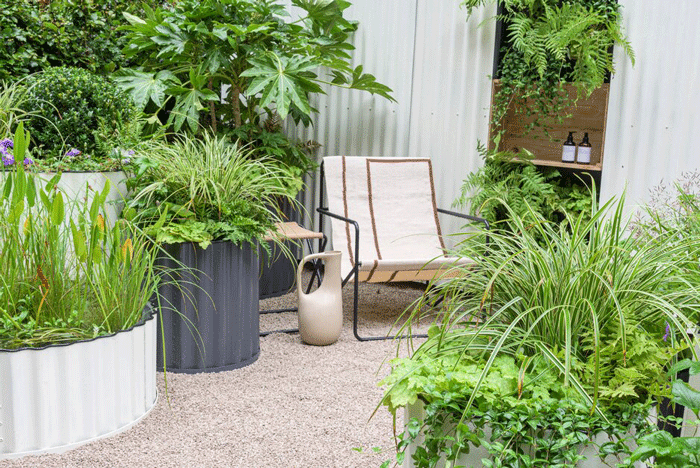 Above: Hot Tin Roof, ©RHS/Tim Sandall
Best House Plant Studio exhibit went to N1 Garden Centre (Gold) for their celebration of autumn with house plants, while the President's Award went to Raymond Evison Clematis. Gaze Burvill was awarded Best Tradestand, while Ocean Plastic Pots achieved the RHS Chelsea Sustainable Garden Product of the Year 2021.