Gardens of Sweden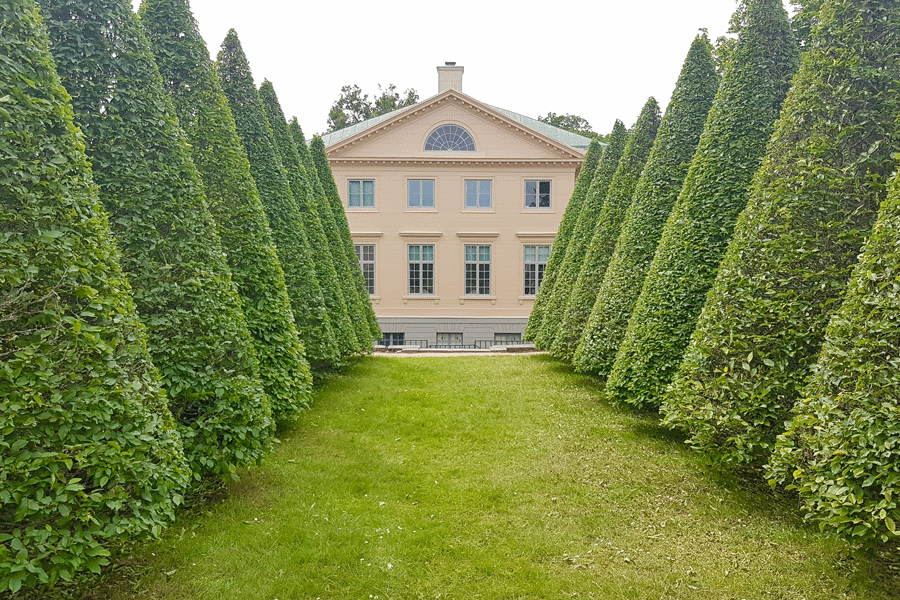 Garden writer, Susie White, presents the first of a three-part mini-series on the Gardens of Sweden.
Having been to Sweden in winter and had tantalising glimpses of how gardens might look in summer, I jumped at the chance to go on a June gardens tour this year. Links between the gardens of West Sweden with North East England began when volunteers from the National Garden Scheme gave advice on setting up a similar scheme. Now in its second year, Trädgårdsresan (Swedish for garden journey) is flourishing, with visitors enjoying an eclectic mix of gardens and helping to raise funds for pollinators through the Bee Fund.
In celebration of this link, I was asked to design a classic English garden for Jonsered Manor near Gothenburg. In the second part of this international garden exchange, a Swedish garden known as the Buzzing Garden is being made within historic Saltwell Park in Gateshead and will open in August.
(above:Water feature Gothenburg Botanical Garden)
My June tour began in Gothenburg Botanical Garden, 430 acres in the city that includes an arboretum and nature reserve where you might see hare, fox, deer or elk. Opposite the main entrance is a canal-like Reflective Pool that narrows in a play with perspective to increase the sense of distance. Huge Koi carp move languorously through the water, delighting children and feeding from the hand. In the greenhouses there are collections of orchids and carnivorous plants, succulents, alpines and wild collected bulbs. I found it particularly poignant to see a single specimen of Toromiro, Sophora toromiro, once endemic to Easter Island but now extinct in the wild. There are efforts in conjunction with Kew to reintroduce it to the island.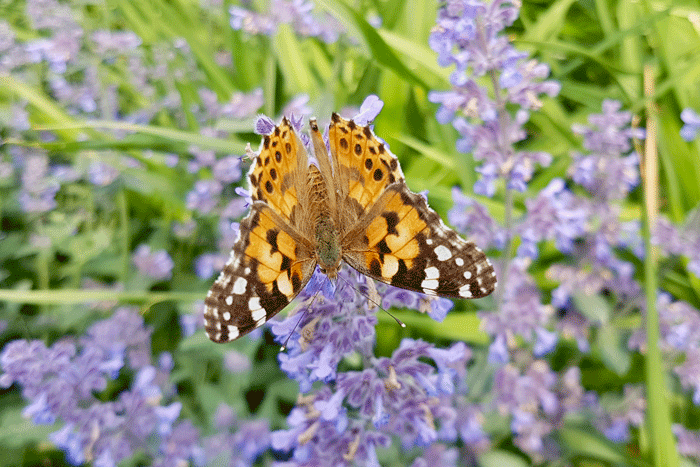 The cultivated area of Botaniska covers nearly 100 acres and winds gradually uphill to the world famous Rock Garden. I walked past colourful perennial borders and dahlias in a haze of painted lady butterflies (pictured above) that had arrived from North Africa on southerly winds; Sweden was having a heatwave in this week of Midsummer. The path went up through the shady Rhododendron Valley, past a flowering handkerchief tree to the cool serenity of the Japanese Glade and the fabulous Rock Garden. Set in a natural rocky bowl, there are over 5,000 species of plants growing here, beautifully laid out below a spectacular waterfall that plummets down from a high viewpoint from where you can look out over Gothenburg.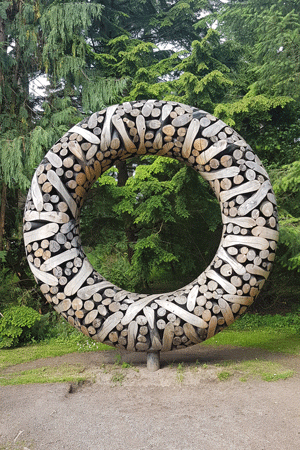 A rock tunnel runs below the cascade. Smaller streams have cleverly placed rocks to amplify the sound of water. Steps and paths interlace, each twist and turn a new view of alpine treasures, of irises, sages and thymes luxuriating in the heat or stands of royal ferns cool by the large pond. Two sculptures really spoke to me, both in wood. A dead oak, its surface polished and drilled with tattoo-like patterns, was decorated by Stuart Ian Frost, a UK artist. In the woodland, a 3 metre high circular sculpture in chestnut was made by Jaehyo Lee from Korea. (pictured left)
From Gothenburg I went to Gunnebo Castle, (pictured banner top of page) a neoclassical 18th century summer villa built for the wealthy merchant John Hall. This, like Gothenburg Botanical Garden, is free to visit. I had lunch sitting in the courtyard outside the restaurant which daily uses organic produce from the kitchen garden next to it according to what vegetables are in season. An excellent lunch of fish in a butter sauce with new potatoes, salad and herbs. Of the many lovely cakes, some were decorated with red clover or pansies from the garden.
Using foraged or garden produce is a theme with many Swedish restaurants. The previous night I'd eaten at Familijen in Gothenburg – a memorable meal of gnocchi flavoured with spruce shoots with kale and white asparagus followed by one of the best puddings I've ever tasted – goat's cheese ice cream topped with baked yoghurt and caramelised rapeseed.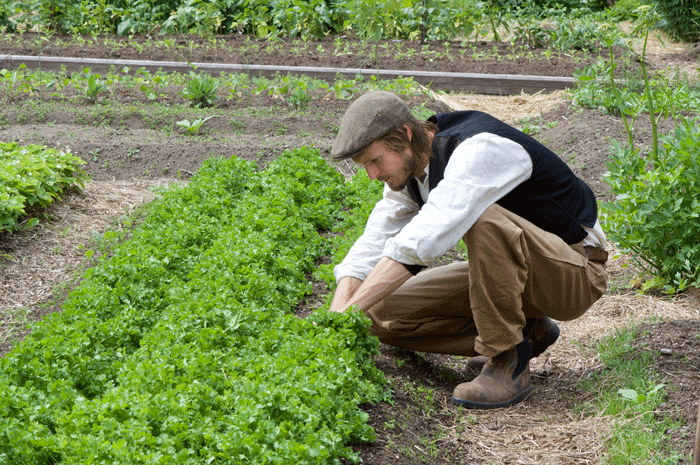 At Gunnebo, gardener Daniel Lundberg (pictured above) showed me round the garden, starting with the compost heaps because they are the foundation of healthy soil: "It's a complete ecosystem", he said. "Compost grows the vegetables, the waste from the restaurant goes to make compost and this completes the cycle." Daniel was wearing the eighteenth century inspired clothes of all the garden staff: thick white shirt, dun coloured trousers and black waistcoat.
Close clipped topiary creates strong lines leading the eye to the mansion. The formal gardens descend in terraces with decorative urns filled with tender plants put out for the summer. A wooden trellis arcade forms the structure for a green tunnel of limes, a link to the woodlands and the English landscape park beyond.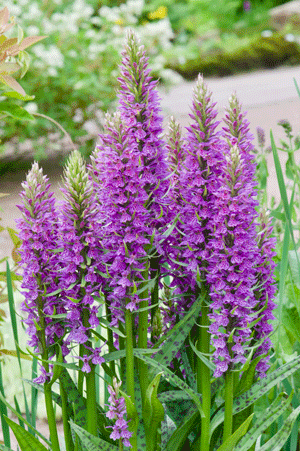 The unusual thing about the gardens at Gunnebo is their experimentation with historic gardening techniques – hand-pushed cylinder mowers or scythes to cut the lawns, billhooks for pollarding and knives for pruning. When I was there, the meadow had just been cut using a horse-drawn mower and haystacks were being formed around wooden poles; the gardens are fossil fuel free. The orangery is being reconstructed using 18th century skills.
Two hedged enclosures surround areas where historic lawns are being tried out, their maintenance drawn from written evidence. It's this mix of the tightly clipped and loosely grown that creates a special atmosphere at Gunnebo. The grass in twin parterres within box hedges by the house are cut using scythes, adding a softness to the straight lines of formality.
I spent the night at Naas Fabriker, a converted 19th century cotton mill, and had another excellent meal using local produce. The restored brick buildings with their factory chimney stand by Lake Sävelången and a contemporary black wooden Bath House has saunas and hot tubs with a pier from which you can plunge in the lake! (pictured right, Orchids in Gothenburg Botanical Garden).
Swallows and swifts nest under the eaves and I watched them from a suspended walkway linking the buildings as they swooped in to feed their chicks. The interior is all cool and modern and Scandi, an interesting contrast to the living museum of Gunnebo and its gardens.
In Part Two of this mini series, I'll be visiting two gardens by Sweden's largest lake, Lake Vanern – Hallekis Manor and Läckö Castle.
Susie White was a guest of Visit Sweden.