Lowther to welcome new head gardener

Lowther Castle & Gardens will welcome a new head gardener in July when international horticulturist Andrea Brunsendorf arrives to join the team at the historic Cumbrian estate.
Ms Brunsendorf has an impressive reputation and a rich portfolio of experience from her time spent training and working in gardens in South Africa, Germany, France, Botswana, Jerusalem and the United States. Andrea has dual German and British nationality, is an alumnus of the Royal Botanic Gardens in Kew and holds a masters in Conservation from University College, London.
Her first major gardening position was at the Inner Temple Garden in London where she spent 11 years during which time she re-designed the 246ft long herbaceous border and introduced mixed borders of peonies and roses (among others) as well as enhancing the garden's biodiversity.
Andrea's most recent roles have been at Longwood Gardens in Pennsylvania where she was director of Outdoor Landscapes, managing 1100 acres of mixed horticulture and woodland. She has also been working high in the Austrian Alps for a private foundation.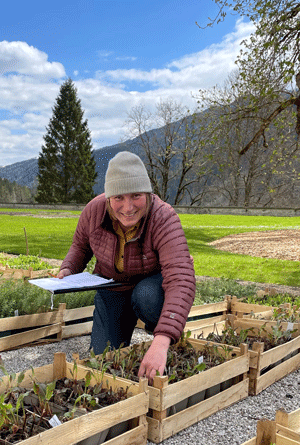 "My love of gardening," says Andrea, (pictured left) "began when I used to help
my grandparents – dead-heading roses and peonies, picking
redcurrants, stroking Lambs' Ears (Stachys byantina) with my grandmother; then helping my grandfather with the compost, with piling soil onto the potatoes and stepping through the deep snow to harvest leeks for dinner."
Jim Lowther, owner of Lowther Castle & Gardens, points out that the gardens at Lowther Castsle are a bold and long-term project: "To have someone of Andrea's experience and depth of knowledge join us is truly exciting. I cannot wait to see how she brings her ideas and skills to bear," he said.
Andrea is looking forward to her new role: "Over the past ten years or so, Lowther has been unfolding and interpreting its garden gently and thoughtfully. I look forward to working with the team – including Dan Pearson – to continue this development, to bring even more of it to life and of course, as a horticulturalist and plantswoman, I look forward to the unique challenges this wonderful landscape will present."
A Garden Masterclass will take place on 21st July with Andrea and Dan Pearson talking together about the future of the gardens. They will be joined by Michael Marriott, rosarian extraordinaire. Tickets can be bought from: www.gardenmasterclass.org
We wish Andrea every success in her new role.
Credits: Image of Andrea ©Lowther Castle and Gardens: Banner image of Lowther ©Reckless Gardener, credit Emma Campbell Photography.