Chelsea's new All About Plants Category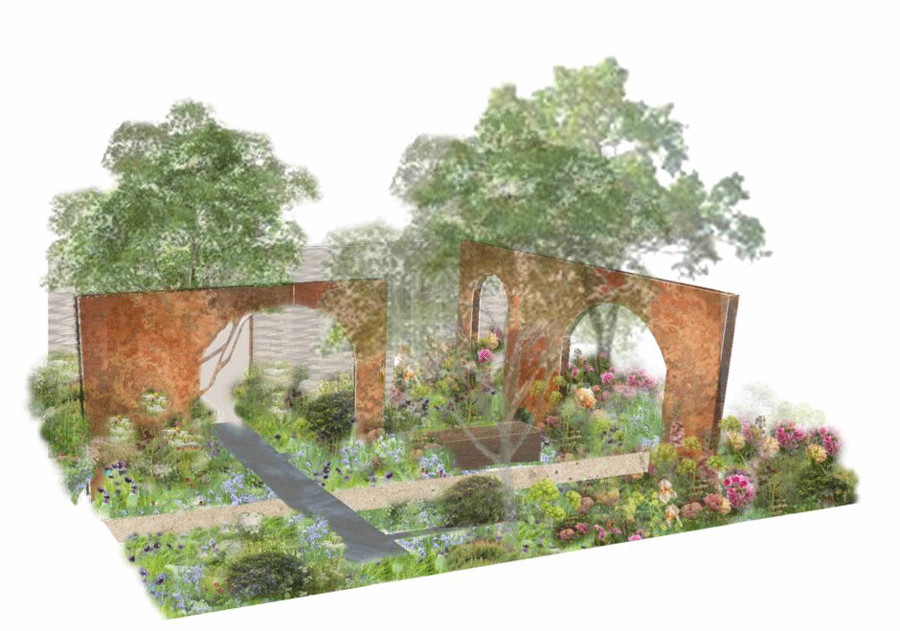 With gardens ranging from raising awareness of Covid's devastating impact on perinatal mental health to exploring the link between plants and textiles, the 2022 RHS Chelsea Flower Show 'All About Plants' category will certainly offer diverse perspectives on the value of plants and our life. All the gardens in this new Chelsea category are sponsored by Project Giving Back.
'The Mothers for Mothers Garden' (Image banner top of page) designed by Pollyanna Wilkinson for the Bristol based charity of the same name, echoes the road to recovery for mothers experiencing mental health challenges. It raises awareness of perinatal mental illness and the added pressures of Covid. Featuring a fractured pathway through the garden surrounded first by muted, restrained planting gradually making the transition to a joyful, feminine palette, the design is true to this new Chelsea category in that 78% of the garden will be plants, showing the impact a small space can have.
Maria Viner, the charity's CEO, explains that the theme of the garden is hope and reassurance and during the show the charity plans to host campaign and fundraising events. After the Show, the plants will be relocated to Hartcliffe City Farm close to the charity's Bristol base.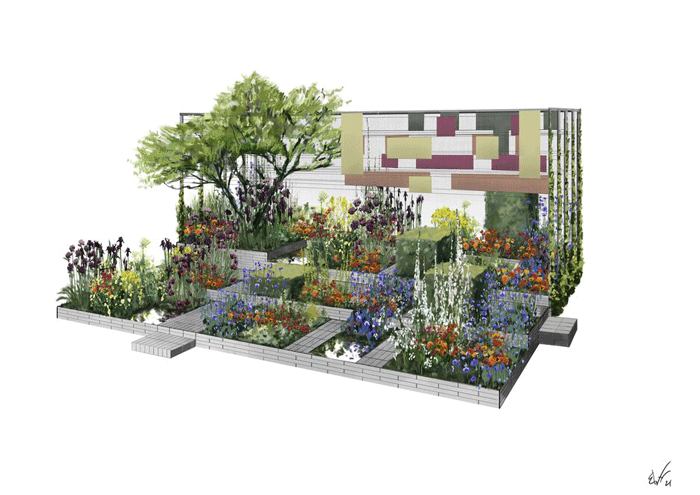 'A Textile Garden for Fashion Revolution' (above) designed by Lottie Delamain, explores the link between plants and textiles, between what we wear and what we grow, inspiring us to ask, "What's in my clothes?"
The designer was inspired by families in Northern Vietnam making their own clothes alongside their vegetables and the garden hopes to re-establish a connection between plants and textiles to reveal the beauty to be found in plant-based dyes and fibres. Showcasing the many plants that can be used to make natural dyes and fibres, the garden hopes to inspire visitors to try dying with plants or creating a mini-dye garden at home.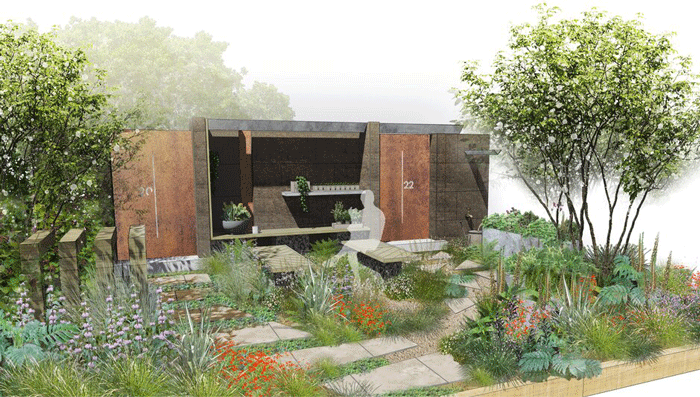 'The Core Arts Front Garden Revolution' (above) designed by Andy Smith-Williams, depicts two urban households that have joined their front gardens together, removing hard boundaries and paving, using resilient planting and permeable surfaces instead. The garden has been designed to show we can and should give planting the primary role and not just our back gardens, but front gardens too.
Planting is designed to create a new aesthetic that will be suitable and aspirational for urbanites with steely greys, silvers and blues. Pops of red, pink and white lift the scheme with a high textural contrast being offered by the softness of grasses such as Sesleria, Briza media and Stipa gigantea.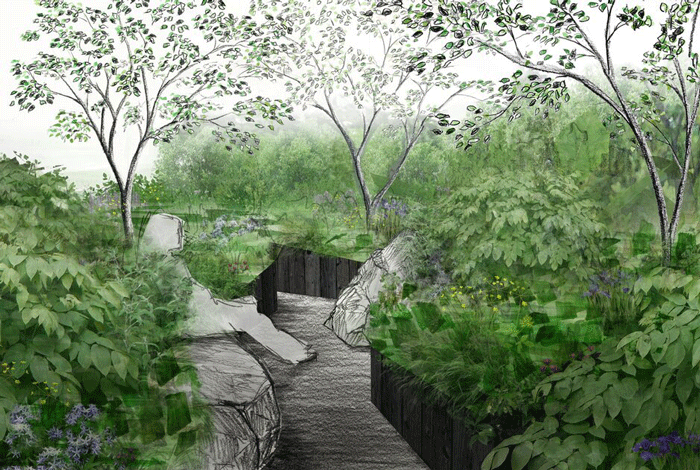 'The Wilderness Foundation UK Garden' (above) designed by Charlie Hawkes, offers a sense of immersion, key to making any place feel like a wilderness. The cornerstone of the Wilderness Foundation UK's work is creating meaningful interactions with nature and this design creates a sense of awe and wonder, reminiscent of childhood experiences within nature.
The garden has a predominantly green palette with occasional moments of vibrant colour, with a naturalistic tapestry reminiscent of a native Japanese forest, but with an essence of Great Dixter's Exotic Garden.
We think you will agree four very diverse gardens in this new category so definitely one to watch out for.