REVIEW: Secret Gardens of the South East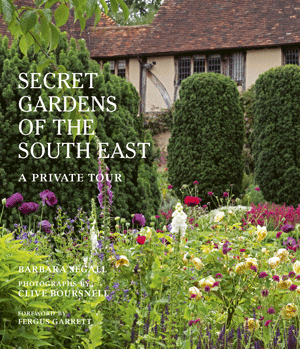 In her new book 'Secret Gardens of the South East – a Private Tour' author Barbara Segall brings together a very personal and eclectic collection of some of the UK's most beguiling gardens in the counties of Kent, Sussex and Surrey.
Here are three counties that typically exemplify 'the garden of England' where history and horticulture has combined with geography in the shape of rolling landscapes, wooded valleys and meandering waterways, providing an attractive and fascinating collection of gardens.
Barbara's skill in bringing us these stunning gardens is her ability to see each garden with perceptive eyes, highlighting the unusual plant, the creativity of owners and gardeners as well as supplying us with a cornucopia of stories.
In the Foreword, Fergus Garrett points out that gardens are 'about people' and that it is the people who give gardens their essential spirit. One of the strengths of this delightful book is the fact that Barbara totally involves owners, head gardeners and gardening teams into each garden description, so that the reader has a distinctive insight into the spirit and unique qualities each has to offer. This inclusion is often lacking in books of this genre and Barbara excels in her ability to be able to weave into her narrative the thoughts and experiences of the people she meets.
As Barbara says in the Introduction, having visited some 20 gardens and more she loved meeting owners and gardeners to discover how individual and charming each garden is. That certainly comes across in the well written and interesting text.
Some of the gardens may already be familiar such as Gravetye Manor (home of 19th century designer William Robinson), Munstead Wood and Arundel Castle Gardens, however, through Barbara's eyes we get a new insight and perspective. Some are open for the National Garden Scheme, while others are open privately and in some cases for just the occasional day for charity.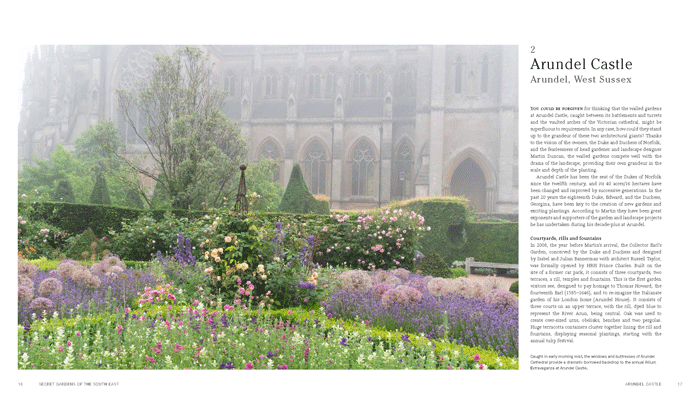 The gardens are listed alphabetically so we have a wide range of styles in no particular order, another plus in my mind. Turn the pages and each garden brings something different – from the first garden in the book at 87 Albert Street in Whitstable, Kent to the intimate garden rooms and land art installations at Malthouse Farm Garden, in Hassocks, East Sussex, the topiary and pools of Doddington Place Gardens and the plantsman's garden and Arboretum at White House Farm, Kent.
What comes through every well written page is the owners love of 'plants and place', as Barbara puts it in the Introduction – and how refreshing to see pictures of some of the gardening teams included as well.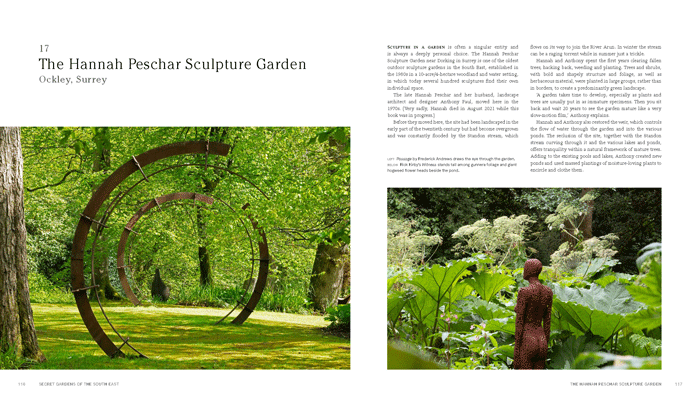 The book is filled with stunning, specially commissioned photography by Clive Boursnell, a joy in itself and perfectly complementing Barbara's text.
Barbara has included Visitor Information for each garden and there is a detailed Index to entries and plant references.
Barbara Segall is a well-known and respected horticulturist, garden writer and blogger whose work appears in a number of popular publications including The English Garden and The Garden. She is editor of The Horticulturist, the journal of the Chartered Institute of Horticulture and blogs at www.thegardenpost.com and is on social media (Twitter) @gardenbarbara and Facebook @barbarasegall.
'Secret Gardens of the South East – a Private Tour' by Barbara Segall with photography by Clive Boursnell is published in hard back by Frances Lincoln (The Quarto Group) at £22.00. If you are looking for a Christmas gift for a friend it is highly recommended.