RHS Chelsea Balcony and container gardens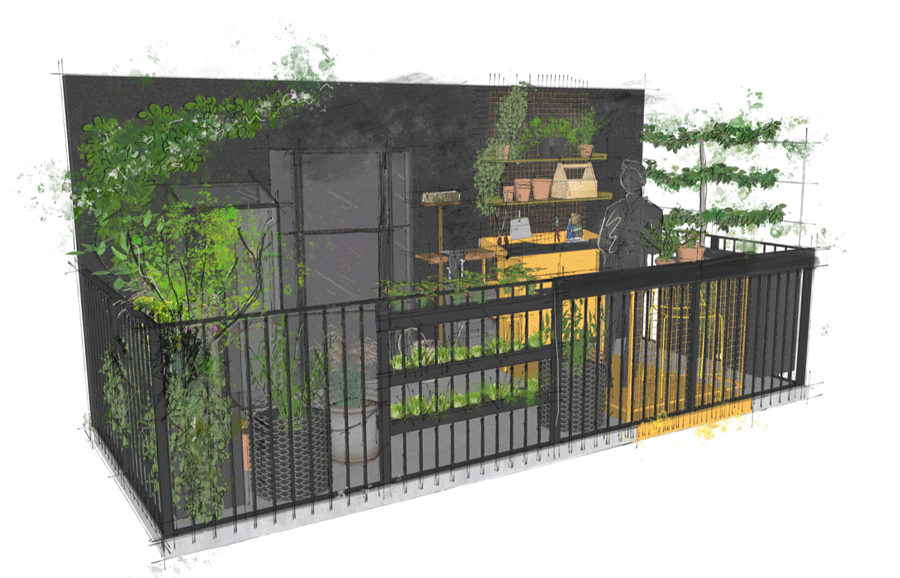 The Balcony gardens category debuted at the RHS Chelsea Flower Show for the first time in September 2021 but was not eligible for judging. This year their popularity has been cemented and both Balcony and Container gardens have earned their place in the judging categories. There is certainly plenty of variety in these designs to give visitors an amazing field of inspiration for their own spaces no matter how small.
Balcony Category
The Potting Balcony Garden sponsored by Viking

(illustrated banner top of page)



Designed by William Murray of garden design company, It Will Grow, the Potting Balcony Garden demonstrates how a small urban plot can be used for hands-on gardening. While on furlough during lockdown, William rediscovered his childhood love of gardening and has since achieved an RHS qualification in Horticulture and Garden Planning. William points out that with clever use of space, The Potting Balcony Garden rethinks how we can use limited outdoor spaces and offers a practical place to sow seeds, pot up plants and propagate cuttings.
The Blue Garden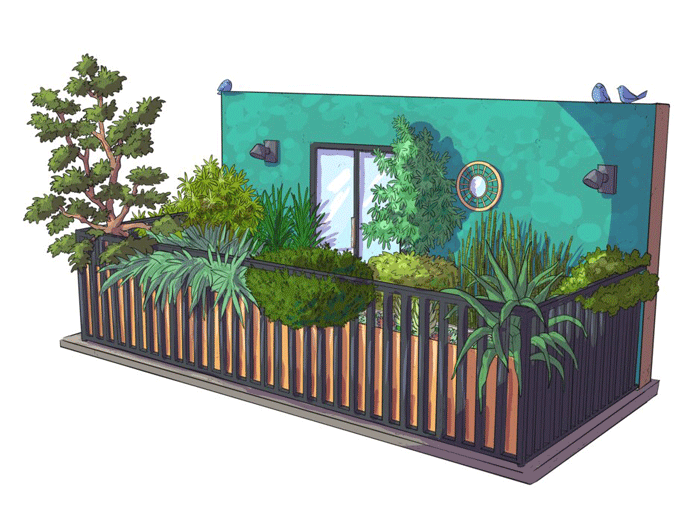 Designed by Tom Wilkes-Rios, the Blue Garden is a fully immersive, all-encompassing experience where the planting wraps around you to create a sanctuary. The garden is designed as a respite for a city dweller, who can sit on their balcony, completely surrounded by nature. With planting reminiscent of elsewhere there is also the opportunity for escapism.
Jay Day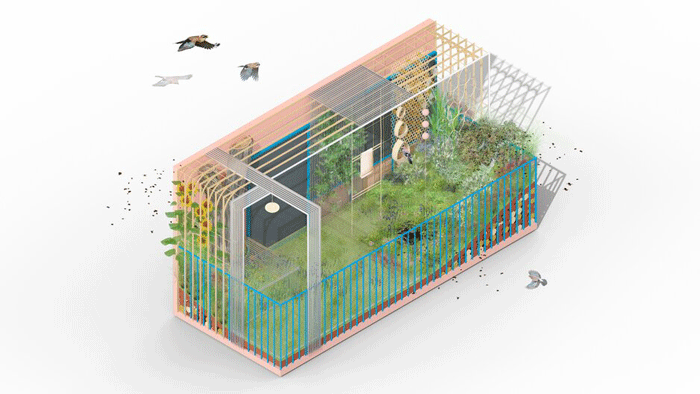 Designed by Alison Orellana Malouf and Su-Yeon Choi, Jay Day is aimed at encouraging visitors to consider integrating whole live plants into their bird feeding regime and focusing the resources they provide on other birds than the typical feeder species. Plants selected in the garden are all useful to multiple species, including humans, in order to make the most of this very small space.
Cloud Gardener UK: The Cirrus Garden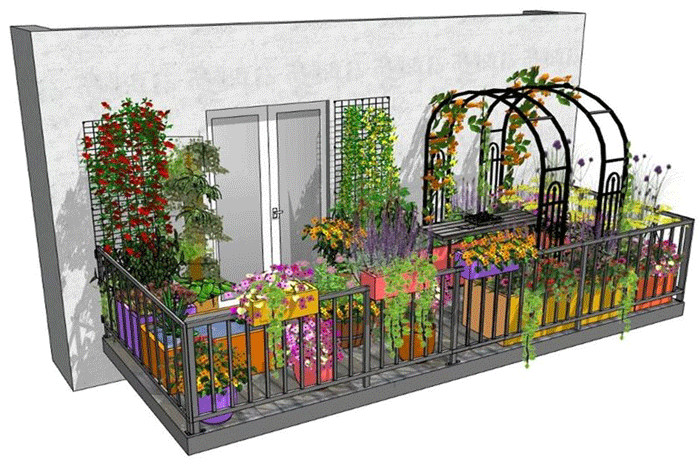 Designed by Jason Williams, the Cirrus Garden combines the spectacle of a show garden with a practical real-life sustainable garden focused on biodiversity within an urban area and tranquil setting for mental health. It features wildflowers, perennials, herbs and a vegetable garden. The garden is inspired from two years of knowledge the designer gained from his own 18th floor balcony garden known as "the Cloud Garden".
Container Gardens category
The Enchanted Rain Garden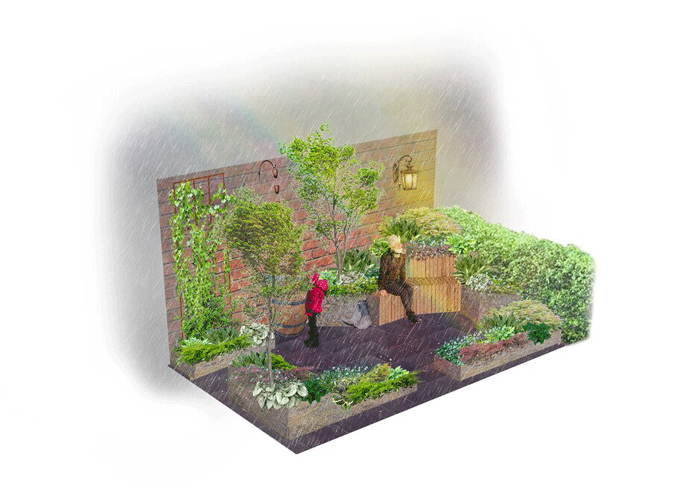 Designed by Bea Tann and sponsored by The University of Sheffield Landscape Department, this garden draws on the enchanting power of rain to create a small haven of woodland wonder within an urban space. It's inspired by a rainy garden in Manchester and designed to thrive in wet conditions, influenced by UK forests whose lush foliage is energised and born out of the regularity of rainy water.
Mandala, Meditation & Mindfulness Garden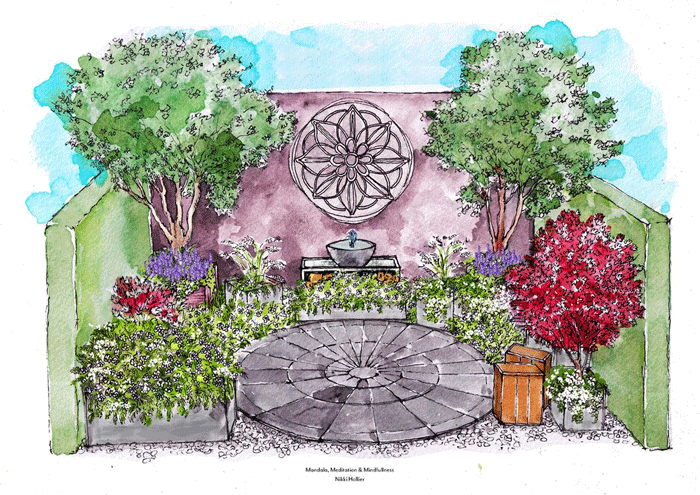 Designed by Nikki Hollier, the garden is a room to escape to and a safe haven to sit and meditate, listen to the tranquil water, bees humming, birds singing. A water feature against a backdrop of a muted violet wall with a mandala, surrounded by eucalyptus trees complements white flowers and herbs to pick and make tea.
Wild Kitchen Garden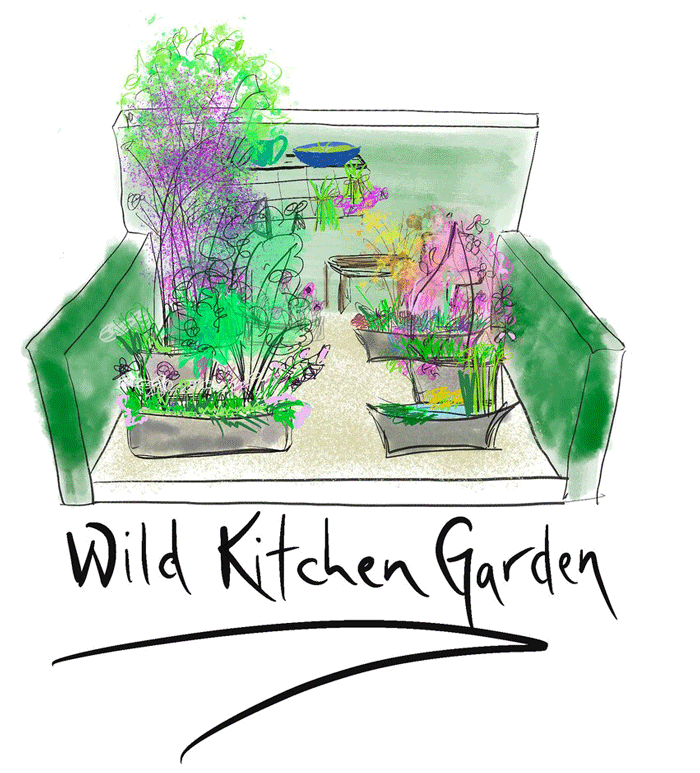 Designed by Ann Treneman, the Wild Kitchen Garden is all about bringing wild edible plants and trees into a small urban setting. Planters include one for aquatics and a sink and prep area against the back wall makes harvesting easy. Shrubs and trees also feature and planting is informal and colourful.
A Mediterranean Reflection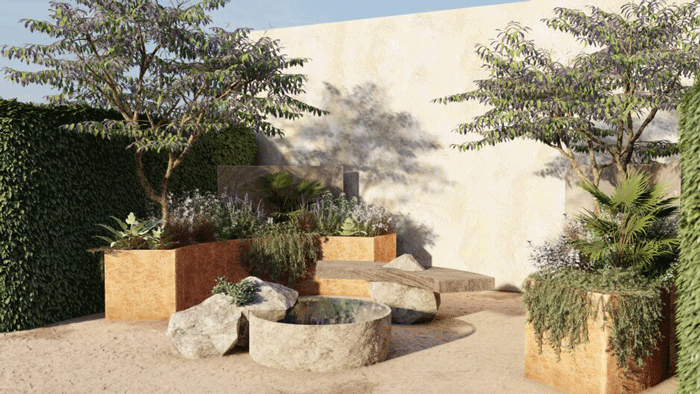 Designed by Tanya K Wilson and Johanna Norlin, this Mediterranean themed garden takes a circular form, found in nature encouraging flow, continuity, conversation, connection. The textural contrast of rock like planters against the soft tones and hues of a beautiful Mediterranean planting scheme feature together with a water feature.
The Still Garden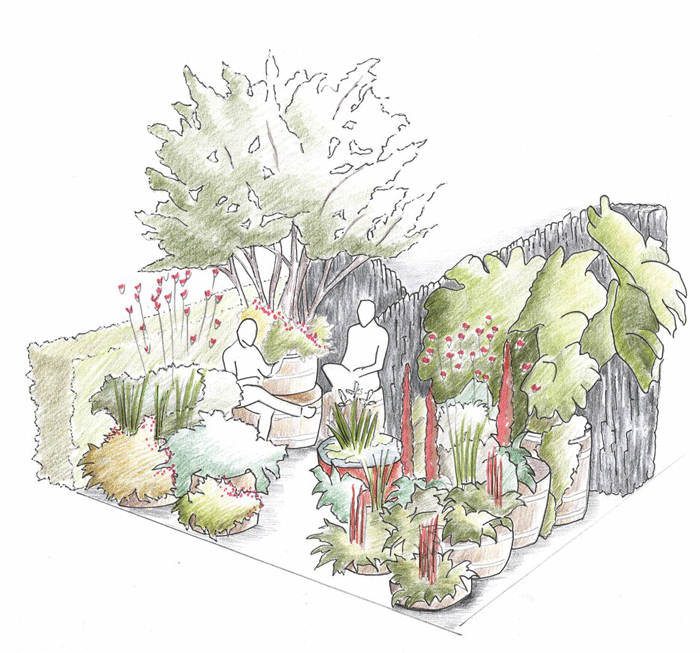 Designed by Jane Porter, this garden is inspired by Scotland's landscape and the plants that thrive across the Highlands and Islands. Planting references native species and reclaimed whisky casks are reconstructed to make new sculptural planters and packed with bold foliage textures and soft mounds. The garden's two statement plants are a specimen multi stemmed Sorbus aucuparia and a Gunnera manicata.
All images strictly © individual designers