RHS Chelsea Garden of Hope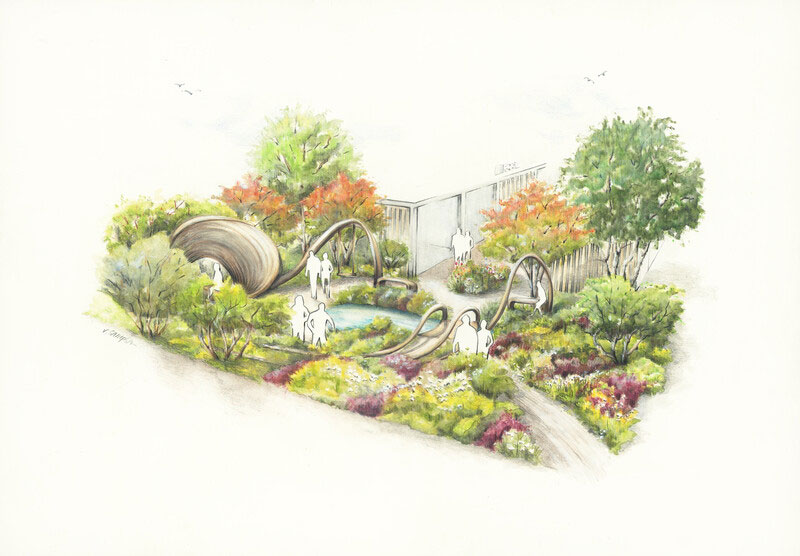 The Royal Horticultural Society (RHS) is joining forces with BBC's The One Show, to bring a Garden of Hope to the world-famous Chelsea Flower Show (21st to 26th September). Designed by Arit Anderson, 'The BBC One Show and RHS Garden of Hope' will illustrate how horticulture provides a sense of hope and will be situated at the bottom of Main Avenue opposite the triangle.
One of the features of Arit's design is a beautiful steam-bent wooden sculpture which twists and flows like a meandering river through the garden. Wonderfully, too, it will also incorporate seating areas and a child's swing with the hope to create the "feeling of a big hug".
Planting will celebrate autumn and Arit also wants to tap into harvest time, feeding our bodies with a selection of edible plants for visitors to enjoy.
As part of the garden, Arit has commissioned Charlie Whinney to design a natural artwork to be a key feature.
After the show the most important part of the garden will be donated to the Mother and Baby Unit Rosewood (part of Kent and Medway NHS Social Care Partnership). The beautiful blooms will help create a sanctuary and place of hope for the mothers and babies there.
Arit comments: "Central to everything in it, is how I hope it will help those using it at Rosewood over the coming years. I want it to provide the women with hope and be a place to relax in and feel nurtured in, in the way that only being immersed in nature can nurture you."
The One Show presenter Alex Jones adds: "One Show viewers have told us time and again how important their gardens have been to them over the last year and I am so excited that The BBC One Show and RHS Garden of Hope will be able to reflect that, and that our viewers will be able to contribute inspirational words to the design.
"There will be loads of ideas for everyone to put into their own gardens too and we'll be following the whole process, showing you exactly what goes into creating a beautiful garden at the world-famous RHS Chelsea Flower Show. I can't wait to see it come to life."
Image: ©Arit Anderson/RHS