The Enchanting Peony comes to RHS Chelsea
Alec White and the team at Primrose Hall Peonies will be returning to the Floral Marquee at the 2022 RHS Chelsea Flower Show with a dreamy immersive display of peonies. 'The Enchanting Peony' exhibit will invite guests to imagine themselves having fun, playing in a whimsical forest surrounded by magical peonies.
A large backdrop image from a photoshoot taken earlier in the year will feature while at the centre of the exhibit there will be a swing covered in peonies allowing visitors to imagine themselves enjoying the calm of a 'midsummer night's dream', experiencing the calm that gardens provide while feeling more connected to nature.
With so many colours, shapes, scents and varieties to choose from Alec says they  certainly have a peony to suit every garden style and choice. Their delicate but blousy blooms enchant visitors to the show year after year and this year the team want the display to be the most memorable exhibit yet.
Alec hopes that visitors to the show will fall in love with peonies as much as he has, appreciating all of their unique qualities and stoking a desire for having their own peonies growing in their gardens, even if they have never grown them before.
This will be the largest exhibit that Primrose Hall Peonies have ever undertaken and the team are hard at work growing over one thousand peonies for the display. Getting them all to flower for the show takes skill and care but Alec assures us that come the 24th May, when the show opens, the enchanted and magical quality of peonies will surround you.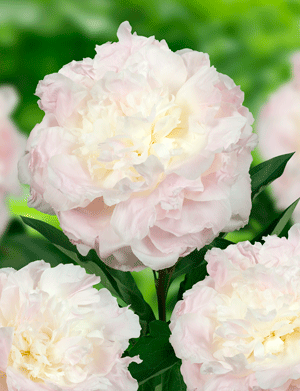 Alec has a passion for all plants but his true love affair is with peonies. He is excited to be the National Collection holder for intersectional Itoh hybrids of peonies in the UK. He is a nurseryman with horticulture in his genes as 'Great Grandfather White' grew gladioli as cut flowers during the 1930s and 40s, selling them at Covent Garden. Some of Alec's earliest memories are of watering and looking after plants in a nursery as a Saturday job.
Life takes us on many paths and Alec was encouraged by his teachers at school to study law not horticulture. After working as a prosecutor in London he decided he would make the change into what he had always dreamed of doing. Together with his parents Alec bought a nursery and took the opportunity to pursue what he had always knew was his true calling – horticulture.
In 2019 Primrose Hall Peonies won their first Chelsea Gold Medal and Alec has written numerous articles on peonies and is often asked to contribute his expert knowledge.
We wish Alec and the team all the best in their preparations for RHS Chelsea. You can find out more about Primrose Hall Peonies by visiting: www.primrosehallpeonies.co.uk
All images strictly ©Primrose Hall Peonies.