Queen's Canopy Garden at Chelsea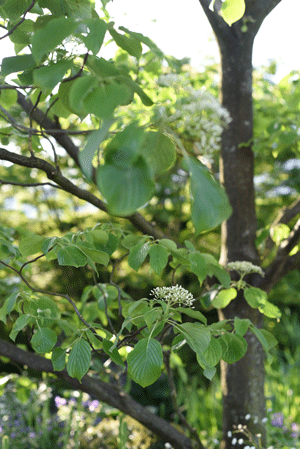 Taking the largest plot on the RHS Chelsea Flower Show site at this year's autumn event will be the RHS Queen's Green Canopy Garden, (21st to 26th September 2021). The garden will highlight the vital importance of trees and woodlands to our environment and will provide an impressive display of lush, towering green and purple woodland made up of 21 trees.
Swedish Birch, Hornbeam and Beech, will stand amid a carpet of grassland and a colourful wildflower meadow, providing an ideal habitat for wildlife.
The garden, designed by David Dodd, promotes The Queen's Green Canopy (QGC) a unique tree planting initiative celebrating Her Majesty's Platinum Jubilee in 2022. The garden is being created in a partnership between the Royal Horticultural Society (RHS) and the QGC and will invite people to 'Plant a Tree for the Jubilee' by encouraging people from cross the UK to plant trees from October when the tree-planting season begins, through to the end of the Jubilee year in 2022.
Taking centre stage at the world-famous show on the iconic 'triangle' position, the RHS Queen's Green Canopy Garden will be a living picture of biodiverse regeneration and show how land can be used to its fullest potential.
Tim Upson, Director of Horticulture Education & Communities said: "The RHS is delighted to be supporting the Queen's Green Canopy initiative at this year's RHS Chelsea Flower Show not only for the benefit of our environment but also to honour our patron, Her Majesty The Queen.  Planting trees is something all gardeners can do to positively tackle climate-change and help wildlife. By planting trees the UK's 30 million gardeners can together, collectively create a legacy for future generations."
Sir Nicholas Bacon, Chair of The Queen's Green Canopy said: "We hope the garden at the world famous RHS Chelsea Flower Show inspires millions of people across the United Kingdom to get involved and 'Plant a Tree for the Jubilee".
Garden designer David Dodd has built several gardens at RHS Chelsea but confesses that this is the first one he has designed where he has been so passionate about the message of the garden: "I really hope it encourages everyone across the country to get involved in tree planting," he says.
As David points out whether it be a small single tree in someone's garden, or getting involved in community projects to plant new woodlands or forests, we can all do our part in creating better habitats for wildlife and helping fight climate change: "And happily – October is the perfect time to plant trees," he adds.
All the trees that feature in the garden will be relocated to RHS Garden Bridgewater in Salford, Greater Manchester after the show and will be planted to create three new copses of trees within the Victoria Meadow as part of the QGC initiative.
Image © Reckless Gardener, credit: EmmaCampbellPhotography