RHS Hampton first for APL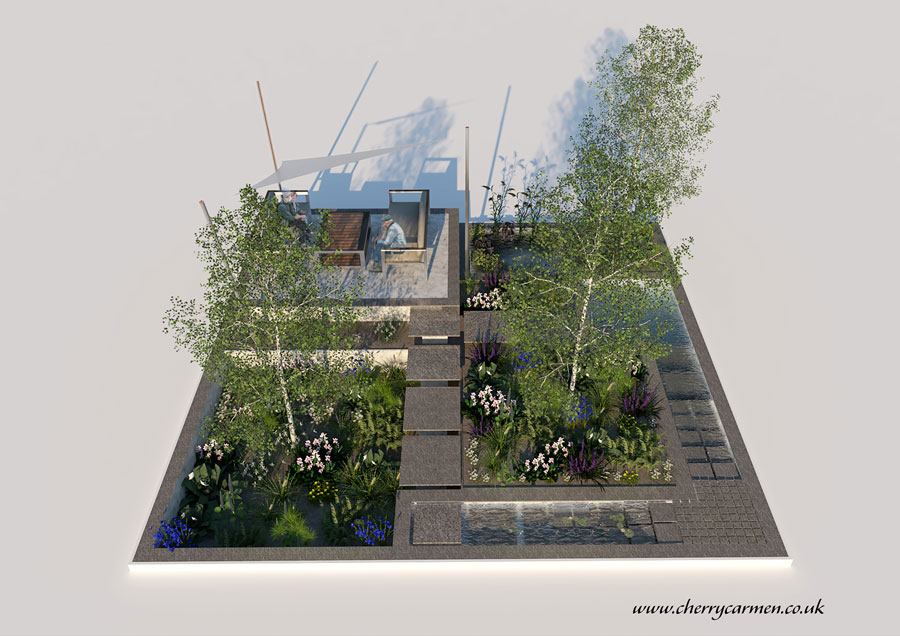 Reckless Gardener talks to Garden Designer, Cherry Carmen who returns to this year's (2019) RHS Hampton Court Palace Garden Festival with a show garden for the Association of Professional Landscapers.
When Cherry Carmen returns to the RHS Hampton Court Palace Garden Festival (2nd to 7th July 2019) it will be the second garden that she has designed for the Association of Professional Landscapers (APL) at the prestigious Show. Last year, Cherry designed a feature garden for the APL (not judged) but this year her design will be entered as a judged Show Garden marking a first for the APL.
Carrying the same title as last year's feature garden – 'The APL -A Place to Meet' – the garden will showcase just what is achievable when the finest designers, landscape contractors and suppliers within the industry, collaborate.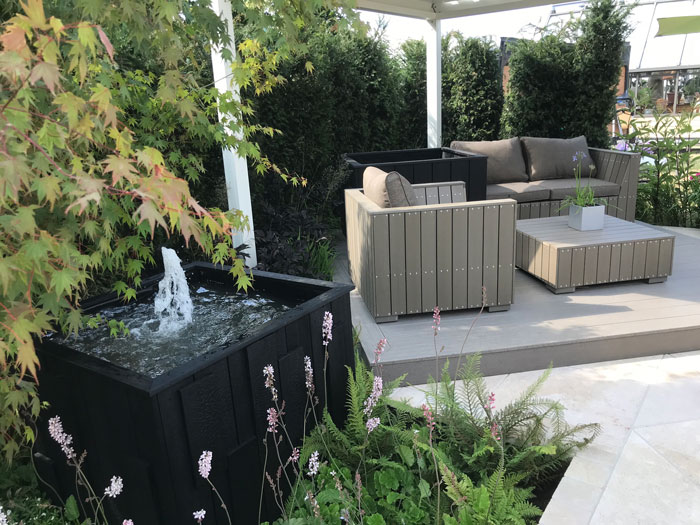 (above: Hampton Court Palace Garden Festival 2018)
Cherry admits that she has a 'soft spot' for RHS Hampton Court as it is where her first experience of show gardens began. Although better known for her work on larger private estates and gardens, it was at RHS Hampton Court in 2016 that she designed her first show garden winning a silver medal. That garden had the deepest depth ever dug at the 10-hectare showground – in 2018 the APL garden also had sunken planting and for 2019 Cherry explains that the design is set to have multiple levels of planting and a raised seating area.
"It is a beautiful setting," Cherry says. "I love the space the show ground gives you and I love seeing the deer and wildlife as I drive in every morning – a true haven in the midst of a bustling London!" Cherry looks forward to seeing familiar faces every year and she gets excited to see the other gardens being built, slowly unveiling their creativity: "My favourite part is the real sense of camaraderie between fellow designers and landscapers, you get to know your neighbours and we all become firm friends. The build then becomes quite a bit of fun with lots of laughs in between."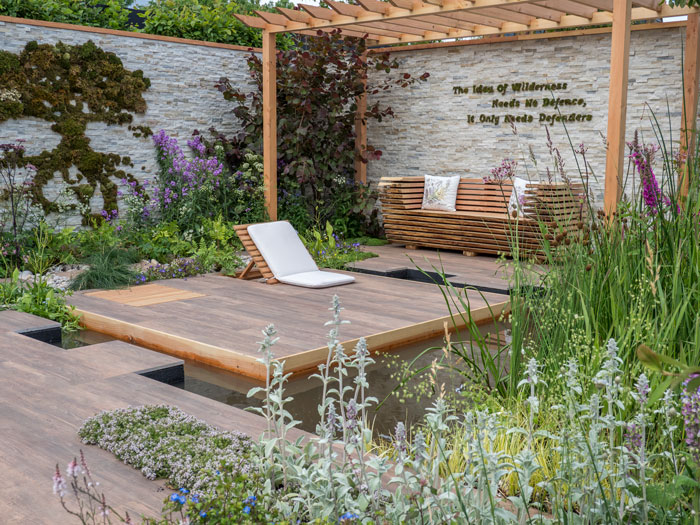 (above: BBC Gardeners' World Live, 2017 'Idea of Wilderness' – Gold)
The concept of the garden demonstrates how to fuse contemporary and modern landscaping while being beneficial to nature. 'A Place to Meet' will be a continuing title for every APL garden each year as Cherry explains: "The APL are a very friendly bunch and the space needs to be inviting, a meeting point where people can sit, enjoy the garden and learn a little bit about the APL. This year I have included a plunge pool, inspired by the hotter and drier summers we have due to climate change. I have always liked playing with multiple levels in a garden and this one has raised seating areas as well as sunken beds and floating steps."
The garden is being built with the help of APL members, so it is a real collaboration with different companies coming in everyday to offer their special skills. It is a build that echoes what the APL is about.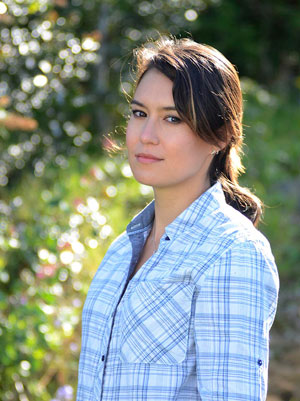 One of the aspects of the garden will be to demonstrate how contemporary hard landscaping materials can be used in alternative ways. Cherry (pictured right) explains that they will use only two materials – a black granite and Pearl Sandstone: "All the hard landscaping you see in the garden will be one of the two," she says. "The Sandstone is used for the majority of the patio but it is also used as all the cladding, including the face of the floating steps and the interior of the water feature and pool. The black granite is used for the steps leading up to the patio, the coping that frames the pool and also the steps that lead you into the pool. I have also used setts of black granite to create a bit of a water feature where the water will be pushed through in between the setts to create movement in the water."
As to planting, Cherry has tried to use as much part shade to full shade plants as she can: "Mainly because the more commonly known wildlife friendly plants prefer a very sunny aspect," she explains. "I also like to use wild flowers and grasses that most people would consider weeds, to show that they can be beneficial and beautiful too. I have Angelica sylvestris vicars mead, Filipendula ulmaria, Gallium odoratum, Persicaria speciosa Firetail, Bunium ferulaceum. I also have a very interesting tree, Zanthoxylum simulans which is a sichuan pepper tree, it has spikes on the trunk of the tree but delicate ash-like leaves and sprays of yellow flowers that are loved by bees. It stays small, so perfect for a small urban garden."
She enjoys the challenge of designing show gardens because she likes the fact she can be as creative as she likes, stepping outside the comfort zone of what many private clients want to come up with some crazy ideas that would be welcome at a show garden: "I also like the extra pressure that the time constraints of a show garden give, there's something about being so focused on one thing for a short period of time. The meticulousness of creating a show garden also lets me unleash the OCD side of me as I do like being a perfectionist whenever life lets me."
Cherry was in her early twenties when she realised that the career she was engaged in was not as fulfilling as she had hoped. She realised that she had to make a decision to start something new and something that she was passionate about: "I knew I wanted to work outdoors, I was already a nature lover and really didn't suit office work. I loved gardening, so I decided to study horticulture," she says. "I didn't set out to be a garden designer but after gaining my qualifications and having the experience of working in nurseries, I wanted to have my own business. The garden design aspect of my career came about as I had always been a creative person and this way I could add and fuse that with my horticultural knowledge."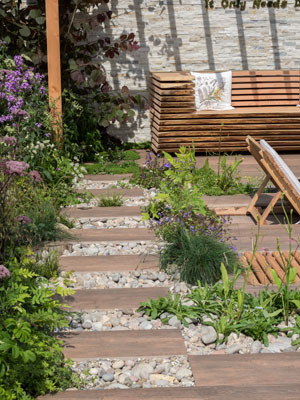 For Cherry, meeting new clients, seeing the space and being given a brief is a challenge that tests her creativity and knowledge all the time: "I enjoy talking to my clients about the ideas I have and seeing them becoming enthusiastic about the new changes coming to their own gardens." Being self-employed also means she can balance her garden design business and home life more easily.
A big animal lover, Cherry has three rescue dogs and a three-legged cat! They are her children, she admits, so she spends a lot of time with them: "I love taking them for little adventures out in the countryside or to the seaside. I really have a passion or dogs and in particular rescuing the mistreated and unfortunate ones. I have also become a Trustee for my local RSPCA branch and am working on fundraising and volunteer work."
With regard to the APL, Cherry points out that the organisation really brings everyone in the industry together: "They are always there for any advice and support," she says. "They are so welcoming, even if you are not a member or just starting out in the industry the APL and all of its members are there to encourage and help you make the most out of your business."
She also points out that the association is a great way to meet other landscapers, designers and suppliers in your area and is an opportunity to discuss matters or ask advice: "With membership you get the accreditation behind you and you are inspected annually which means clients have the peace of mind and confidence that they are employing someone with very high standards."
Phil Tremayne, APL General Manager comments that he is delighted to be using Cherry Carmen Garden Design as the designer of the 'APL – A Place to Meet' garden at RHS Hampton Court, this year: "The garden is a great way of showcasing the work of APL members and the APL are grateful to Kebur for once again sponsoring the garden."
The garden will be built by Kebur Landscape Division, Farnborough. Landscape Plus is also sponsoring the garden alongside Kebur and The Association of Professional Landscapers.
Please visit www.cherrycarmen.co.uk for more information about Cherry and for information on the Association of Professional Landscapers, please visit: www.landscaper.org.uk
Photo credits: All images ©CherryCarmen